Hello again, all you delightful book dragons! It's another Tuesday, so you know what that means – NEW BOOKS. I have a few great books to tell you about today, and you can hear about more wonderful books on this week's episode of the All the Books! Rebecca and I talked about a few awesome books we loved, such as I See You, Traveling with Ghosts, and Dead Letters. Also, here's some exciting news: A Conjuring of Light, the final book in V.E. Schwab's Shade of Magic trilogy is out today! *MUPPET ARMS*
Enter to win a pair of Apple AirPods. Take your audiobook game to the Next Level.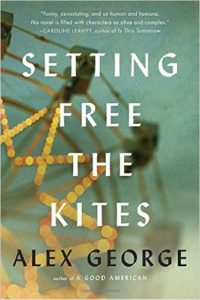 Setting Free the Kites by Alex George
A boy's life changes when he makes a new friend the first day of eighth grade in 1976 in this charming, heart-squeezing novel. Robert Carter's life in Maine has always been boringly predictable, but when he meets the fearless Nathan Tilly, they become fast friends, and as they spend time flying kites, they learn that life can still be beautiful and overwhelming in the face of tragedy. A lovely meditation on young friendship and the harsh realities of growing up.
Backlist bump: The Good American by Alex George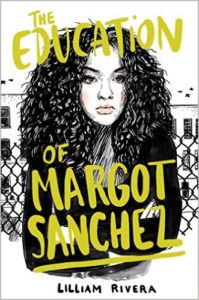 The Education of Margot Sanchez by Lilliam Rivera
Margot Sanchez is in big trouble. She used her father's credit card to update her wardrobe and now she's stuck behind the deli counter of the family grocery store, working off the charges as punishment. But Margot isn't going to let anyone – or anything – stand in the way of her dreams and schemes. When she learns of an exclusive beach party, she's set on attending, even if it means getting in more trouble. A charming coming-of-age novel about how when you're a teen it can seem like your parents are trying to ruin your life, and the choices that feel like the biggest things that will ever happen to you.
Backlist bump: Labyrinth Lost (Brooklyn Brujas) by Zoraida Cordova (Teen angst AND magic!)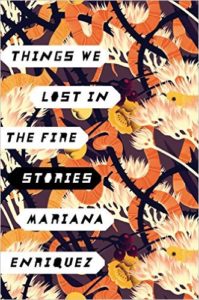 Things We Lost in the Fire: Stories by Mariana Enríquez
Fans of Shirley Jackson and Kelly Link are sure to enjoy these fantastic stories about the everyday terrors that people can encounter in a normal-seeming day. Gloriously weird and slightly disturbing, Enríquez's collection brings a bit of the unusual and surreal to the monotony of life. Wildly fun and intense!
Backlist bump: Young Woman in a Garden: Stories by Delia Sherman
YAY, BOOKS! That's it for me today – time to get back to reading! I have been on a horror kick the last week – totally here for your recommendations. You can find me on Twitter at MissLiberty, on Instagram at FranzenComesAlive, or Litsy under 'Liberty'!
Liberty