Hey there, love lovers! How was your Valentine's Day? I might have gone a little overboard with the half-priced dark chocolate, but I have no regrets. No regrets at all.
Have you seen Fifty Shades Darker yet? I still haven't, but I have the feeling that one's going to wait for Amazon Prime.
---
Todays newsletter is sponsored by Rough & Tumble by Rhenna Morgan.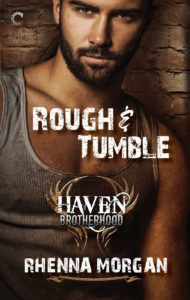 A self-made man with his fingers in a variety of successful businesses, Jace Kennedy lives for the challenge and he always gets what he wants. From the start, he sees Vivienne Moore's hidden wild side and knows she's his perfect match, if only he can break it free. He can walk society's walk and talk society's talk, but when he wants something, he finds a way to get it. He's proud of who he is and where he came from, and he'll be damned if he lets Vivienne go before showing her the safest place of all is in the arms of a dangerous man.
---
And speaking of things to watch, CBS Sunday Morning aired a segment about romance novels and novelists, including Eloisa James and Beverly Jenkins. Did you see it? I missed the original airing, but huzzah for Youtube, right? It's always nice to see the faces and hear the voices of people whose words we read all the time! (PS, did anyone else giggle when Beverly Jenkins mentioned turning lemons into lemonade? Lemons always makes me thing of the term as it's related to fanfiction.) 
Do you read with your ears? The 2017 Audie Awards finalists were announced recently. I haven't listened to romance in a while, but nearly everything on both the romance and erotica shortlists are on my to-read list. Maybe I'll try listening again!
Over on Book Riot, there's a giveaway going on! Share your favorite romance series for a chance to win Rough & Tumble by Rhenna Morgan from Carina Books. Oh hey, and there's another one to win $250 to Amazon. That's a lot of novels, peeps.
On Valentine's Day, the editorial director of Carina Press joined us for a look forward, discussing romance trends in the coming year. It looks like we might be seeing more speculative fiction of all kinds on the shelves in the coming year. I've already started seeing fantasy romance more often, which has not been a thing for a while.
Need a little inspiration for your own steamy romance? Check out this list of 100 Sex Education Books.
Also, if you want to walk around with song bytes in your head all day, have a look at books with slow jam titles.
Finally, quick reviews!
An Unseen Attraction
by KJ Charles
This is the first book in Charles' new Sins of the Cities series, and boy does it set up a great series (I hope). Clem Talleyfer, an Anglo-Indian lodging house manager, is definitely more than fond of one of his lodgers, Rowley Green, a taxidermist who runs the shop across the street. Each man has his own problems: Rowley's work leads his fellow lodgers to avoid him.  Clem thinks and processes a little differently than the average person, leading his lodgers to make attempts to undermine him. When people start to disappear and violence is committed upon both of them, they use their own strengths to keep themselves (and each other) alive, all while attempting to pursue a relationship without getting sent to jail. Not to mention, there's a fog settling, and it feels a little different than the others. (Did I mention this whole series is going to take place during The Great Fog? No? Oh man.)
Read Harder Bonus: LGBTQ+ Romance!
The Perfect Play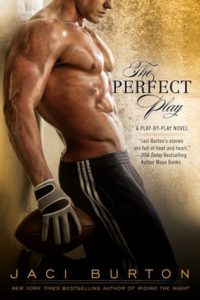 by Jaci Burton (Hey, I finally finished one of those football romances!)
Okay, this is an old one (it came out in 2011), but that means if you like it, you've got more than 15 Play by Play novels and novellas to read when you're done. In this one, Mick Riley, star quarterback and all around beautiful man, runs into Tara Lincoln in the bowels of the stadium. He gives her directions and she's gone. When he sees her again, it's at the team's end-of-season party, which she has planned. The two hit it off immediately, and have an awesome night together (and not just sexytimes, either), but she's not interested in pursuing a relationship. Here's where it could turn into a hard pass for some of you: he's interested, and won't say no until she agrees to go out with him. With a new business and a teenage son, she doesn't think she has time for Mick, even when he's not scared away by the fact that she had a kid at sixteen. They have a go at it anyway. And even with Mick's agent trying to split them up every step of the way, and insecurities on both sides affecting their progress, they might actually become a family yet.
Read Harder Bonus: There's a good amount of sportsballing in this book.
If the Dress Fits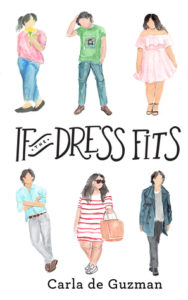 by Carla de Guzman
You might have seen this book in my list of fat heroines two weeks ago. I'm going to keep talking about this book.
Martha Aguas, accountant, fixer, and fantastic dresser, is pretty happy with her life. Sure, she has body issues, but doesn't everyone? When she keeps running into Enzo, her first (her last, her everything), she is sure it's fate sending her a sign. But everything comes crashing down when it turns out Enzo wants to marry her cousin Regina—who wants Martha to help her plan the wedding. To make matters worse, she has accidentally claimed that she has a boyfriend. Her extended family is delighted, and can't wait to meet him. Unfortunately, they all think it's Max, her BFF, an adorable bookish veterinarian who surprisingly…goes along with it? Sure, there are a few typos and there's a factual error here and there, but I want to marry this book and kiss it every day, all the while correcting its grammar and fixing its seams.
Read Harder Bonus: Set in Manila with a Filipino narrator, this counts for the final RH challenge.
And as usual, here are some books to look out for that have come out recently or will be out soon:
Hot Licks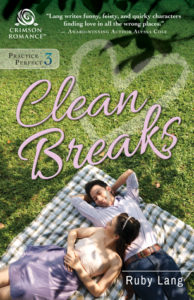 , AM Arthur
Clean Breaks, Ruby Lang
Combatting Fear, Sandy Vaile
Rough & Tumble, Rhenna Morgan
Mine at Midnight, Jamie Pope
Delicious Satisfaction, Sabrina Sol (February 27)
Wait For it, Molly O'Keefe (February 28)
The Undateable, by Sarah Title (February 28)
No Other Highlander, by Adrienne Basso (February 28)
That's probably good for now, right?
Do you have suggestions for me? Would you like to see a particular type of coverage or feature? Drop me a line at jessica@riotnewmedia.com or catch me on Twitter @jessisreading or Insagram @jess_is_reading (somebody beat me to the other one, darnit).
Till next time, my dears!
—Jess