New Films to Portray Mary Shelley and Virginia Woolf
We like to think we stay pretty on-top of book-related film news around the Riot, but this week brought notice of to new-to-us films about landmark female writers. A biopic of Mary Shelley, focusing on her relationship with Percy Bysshe Shelley, has (apparently!) been in the works for a few years now. Bop on over to Tor.com for a first look at Elle Fanning as the Frankstein scribe. Meanwhile, from the Department of We Couldn't Be More Excited, Eva Green and Gemma Arterton will play Vita Sackville-West and Virginia Woolf in a film about the historic pair's longterm romantic relationship.
Anonymous Book Fairy Distributes Free Books to Support the Resistance
A customer of San Francisco's beloved Booksmith purchased 50 copies of George Orwell's 1984 last week and left them at the store, where they were displayed with a sign exhorting customers to "Read up! Fight back!" Booksmith owner Christin Evans reports that the copies were quickly snapped up, prompting the unnamed benefactor to a repeat performance with Margaret Atwood's The Handmaid's Tale and Erik Larson's In the Garden of Beasts. Other customers have since been inspired to follow suit. This is rad in its own right, but could it be the start of a larger movement to use reading to encourage resistance?
New Salman Rushdie Novel to Take on Trump
Speaking of books as resistance, news broke this week that Salman Rushdie's thirteenth novel, The Golden House, due out this September, will take on the last eight years in American politics and feature "the insurgence of a ruthlessly ambitious, narcissistic, media-savvy villain sporting makeup and coloured hair." Rushdie is certainly no stranger to the intersection of literature and politics. His history makes him uniquely positioned to resist threats of retribution, and his record of success and critical acclaim will make him a tough target for the predictable backlash tweets asserting he's a washed up has-been. Sad! This will be a good one to watch.
---
Thanks to The Cruelty by Scott Bergstrom for sponsoring This Week in Books.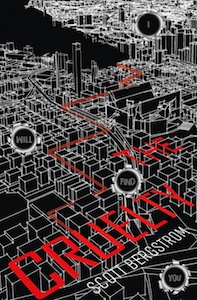 Taken meets The Girl with the Dragon Tattoo and The Bourne Identity in this action-packed debut thriller (optioned for film by Jerry Bruckheimer) about a girl who must train as an assassin to deal with the gangsters who have kidnapped her father.