Hello, current and aspiring book groupers! Welcome to In The Club, a newsletter of resources to keep your book group well-met and well-read.
I've been a leader of four book groups, a member of two more, a fielder of book club questions via Get Booked, and a text-message-consultant for several relatives' groups, so I feel confident in stating the following: The number one hardest thing about book clubs, harder even than making sure that everyone gets to say their piece on the book, harder than getting everyone to actually talk about the book, is picking the books. Maybe you've got a benevolent dictator who picks for the group; maybe there's a rotation, maybe you vote. Regardless, with this newsletter we hope to give you some solid options for your next read (and the next, and the next).
We'll also cover some great ideas that other groups have put into practice, ways to get the discussion moving (that aren't just another Reading Group Guide), and the occasional recipe or two (what's book group without treats, I ask you)! So let's get started.
A question to add to every meeting: What about that title? Titles can be good, awful, or indifferent; sometimes we notice them (like if they're the 1,563rd book with "girl" in the title), sometimes we don't. Talking through why the publisher or author might have picked what they did, how well it relates to the book's content, and what else a book might have been called with your group can yield a fascinating (and occasionally heated!) discussion.
Reading challenges, ahoy! If you want to broaden your group's horizon or get out of a reading rut, a challenge is a great place to start. We are (naturally) big fans of our very own Read Harder challenge, but there are other options as well, and Sarah Nicolas has put together a big list.
Whether or not you're doing a challenge, some of the picks we've lined up for Read Harder might be perfect for your group! I've got two picks below that are book-group-ready for you, with additional listings from my fellow Book Riot contributors.
For: Read a YA/MG by an author who identifies as LGBTQ+.
The Weight of Feathers, by Anna-Marie McLemore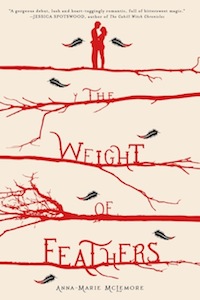 Whether your book group already reads YA and/or magical realism or wants to add some to your list, this book is a great pick. It's a spin on Romeo and Juliet, and possibly my favorite one ever. In a modern-day small town, the feud between the Palomas and Corbeaus has carried on to the next generation. The teenagers of both families keep a sharp eye out for each other, whether to avoid or to pick fights. Lace Paloma has not only the feud to worry about, but her own complicated family politics. When a strange boy (who inevitably turns out to be a Corbeau) saves her life, her loyalties are turned topsy-turvy.
McLemore refreshes and beautifully handles the family feud, but what makes this book shine are all the other things she adds. She also takes on the perils of corporate greed and the consequences of family abuse. Then to top it all off, there's the shimmering and well-chosen elements of magical realism. Everyone has a secret in this book, and I didn't see a good half of them coming. So not only can your group spend some time riffing on the Romeo and Juliet parallels, but then you can get into the many other layers.
Even more picks for this task, courtesy of Tirzah Price
For: Read a book in which a character of color goes on a spiritual journey (suggested by author Daniel José Older).
Parable of the Sower by Octavia Butler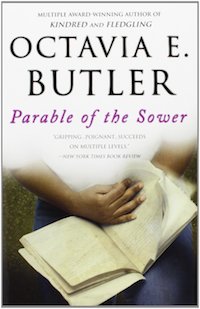 There is no time like the present to start reading Octavia Butler. Whether or not your group traditionally reads sci-fi is irrelevant for this novel; it's a near-future look at religion and politics, and therefore uncomfortably close to reality. Not least because, as many have pointed out, Butler's villainous presidential candidate also wanted to "make America great again." Written in 1998 and set in 2032, Parable of the Sower follows a young woman named Lauren who flees an attack on her community and ends up on the road in a harshly divided America. Lauren has, depending on how you look at it, a talent or a curse: she has a heightened perception of pain and sensation in others. She's developed her own religious beliefs in response to this, and in the course of her travels decides it's time to start a new community where her religion can grow.
Like any novel that prominently features religion and politics, there's so much here to unpack. How relevant (or not) is it today? How compelling (or not) is Lauren's vision? Does it make you want to read the sequel, Parable of the Talents? The questions suggest themselves.
Even more picks for this task, courtesy of Teresa Preston
---
This week's newsletter is sponsored by Penguin Press, publisher of Homesick For Another World by Otessa Moshfegh.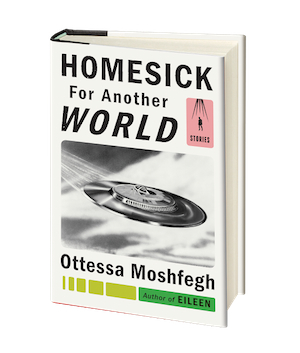 An electrifying first collection from one of the most exciting short story writers of our time.
There's something eerily unsettling about Ottessa Moshfegh's stories, something almost dangerous, while also being delightful, and even laugh-out-loud funny. Her characters are all unsteady on their feet in one way or another; they all yearn for connection and betterment, though each in very different ways, but they are often tripped up by their own baser impulses and existential insecurities. Homesick for Another World is a master class in the varieties of self-deception across the gamut of individuals representing the human condition.