If you're a mystery and thriller lover, liker, occasional dabbler, or looking to dip your toe in for the first time welcome to the Unusual Suspects' newsletter—don't mind the police tape and I'm pretty sure that's ketchup.
I'll be sharing great books (old, new, and upcoming), adaptations, publishing news, and anything interesting/exciting that might fall under the mystery umbrella. There's so much to discuss let's get to it.
Calling Nancy Drew fans!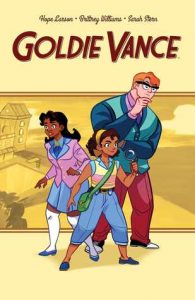 I'm still giving CBS all the side-eye possible for passing on a modern-day Nancy Drew starring Sarah Shahi but I'm consoling myself with a comic I'm very much enjoying: Goldie Vance by Hope Larson. Goldie is technically a valet at a Florida resort but can't help constantly assisting the in-house detective on cases—and especially going rogue. Not sure I would stay in a hotel that needed a detective on the payroll but it totally works in the comic. Goldie is smart, fearless, and determined, with a dad as a boss and a mom who works as a live mermaid. It's awesome and delightful!
Read Now!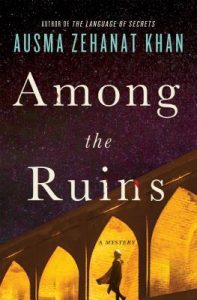 Among the Ruins (Ausma Zehanat Khan's third book in the Rachel Getty & Esa Khattak series) is coming out in early 2017 so ending the year/starting the year reading The Unquiet Dead and The Language of Secrets would be an excellent decision that I highly recommend!
Now Playing:
Dirk Gently's Holistic Detective Agency, based on Douglas Adams' series, is for fans of quirky, weird, wtf, ridiculous, and odd paired "detective" tales. There's a lot thrown at you in regards to story (there's a kidnapping, a murder, a firing…) and characters (down on his luck guy, a holistic detective, a holistic assassin, a sick sister, detectives, unhinged landlord…) and while you have no idea how any of it relates you know it's all going to, somehow. Currently airing on BBC America Saturdays at 9/8c and streaming on their site/app.
Good Behavior, TNT's adaptation of Blake Crouch's Letty Dobesh novellas, is for fans of crime/thrillers. While on probation and in the midst of committing a crime Letty overhears a murder-for-hire meeting and decides she must save the intended victim. I'm always here for lady criminals and Michelle Dockery is perfectly cast! Premiered November 15 at 9/8c on TNT and streaming on their site.
Going to the movies? Nocturnal Animals, adapted by Tom Ford from Austin Wright's novel Tony and Susan, starring Amy Adams and Jake Gyllenhaal will be in theaters November 23. "An art gallery owner is haunted by her ex-husband's novel, a violent thriller…" I'm sold!
Have you heard?
Sherlock will return January 1, 2017 with its 4th season starting with the episode 'The Six Thatchers'!
HBO has picked up the Canadian/U.S. rights to the limited series Cormoran Strike based on the series by Robert Galbraith (J.K. Rowling).
The current adaptation of Agatha Christie's Murder On The Orient Express has a fantastic cast: Michelle Pfeiffer, Judi Dench, Daisy Ridley, and Leslie Odom Jr.!
Looks like Hollywood is planning on skipping two books to make The Girl in the Spider's Web the "sequel" adaptation to The Girl with the Dragon Tattoo film.
Make room on your TBR shelf for these October releases: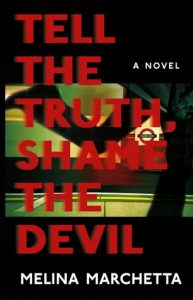 Tell the Truth, Shame the Devil by Melina Marchetta: A mystery and drama–Bish, suspended from the MET, is roped into finding the person responsible for a school bus bomb and finding the kids who have run away—filled with wonderful moments and humor, that never falls near the territory of tragedy porn. I finished this one hoping that I will get to once again meet these fantastic characters and wanting to read Marchetta's entire back catalog.
The Trespasser (Dublin Murder Squad #6) by Tana French: Antoinette Conway is a tough as nails detective in the Murder Squad who is getting no respect from fellow detectives and is, along with her partner, hoping to finally get a case to prove them wrong. They get the case—a woman murdered in her home—but as they keep going in circles trying to figure out what happened Conway starts to doubt herself. French brilliantly places readers inside this investigation without ever making you feel like you want to hurry things along. And the audiobook has a nice narration by Irish actress Hilda Fay. (You can dive into the series here without feeling lost—most of the books in the series change the characters, although this is Conway's second appearance—but if you're looking for a recommendation on how to read the series Rioter Jessica Woodbury wrote a great post.)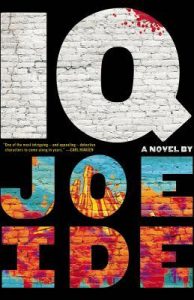 IQ by Joe Ide: The novel jumps between Isaiah Quintabe's childhood and his current life as a private detective in East Long Beach taking the cases the LAPD haven't solved for whatever his clients can afford—until he takes a case for money involving a rap mogul whose life is in danger. Ide's gift is writing characters that are so alive I felt like they were in the room with me. And there was a bidding war for the rights before the novel even published!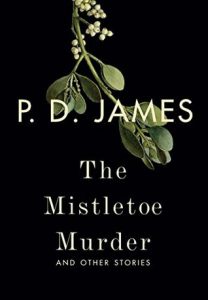 The Mistletoe Murder and Other Stories by P. D. James: Great whodunit short stories with twists! And if you're an audiobook fan it's narrated by English actors Jenny Agutter and Daniel Weyman who do a lovely job.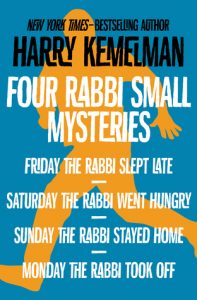 Four Rabbi Small Mysteries: Friday the Rabbi Slept Late, Saturday the Rabbi Went Hungry, Sunday the Rabbi Stayed Home, and Monday the Rabbi Took Off by Harry Kemelman: A mouthful of a title because it's a collection of four novels that follows Rabbi David Small and the small Jewish community he's recently begun to watch over. I found this a very enjoyable cozy whodunit read with the bonus element of taking me into a Jewish community in the '60s not lacking in small town drama—starting with a vote to oust the new Rabbi who while a suspect is also helping solve the case of the murdered nanny.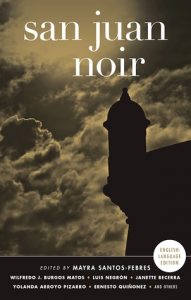 San Juan Noir by Mayra Santos-Febres (Editor): A good collection of noir (crime infused, dark, despair) short stories that are set in Puerto Rico and written by writers of Puerto Rican heritage. From the panty-stealer trying to save a dog from his cruel, criminal owner to the story that brings San Juan to life like a character I found myself carving out time every day to sneak in at least one story.
Now that I've overloaded you with mysteries to solve I'm going back to reading! Until next time, keep investigating! And in the meantime feel free to come talk books with me on Litsy, you can find me under Jamie Canaves.
---

We're giving away a brand-new, top-of-the-line Kindle Voyage. Go here to enter for a chance to win, or just click on the image above!
We're giving away a brand-new, top-of-the-line Kindle Voyage. Go here to enter for a chance to win, or just click on the image below.We're giving away a brand-new, top-of-the-line Kindle Voyage. Go here to enter for a chance to win, or just click on the image below.Save
Save
Save