Unbound Worlds is one of our presenting sponsors, and they want to give you books! If you love science fiction, fantasy, and genre-bending literature, do not miss this sweepstakes for a library of 23 science fiction and fantasy titles.
---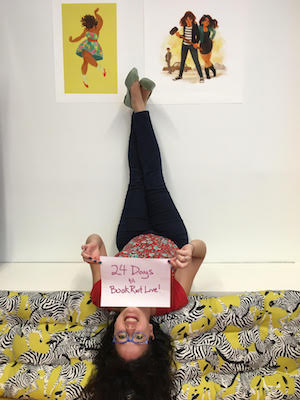 Like moderator Rachel Fershleiser, we are head-over-heels excited that Book Riot Live is less than a month away! If you're already registered, you should have received an email invite from Sched to set up your personalized con schedule and RSVP for limited-seating panels. (If it hasn't turned up yet, hit reply and let us know.) If you haven't gotten your tickets yet, there is still time! Get them for $20 off with code BOOKNERD.
Speaking of panels you'll want to go to, here are a few more highlights from this year's schedule:
Slash, Live
Sponsored by Swoon Reads
Slash returns! Love fanfiction, pop culture, and shipping? Join us for a live, no-holds barred game in which players compete to create the best romantic fan fiction pairing. Featuring Book Riot Comics contributor Jessica Plummer, writers Alyssa Cole and Zoraida Córdova, and Harlequin editor Michael Strother.
Rewriting History
Sponsored by Candlewick Press
How do you find a previously unknown story and bring it to light? How do you tell a known story in a new way? What can you make up and what has to be "true"? YA author Meg Medina, alt-history novelist Nisi Shawl, and historian-and-poet Patrick Phillips discuss these questions and more.
Farm to Table: How A Book Gets Made
Sponsored by Speaking American: How Y'all, Youse, and Your Guys Talk from Houghton Mifflin Harcourt
How does a book get from submitted manuscript to your bookshelf? Not always the way you think! Find out more from publishing experts who work behind the scenes:
Self-publishing and small presses: author Ayize Jama-Everett
Book packaging: Sona Charaipotra, Cake Literary
Editor: Michael Reynolds, Europa Editions
Marketing: Kathryn Ratcliffe-Lee, Harper Perennial