Today's Riot Rundown sponsored by Penguin Teen.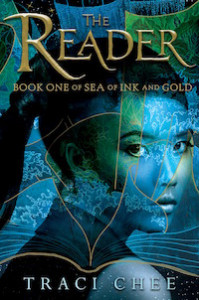 The only clue Sefia has to both her aunt's disappearance and her father's murder is the odd rectangular object her father left behind, an object she comes to realize is a book—a marvelous item unheard of in her otherwise illiterate society. With the help of this book, and the aid of a mysterious stranger with dark secrets of his own, Sefia sets out to rescue her aunt, discover what really happened the day her father was killed, and to punish the people responsible.
With clues hidden throughout, a beautiful cover, and deckle-edged pages, The Reader will remind you just how special a book can be.