Happy Tuesday! It's time for another round of "Make Your TBR Lists Explode." I have a few great books to tell you about today, and on this week's episode of the All the Books! Rebecca and I talked about some of the books coming out in the last half of 2016 that we are excited about, including Three Dark Crowns, The Bestseller Code, and Mooncop.
This week's newsletter is sponsored by Portugal by Cyril Pedrosa.
Comics creator Simon Muchat is struggling to find purpose in his existence. Bitter and apathetic towards everything, he gets a chance to travel to Portugal where the roots of his family lie. After an absence of more than 20 years Simon finds himself rediscovering the sounds and smells of his childhood, the radiant warmth of something forgotten. Having soaked up the atmosphere of his fatherland, and driven by the desire to find out the secret behind his family name, Simon sets on a melancholic quest for identity that helps him rediscover his passion for life.
Incarnations: A History of India in Fifty Lives by Sunil Khilnani
A fascinating take on how India came to be, which Khilnani tells using fifty figures throughout the country's history. From emperors and warriors to film stars and corporate titans, Incarnations is a smart, wry look at the myths that shaped India and the people that influence the stories and history told today. Highly informative and entertaining!
Backlist bump: A History of the World in 100 Objects by Neil MacGregor
The Gloaming by Melanie Finn
A dark, intense novel of mystery about a woman, Pilgrim, who is fleeing the disaster that was her marriage, and, overcome with guilt after a horrible accident, runs off to Africa to lick her wounds. But when a body turns up and is suspected of being a curse created by witchcraft, she and the town's citizens are set on edge trying to figure out the curse's intended recipient. Not helping with matters is Pilgrim's sinking feeling that she's being followed. Did I mention it was dark? It's also terrific.
Backlist bump: Away from You by Melanie Finn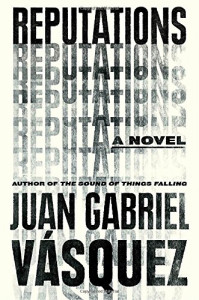 Reputations by Juan Gabriel Vásquez
A revered political cartoonist whose illustrations wield power and influence over his country must take a hard look at his life after an unexpected visit from a young woman has him reevaluating everything he has done and how he remembers the past. A masterful, thought-provoking novel about secrets, celebrity, and escaping the past from one of the most talented writers working today.
Backlist bump: The Sound of Things Falling by Juan Gabriel Vásquez
YAY, BOOKS! That's it for me today – time to get back to reading! If you want to learn more about books (and see lots of pictures of my cats, Millay and Steinbeck), or tell me about books you're reading, you can find me on Twitter at MissLiberty, on Instagram at FranzenComesAlive, or Litsy under 'Liberty'!
Stay rad!
Liberty