President Obama's Summer Reading List
The White House released the five books on President Obama's summer to-be-read list:
Barbarian Days: A Surfing Life by William Finnegan
The Underground Railroad by Colson Whitehead
H Is for Hawk by Helen Macdonald
The Girl on the Train by Paula Hawkins
Seveneves by Neal Stephenson
There is a lot I am going to miss about President Obama. His overt and enthusiastic bookishness is near the top of the list.
New Film Adaptation of The Phantom Tollbooth
Even though The Phantom Tollbooth was adapted in 1971, it's still looking for its iconic film version. From time to time, rumors of a new production burble up, and we have a new round of interest from TriStar pictures. Hiring a screenwriter is of course no guarantee of a movie, but intellectual property like The Phantom Tollbooth won't sit on the shelf forever.
Following Coup Attempt, Turkish Government Closing Publishers
In the wake of the recent failed coup attempt, more than 20 book publishers have been forced to close in Turkey. All assets of the publishing houses are to be immediately transferred to the Turkish treasury, and outstanding money owed to authors and translators is likely to go unpaid. These publishers join a host of newspapers, TV stations, and other media outlets that the government has closed under an emergency law for suspicion of being sympathetic to the coup.
---
This Week in Books is sponsored by Before the Fall by Noah Hawley.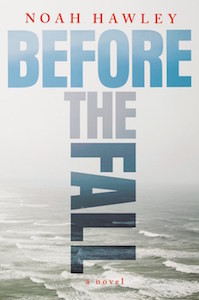 On a foggy summer night, a plane carrying eleven passengers inexplicably plunges into the ocean. The only survivors are Scott Burroughs—a struggling painter—and a four-year-old boy, who is now the last remaining member of a powerful media mogul's family. With chapters weaving between the backstories of the passengers, odd coincidences begin to point to a conspiracy, raising questions about the danger of an unchecked media and the randomness of fate.
Find out more about Before the Fall.