Book Riot recently launched Book Mail, our very own service to send you awesome books and bookish gifts. The first rounds of both the mainline (primarily adult books) and the YA line sold out within a few days of their respective launches, and now it's time to reveal the goodies.
Want in? Join the waiting list for the next mainline Book Mail box (coming in September) and the next YA box (October).
And now *drumroll* here's what you missed!
Book Mail Mainline #1: Food and the Eating Life (shipped in June):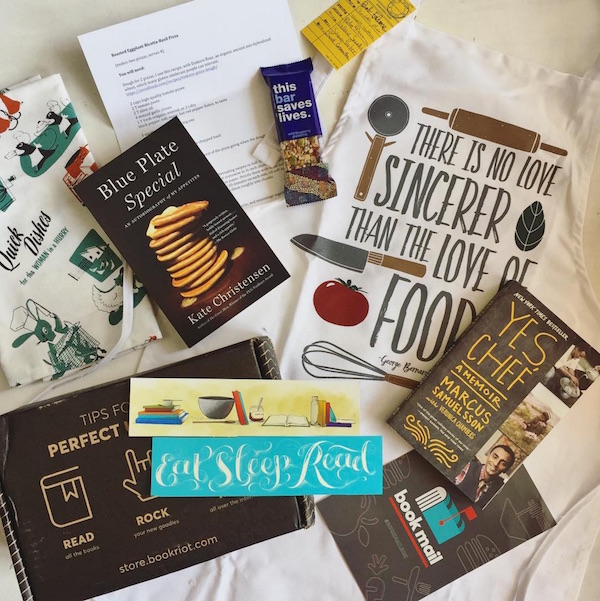 Yes, Chef by Marcus Samuelsson
Blue Plate Special by Kate Christensen
2 new recipes from Kate Christensen (exclusive to Book Mail buyers)
Vintage cookbook tea towels (exclusive)
Custom literary quote apron
Eat, Sleep, Read bookmark (exclusive)
This Bar Saves Lives granola bar
Book Mail YA #1: Lighter Reads for Summer (shipped in July):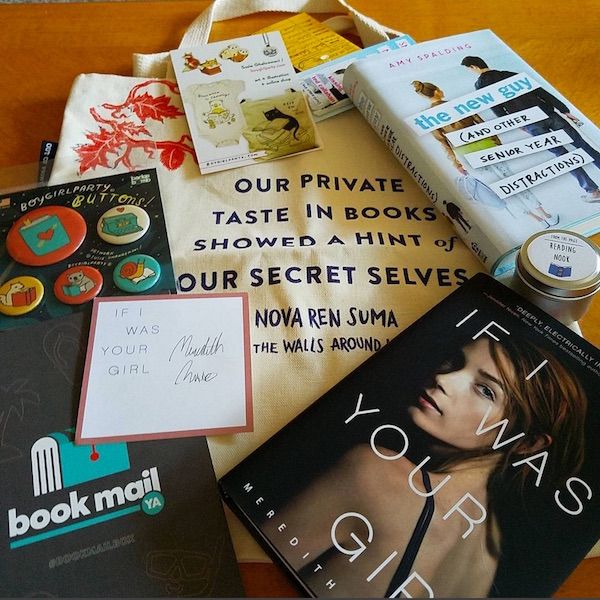 If I Was Your Girl by Meredith Russo
Bonus bookplate signed by Meredith Russo (exclusive)
The New Guy (And Other Senior Year Distractions) by Amy Spalding
Bonus bookmark signed by Amy Spalding
Custom tote with quote from The Walls Around Us
Set of 5 bookish buttons from Boy Girl Party
Literary candle by From the Page
There are limited quantities of each Book Mail box available, and folks on the waiting list get first crack. Sign up now to be notified when the next rounds launch.
Book Mail themes and contents are a secret, but, well, let's just say it's no myth that the next mainline box will be magical. As for YA? It promises to be delightfully strange.
Book Mail boxes are $60, including free shipping worldwide (yes, for real) and total value of contents always exceeds the ticket price. This is not a subscription.