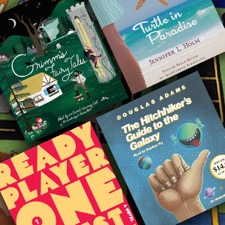 This week's Audiobooks! newsletter is sponsored by TryAudiobooks.com. 
Have you ever taken a road trip with your family that seemed to go on forever? We all have! Audiobooks can solve that problem by providing entertainment for the whole family.  Visit TryAudiobooks.com/family-travel for a free full download and start listening with the whole family on your next car ride.
Hey there readers,
It's June, school's out, and we've entered PRIME audiobook season: 'tis the season of summer road trips! We did a lot of these when I was growing up in the '80s and '90s. My family of 7 would squeeze into a Dodge Caravan with a canoe on top and a pop up camper in the back and drive across the country to live in the woods and watch bears eat out of dumpsters. (I have kind of a weird family.) It was also the only time we got to eat Cinnamon Toast Crunch.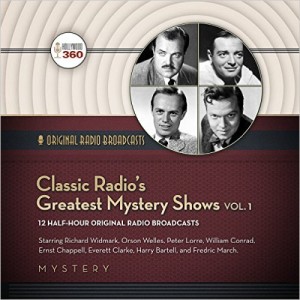 We'd drive straight through for 24 hours or more, and my mom always took the night shift, listening to CDs of old timey radio mysteries from Barnes and Noble. I had yet to discover audiobooks, but I listened to the audio of Disney movies that I had checked out from the public library and dubbed onto cassette tapes while I tried to sleep on top of duffel bags in the trunk. (To this day I can recall entire chunks of dialogue from Aladdin and Beauty and the Beast.)
Flash forward to 2016, and we have so many more listening options. Whatever your vacations family look like, here's hoping you find some great listens this summer. <3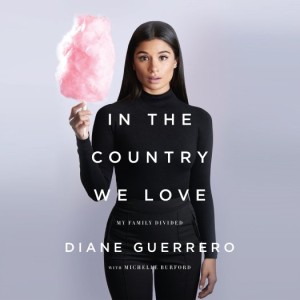 In the Country We Love: My Family Divided
When she was just 14, Diane Guerrero's parents (Orange Is the New Black, Jane the Virgin) were arrested and exported to Colombia and she was left on her own in the U.S. Yikes! The biggest surprise for me in Guerrero's new memoir was how much of her story I could relate to — the ordeals of her family breaking up when she was 14 years old, hopping around between schools, being drawn to the arts, and wrestling with ADHD and depression all resonated deeply with me. It was a powerful reminder that commonalities exist in unexpected places, even between a brown working-class girl who grew up Catholic in Boston and a white middle-class girl who grew up Mormon in Iowa.
Guerrero tells her story with directness, honesty, and personality, and In the Country We Love reminded me of books like Leah Remini's Scientology memoir, Troublemaker, that aren't wrapped up in layers of mysterious metaphors, but are so remarkable and told with such candor that they don't really need to exist any other way. This was exceptionally moving on audio — Guerrero has an authentic and playful voice that bubbles through in her performance, which made for a very lovely listen.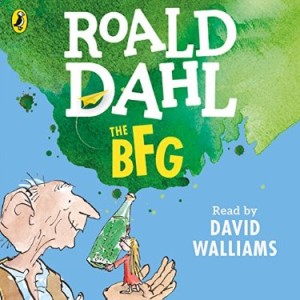 Roald Dahl Audiobooks for Everyone in the Family
One of my pals at Book Riot has been totally stumped about what to listen to on a family road trip with her two preschoolers and husband. They've already listened to (and loved, obviously) Kate DiCamillo's The Tale of Despereaux, which is not an easy act to follow. We all bounced around some ideas — Ramona? Stuart Little? — and then the idea of Roald Dahl came up! With The BFG coming out in movie theaters on July 1, now is the perfect time to brush up on the books, and we're happy to report that we think they hold up pretty well.
I'm personally a huge fan of the Roald Dahl audiobook collection that came out a few summers ago with fancy actors like Kate Winslet, Stephen Fry, and Chris O'Dowd performing Matilda, The BFG, and all the rest. You can preview some of my favorite clips here!
Stephen King on His Love for Audiobooks
June is Audiobook Month, and we've been celebrating by watching Stephen King gush adorably about why he hearts audiobooks: "The more you listen to audiobooks," he says, "You start again to experience the words as sounds, which is something that you don't always do when you're reading to yourself."
Watch to find out Stephen King's favorite audiobook of all time, how many audiobooks he listens to per year, why he thinks audiobooks are more suspenseful than print, and how a great narrator is like listening to your favorite music in surround sound. Happy Audiobook Month!