Sponsored by Flatiron Books, publisher of Anna K by Jenny Lee.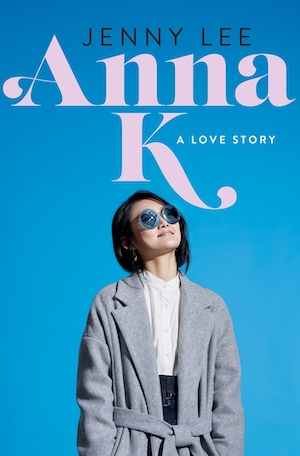 Dazzlingly opulent and emotionally riveting, Anna K: A Love Story is a brilliant reimagining of Leo Tolstoy's timeless love story, Anna Karenina―but above all, it is a novel about the dizzying, glorious, heart-stopping experience of first love and first heartbreak.
Hey YA Readers!
Sharifah here! I'm steering the YA ship while Kelly's out. Let's dig into the latest in YA news, as well as take a peek at the great new books that hit shelves this week.
YA Book News
Let's catch up on this week's YA news.
New YA Book Releases
Grab your TBR because it's about to grow. A * means Kelly has read the book and recommends it!
*The Alcazar by Amy Ewing
Be Not Far From Me by Mindy McGinnis
Bone Crier's Moon by Kathryn Purdie
*Chain of Gold by Cassandra Clare
Every Reason We Shouldn't by Sara Fujimura
The Fire Never Goes Out by Noelle Stevenson
*The First Seven by Laura Pohl
Fly Like A Girl by Mary Jennings Hegar
Havenfall by Sara Holland
If These Wings Could Fly by Kyrie McCauley
The Kingdom of Back by Marie Lu
Light In Hidden Places by Sharon Cameron
Mermaid Moon by Susann Cokal
The Midnight Lie by Marie Rutkoski
The Moment of Truth by Kasie West
The Night of Your Life by Lydia Sharp
Only Mostly Devastated by Sophie Gonzales
Open Fire by Amber Lough
The Phantom Twin by Lisa Brown
*A Question of Holmes by Brittany Cavallaro
The Twin by Natasha Preston
The Vanishing Deep by Astrid Scholte
The Vanishing Girl by Josephine Ruby
*The Warrior's Curse by Jennifer A. Nielsen
When We Were Magic by Sarah Gailey
*Wicked As You Wish by Rin Chupeco
The Winter Duke by Claire Eliza Bartlett
Witches of Ash and Ruin by E Latimer
This Week at Book Riot
Don't miss the great talk over on Book Riot this week about YA, either.
---
Thanks for hanging out!