We hope you're getting plenty of sunlight wherever you are because we're bringing out the vampires for Vampire Day at Book Riot!
---
Sponsored by Carmilla by Kim Turrisi from KCP Loft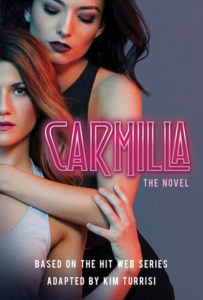 An adaptation of Shaftesbury's award-winning, groundbreaking queer vampire web series of the same name, Carmilla mixes the camp of Buffy the Vampire Slayer, the snark of Veronica Mars, and the mysterious atmosphere of Welcome to Nightvale.
---
We've got something for every fan of vampire fiction out there. Start with our welcome post, collecting all of the day's vampire content; find under-the-radar reads for your vampire TBR; learn about Dracula's predecessor Carmilla; find out how teaching 6th grade made one reader love Twilight; find some non-Western bloodsuckers in literature; and so much more.
So head to Book Riot and invite some vampires into your home library!