Happy Friday, shipmates! It's Alex, and this week we're talking Nebula finalists in the novel category! It's a really nice array of books this year–scroll down if you want to see the list. (The novella category is also super cool, but we'll talk about that later.)
It's been another cold week in Colorado, which is actually pretty normal for us, but I've been reminding myself of the joy of non-instant hot chocolate and it's made my evenings a delight. I hope you are staying warm where you are. Stay safe out there, space pirates, and I will see you on Tuesday for the Ides of March!
Let's make the world a better place, together. Here's somewhere to start: NDN Collective and Jane's Due Process
---
SFF eBook Deals
Beasts of Prey by Ayana Grey for $5.99
The Big Book of Science Fiction edited by Ann and Jeff Vandermeer for $2.99
Sorcerer to the Crown by Zen Cho for $1.99
News and Views
On Coming to Ursula K. Le Guin in My Own Time
A Look at Andre Norton's Witch World
Why Stories Are Dangerous – and Why We Need Them Anyway
My Super Hero Is Black will tell the other history of the Marvel Universe
On Book Riot
The Birth and Evolution of Gaslamp Fantasy
8 Fantastic Middle Grade Books for Dungeon & Dragons Fans
9 of the Best Jewish Fantasy Books
The Evolution of the Magical Girl in Manga and Anime
Bookish Dragon Goods for Your Hoard
This week's SFF Yeah! podcast is about award-winning short fiction, among other things
This month you can enter to win an iPad Mini, a Banned Books bundle, a Kindle Oasis, $200 at The Ripped Bodice, and a 1-year subscription to Book of the Month.
Free Association Friday: Nebula Finalists!
The finalists for the Nebula Awards, given by the Science Fiction and Fantasy Writers of America, came out on March 8, and it's a great list. Let's shine a spotlight on the novel nominees this week. (Novella for next week, because that's another fantastic list.)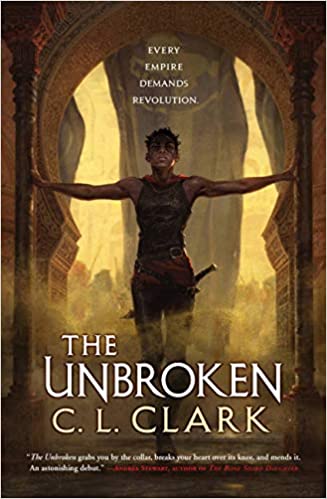 The empire Luca is to inherit is crumbling around her as her uncle, sitting on the throne, continues to make matters worse. Her best opportunity is a land long since conquered, where she can sway the rebels there toward peace… and use them to reclaim the magic her land has long since lost. There she meets Touraine, a soldier conscripted by the empire as a child, whose bonds of blood to her homeland should be long broken… and aren't.
It's 1912 in a Cairo very different from the one we know, where Djinn have come into the world and the Ministry of Alchemy, Enchantments, and Supernatural Entities regulates magic. When an entire secret brotherhood is slain, Agent Fatma is put on the case and discovers the murderer claims to be the man to whom that brotherhood was dedicated–al-Jahiz himself, the one who opened our world to magic. Whether he is real or imposter, he must be stopped, and she's the woman to do it.
By 2095, people generally don't die from violence–instead they get taken out by designer diseases or starve in the streets because they can no longer keep up with AI squeezing them out of the gig economy. The key to survival is a plethora of pills. Welga is an executive bodyguard in this milieu, and when her client is killed by a mysterious terrorist group called the Machinehood, she finds herself in the middle of a plot to stop all pill production.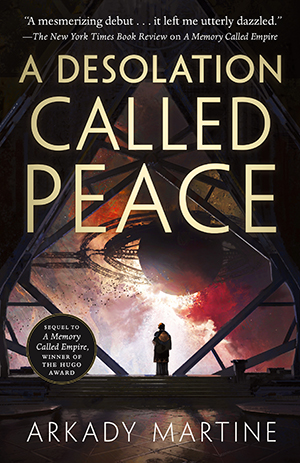 The sequel to A Memory Called Empire sees Mahit Dzmare and Three Seagrass leaving the heart of the Teixcalaanli empire to go to the edge of space, where an alien species that no one knows how to communicate with has begun slaughtering Teixcalaanli colonies. Together, they must figure out how to talk to a species whose language quite literally makes them ill… and also how to talk to each other.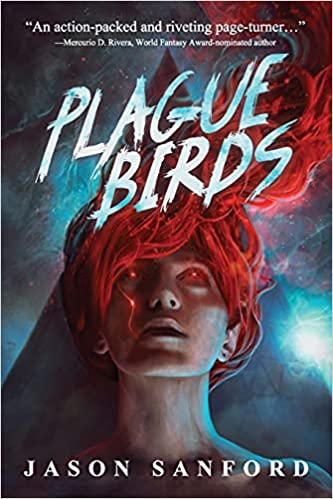 Plague Birds are the melding of human and artificial intelligence, marked by their bright red hair and clothes so ordinary people know to fleet them. They serve as the judges and executioners in the world that still survives after civilization has collapsed. Crista first met the Plague Birds when one killed her mother when she was a child. As an adult, she becomes this thing she hates and fears most in order to save her village. Her first mission is to chase down a group of murderers who wield what looks like magic.
Don't forget you can get three free audiobooks at Audiobooks.com with a free trial!
---
See you, space pirates. If you'd like to know more about my secret plans to dominate the seas and skies, you can catch me over at my personal site.