We're teaming up with Little Lark Books to give away a $200 gift card to Thriftbooks! 
Enter here for a chance to win, or click the image below!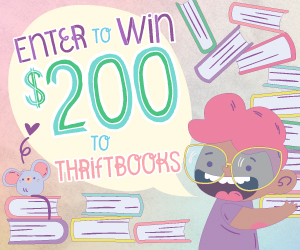 Here's a bit more about our sponsor: Get ready to jump-start your little reader's imagination with Little Lark Books, an all-new children's picture book imprint from Entangled Publishing. Little Lark Books features fun, fresh, and altogether delightful books. Each page is an opportunity for kids to explore a world filled with joy, curiosity, and endless adventure—while teaching them to wholly embrace themselves as much as possible. Because everyone starts out small, and Little Lark Books is ready to welcome them to the big, bigger, and biggest world ever…their imagination.