Welcome to Read This Book, a newsletter where I recommend one book that should absolutely be put at the top of your TBR pile. Recommended books will vary across genre and age category and include shiny new books, older books you may have missed, and some classics I suggest finally getting around to.
Before we get to today's pick, I'm excited to share that Book Riot's editorial team is writing for casual and power readers alike over at The Deep Dive! During the month of September, all new free subscribers will be entered to win Parable of the Sower by Octavia Butler plus 5 mystery books from The Deep Dive. To enter, simply start a free subscription to The Deep Dive. No payment method required!
Today's pick is a contemporary foodie romance that offered up some A+ humor.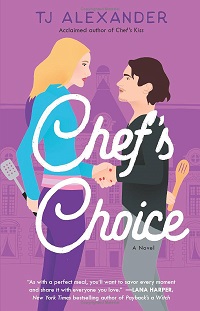 Luna O'Shea just got fired from her job as the incredibly proficient executive assistant of a practically useless CEO. She did not see this coming, and the HR person's "reasons" had the pungent odor of anti-trans microaggressions. She desperately needs someone to talk to, and since her roommate Simone isn't home, Luna decides to go to where she was working so they can talk in person.
Simone is a chef and is working on the set of an upcoming reality cooking show. While Luna is at the place where they will be filming, a moody trans man with a vape and a French accent goes storming through asking every woman around if they'd pretend to be his girlfriend for 15 minutes. He offers to pay any takers one thousand dollars and he seems desperate. Luna ends up being the one to do it and so she hops on a video call with this guy's grandfather, who just happens to be a wildly famous French chef. The grandfather is suspicious why his grandson and Luna's fake boyfriend, Jean-Pierre Dominique Gabriel Aubert-Treffle, is in New York. Jean-Pierre decides a fake girlfriend is the best excuse and so Luna gets looped into the chaos.
Apparently, Jean-Pierre's entire inheritance depends on a test, which is a passable recreation of his grandfather's famous French cuisine menu. Upon learning that Jean-Pierre has a girlfriend, the grandfather says that she should also have to take part in this cooking test. Once they hang up the phone, Jean-Pierre asks Luna to continue this farce through the cooking test and in turn, he will pay her hundreds of thousands of dollars.
The biggest catch? Jean-Pierre is absolutely terrible at cooking and Luna is pretty bad at it as well. Luna, however, is an optimist and not about to turn down such a large amount of money. They quickly discover that while they're both transgender, how they view the world and their places in it are wildly different and it leads to a number of arguments. That makes the fact that they fall for each other surprising to even them.
While this book is related to Chef's Kiss by the same author, it totally works as a standalone. It is hilarious and sexy and wonderfully queer.
Book Riot has podcasts to keep your ears listening for days! Check them out and subscribe.
---
That's it for now, book-lovers!
Patricia
Find me on Book Riot, the All the Books podcast, Bluesky, and Instagram.
Find more books by subscribing to Book Riot Newsletters.