A quick reminder: today's links will take you to Libby, a free app where you can borrow ebooks, digital audiobooks, and magazines from your public library. Many of you already know and love Libby, and now you can borrow August's most exciting new releases (or put them on hold) right from this newsletter. Happy reading (and borrowing)!
Happy Tuesday, star bits! I hope everyone had a lovely weekend. (Yes, it's Tuesday, but I write these on Sunday night, so it totally counts.) I spent my weekend watching episodes of The Monkees and reading stacks of graphic novels. I find that if I am in a reading slump, reading graphic novels helps. Knocking out a bunch of graphic novels makes me feel like I am getting back into the reading swing of things and sets me back on my path. And speaking of reading, for you today, I have a fantastic debut story collection, a romcom you can sink your teeth into, and a supernatural middle grade novel from one of my new favorite authors. Hip-hip-hooray!
At the top of my list of today's books I want to pick up are Where There Was Fire by John Manuel Arias, I Feed Her to the Beast and the Beast Is Me by Jamison Shea, and The Abduction of Betty and Barney Hill: Alien Encounters, Civil Rights, and the New Age in America by Matthew Bowman.
You can hear about more of the fabulous books coming out today on this week's episode of All the Books! Kelly and I talked about some of the books we're excited about this week, including Happiness Falls, The Infinity Particle, and Things in the Basement.
Delighting velocireaders since 2017, Book Riot's New Release Index will keep you in the know about all the latest books. New books for days. Subscribe today — you won't be able to read them all, but it's fun to try!
And now it's time for everyone's favorite game, "Ahhhhhhh, My TBR!" Here are today's contestants!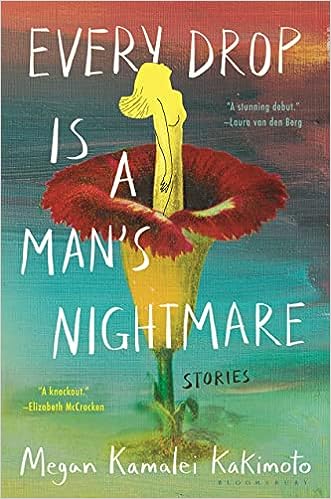 This is a stunning debut collection of stories set in Hawai'i. The Hawaiian and Japanese women in these stories are haunted by tradition and expectations. In these stories, a writer's work comes to life; a young girl with a new stepfamily is frightened by her changing body as well as superstition; an elderly women thinks her dead lover is in a flower; and more. These are raw, sometimes alarming and grotesque, but moving tales of women and the space they occupy. They're perfect for fans of Carmen Maria Machado and Kali Fajardo-Anstine. There are a lot of content warnings, too, including colonization, fatphobia, body shaming, body horror, loss of a loved one, sexism, and sexual assault.
Backlist bump: Never Have I Ever: Stories by Isabel Yap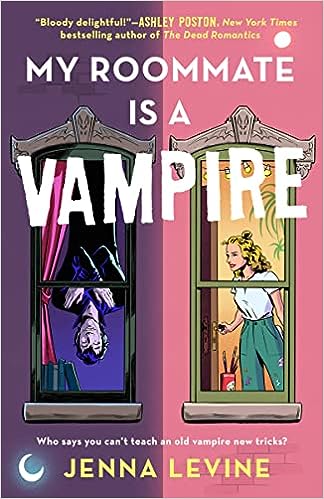 And this is another debut, a cute romcom about unlikely roommates. Cassie is all about suffering for her art, but when she faces eviction, she knows she has to make changes. That's when she finds the steal of a lifetime—a room for cheap in an amazing apartment. Cassie accepts it, even though it seems too good to be true. And it is: her handsome, charming roommate Frederick sleeps all day and keeps blood in the fridge. What is Cassie willing to put up with to keep her dreams alive, and can she resist Frederick, even when she learns he has fangs? This is silly and sweet, perfect for when you need a light bite.
Backlist bump: Love in the Time of Serial Killers by Alicia Thompson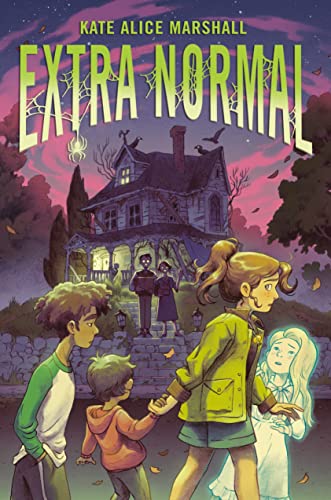 Over the last couple years, I have read many books from Marshall and enjoyed them all so much! She has scary YA stories, thrilling thrillers for adults, and fantastic middle grade tales. Like this one, for instance! It's about a young girl named Charlie, whose family all has something special about them…except, Charlie thinks, for her. While her parents are off on vacation, Charlie has to babysit her younger siblings, who are a ghost, a werewolf, and a boy with telekinesis. And when Charlie gets bad vibes from the new neighbors, she's going to prove to her parents she has a special talent by figuring out The Weavers' deal, even if it means putting them all in danger. It's Stranger Things meets Encanto in this spooky story about believing in yourself and being special.
Backlist bump: Thirteens (The Secrets of Eden Eld Book 1) by Kate Alice Marshall
Join Rebecca & Jeff in the First Edition podcast to consider the 10 finalists for the "It Book" of August and pick a winner.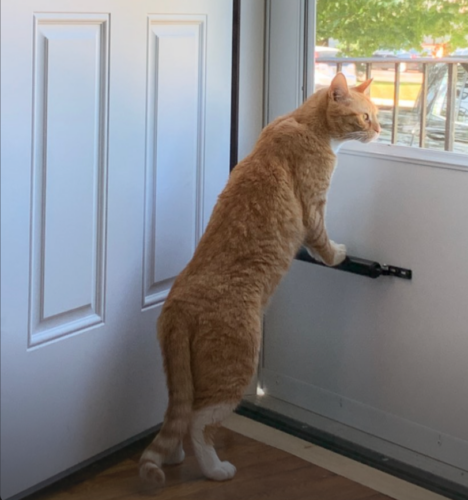 This week, I am reading Sure, I'll Join Your Cult: A Memoir of Mental Illness and the Quest to Belong Anywhere by Maria Bamford and The Goth House Experiment by SJ Sindu. In non-book things, as I mentioned above, I have been going through episodes of The Monkees. I freaking love The Monkees. My mom let me stay home from school the Monday after the Monkees marathon on MTV in 1986, because I stayed awake for the whole thing. It remains one of my favorite childhood memories. Peter was my favorite Monkee when I was little, but as an adult, it's Mike. And to that end, the song stuck in my head this week is "No Time" by The Monkees. And here is your weekly cat picture: Zevon is watching the traffic go by our front yard.
Thank you, as always, for joining me each Tuesday as I rave about books! I am wishing you all a wonderful rest of your week, whatever situation you find yourself in now. And yay, books! See you next week. – XO, Liberty