Welcome to Read This Book, a newsletter where I recommend one book that should absolutely be put at the top of your TBR pile. Recommended books will vary across genre and age category and include shiny new books, older books you may have missed, and some classics I suggest finally getting around to.
First, I want to mention something that has been delighting velocireaders since 2017, Book Riot's New Release Index! Book Riot's New Release Index will keep you in the know about all the latest books. New books for days. Subscribe today — you won't be able to read them all, but it's fun to try!
Today's pick is a comedian memoir where the author's humor really shines through.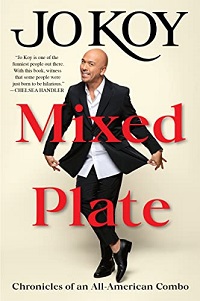 Jo Koy is a household name in many Filipino American homes. He is a stand-up comedian and if you, like me, have read many comedian memoirs you know they can be real, real dark. Jo Koy describes his father as the poster boy for white America. Born and raised in Buffalo, New York, he met Jo's mother while in the military and stationed overseas for the Vietnam War. Jo's mother was born and raised in the Philippines and she would travel around as the business manager for Filipino bands that would go from base to base and give concerts.
Jo talks about growing up on different military bases as his family moved around before finally making a home in Tacoma, Washington. He also talks about the struggles of being an immigrant kid with a demanding mother and trying to fit into a place not known for its diversity. It's a memoir and so of course, there is a lot about his family and the stories are also about growing up with three siblings, a single mom, and a mostly-absent father.
Woven through all of this is the constant thread of Jo's desire to be a stand-up comedian. He was born in the early '70s and he talks about listening to stand-up on cassette tapes and eventually convincing his mother to get HBO, which was the main source of stand-up comedy in the 1980s.
Jo was not good at school, he was terrible at driving, and he was the worst at holding down a job but he didn't care, because all he wanted was to be on stage. His mother wanted him to have a full-time desk job with benefits and even at the end of the book I'm not entirely convinced she is 100% behind his career, even though he's really successful. He definitely tells the story of how he finally got on stage, repeatedly bombed, repeatedly got on stage again, and hustled hard to get where he is.
Sometimes when I read a memoir by a comedian, I feel a bit let down because I can tell their comedy is best behind a microphone and not necessarily in a book. This book, though, I laughed a lot in every chapter even though there is also some incredibly difficult content woven throughout.
Content warning for violent schizophrenia, child abuse, verbal and emotional abuse, and violence against a person with mental illness.
Join Rebecca & Jeff in the First Edition podcast to consider the 10 finalists for the "It Book" of August and pick a winner.
---
That's it for now, book-lovers!
Patricia
Find me on Book Riot, the All the Books podcast, Bluesky, and Instagram.
Find more books by subscribing to Book Riot Newsletters.