Welcome to Read This Book, a newsletter where I recommend one book that should absolutely be put at the top of your TBR pile. Recommended books will vary across genre and age category and include shiny new books, older books you may have missed, and some classics I suggest finally getting around to.
Before I do that, I have a question: What do S.A. Cosby, Khaled Hosseini, Sarah Bakewell, and Yahdon Israel have in common? They've been guests on Book Riot's newest podcast, First Edition, where BookRiot.com co-founder Jeff O'Neal explores the wide bookish world. Subscribe to hear them and stay to hear Book Riot's editors pick the "it" book of the month.
Today's pick is a nonfiction comic in honor of Disability Pride Month.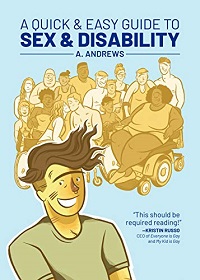 This is part of the absolutely lovely nonfiction comic Quick & Easy Guides collection. The author & illustrator, A. Andrews, is a disabled cartoonist. They make it very clear that they are neither a doctor nor a sex educator, but they have plenty of lived experience as a sexually active disabled person.
Disabled people are the largest minority group in the United States and make-up an estimated 20% of the population. That being said, many disabled folks are sexually active, and there aren't nearly enough resources for disabled people on how to have sex that is pleasurable, comfortable, and safe. Not only are there not enough resources, there aren't even enough conversations around sex and intimacy for disabled folks. This book hopes to open the door a bit wider, knowing that disabled folks remain less likely to receive adequate sex education and sexual healthcare at the same time as being more likely to experience trauma and stigma around sex. As mentioned in the title, this is a quick and easy guide. It does not get very deep and detailed, but it's a wonderful starter for conversations and exploration. It's written in a super casual, conversational tone that I really appreciate.
The author talks a bit about how they are defining disability and then some common myths about disabled bodies. I love that the author starts with communication as the main contributor to having sex that is enjoyable. This is true for all people, disabled or not, but for disabled folks interested in having sex, there may be more people to be talking to than just their partner or partners. Sometimes a conversation needs to be had with a personal care attendant, for instance, to arrange furniture or pillows before date night. Another example may be a conversation with your healthcare provider about contraception.
There's practical information beyond communication in this comic as well about positions and toys and lube and more. The primary audience for this book is disabled people, but honestly, this is a fun, informative read for anyone. The artwork has a wide range of bodies and genders and skin tones and it's wonderful.
Delighting velocireaders since 2017, Book Riot's New Release Index will keep you in the know about all the latest books. Start your 14-day free trial today.
---
That's it for now, book-lovers!
Patricia
Find me on Book Riot, the All the Books podcast, Twitter, and Instagram.
Find more books by subscribing to Book Riot Newsletters.