Welcome to Read This Book, a newsletter where I recommend one book that should absolutely be put at the top of your TBR pile. Recommended books will vary across genre and age category and include shiny new books, older books you may have missed, and some classics I suggest finally getting around to.
Before I do that, I have a question: What do S.A. Cosby, Khaled Hosseini, Sarah Bakewell, and Yahdon Israel have in common? They've been guests on Book Riot's newest podcast, First Edition where BookRiot.com co-founder Jeff O'Neal explores the wide bookish world. Subscribe to hear them and stay to hear Book Riot's editors pick the "it" book of the month.
Today's pick is a recent queer young adult contemporary romance that was an incredibly fun read, especially if you're a fan of shows like The Great British Bake Off. And it's by a former Book Riot contributor!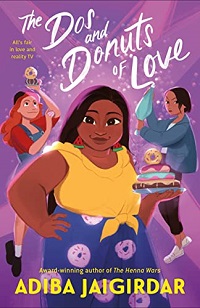 Shireen Malik has just broken up with her girlfriend, Chris, and she is not handling the breakup well. Shireen's parents own a donut shop called You Drive Me Glazy across from Chris Huang's parent's donut and bubble tea shop. Both sets of parents have taken the rivalry to really petty levels and they have no idea that Shireen and Chris were dating, much less broke up. Shireen's best friend Fatima is in Bangladesh visiting family for the summer so while she tries to video call as often as possible to offer support, it's just not the same as if she were back home in Ireland with Shireen.
While Shireen is still rattled from the breakup, she learns that she has been accepted as a contestant on the first-ever Junior Irish Baking Show. You Drive Me Glazy has hit a rough patch financially (business is decidedly not booming) and Shireen hopes that going on the show will help get her parent's donut shop back on its feet. Being on the show is also a step in Shireen's plan to someday open her own bakery.
Shireen is an incredible baker and there's a real possibility that she could win at this competition but of course, nothing is that easy. Her ex-girlfriend Chris has also been accepted as a contestant and is quite determined to win. In addition, there's Niamh, a rather cute contestant on the show who not only has her eye set on winning the competition, but also it seems, she has her eye on winning Shireen's heart.
This book is an absolute treat full of delicious puns and sticky situations. Each chapter's title is delightful and the names that Shireen comes up with for the exciting donut flavors at her parents' shop rival the punny names Bob Belcher gives his burgers of the day in the show Bob's Burgers.
Content warning for racism, fatphobia, microaggressions, and outright aggressive Tweets.
Delighting velocireaders since 2017, Book Riot's New Release Index will keep you in the know about all the latest books. Start your 14-day free trail today.
---
That's it for now, book-lovers!
Patricia
Find me on Book Riot, the All the Books podcast, Twitter, and Instagram.
Find more books by subscribing to Book Riot Newsletters.