Okay, first, a very important question: Have you read Loot by Tania James yet?!? It came out last week and I am still obsessing over it. I loved it so much and I can't wait for everyone else to read it. There are also a lot of new books out today for you to be excited about, including one of my other favorite novels of the year. This week I have a queer Western, a moving graphic memoir, and a powerful account by an immigrant justice advocate.
At the top of my list of today's books I want to pick up are I Am Homeless If This Is Not My Home by Lorrie Moore, Holding Pattern by Jenny Xie, and Through the Groves: A Memoir by Anne Hull. You can hear about more of the fabulous books coming out today on this week's episode of All the Books! Tirzah and I talked about some of the books we're excited about this week, including Night's Edge, This Town Is on Fire, and Zero Days.
Looking for fascinating stories, informed takes, useful advice, and more drawn from our collective experience as power readers, teachers, librarians, booksellers, and bookish professionals? Subscribe to The Deep Dive, a biweekly newsletter featuring stories to inform and inspire readers, to get exclusive content delivered to your inbox!
And now, it's time for everyone's favorite game show: AHHH MY TBR! Here are today's contestants.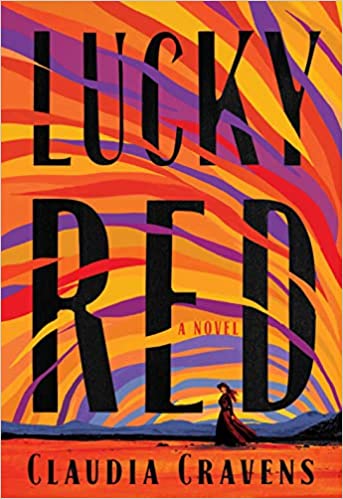 Lucky Red by Claudia Cravens
This is one of my favorite novels of the year! It's set in the post-Civil War West, and follows an orphan who winds up in Dodge City. Bridget didn't know what the future would hold but she certainly didn't expect to lose her home and her father in quick succession. In need of money to survive, she takes a job at The Buffalo Queen, a high-end brothel in town. And she finds the life suits her; she has clothes, friends, money, and — as the sheriff's favorite — protection. But when Bridget falls for one of the other women, it sets off a chain reaction that brings chaos and destruction to the Buffalo Queen's doorstep. This is an excellent Western about women trying to find agency in a city run by men, and about young love and discovering who you want to be. It's so fantastic! It made my Deadwood-loving heart very happy. (CW include animal harm and death, pregnancy death, substance abuse and addiction, misogyny, homophobia, violence, murder, gore, and death.)
Backlist bump: Heresy by Melissa Lenhardt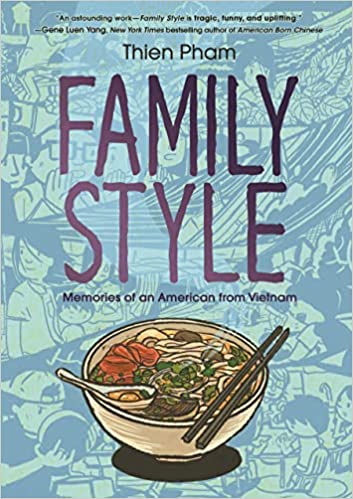 This is a beautifully illustrated, moving YA memoir about Pham's family's journey from Vietnam to America. In recounting how his family fled their home country to a refuge camp to Thailand, and then eventually made their way to America, he documents the food he remembers from major events in his life. It is an excellent book about belonging. And like Parachute Kids by Betty C. Tang, which came out earlier this year, it is an important, heart-squeezing examination of the sacrifices parents make to ensure their children have a better life. (CW include racism and xenophobia.)
Backlist bump: The Best We Could Do by Thi Bui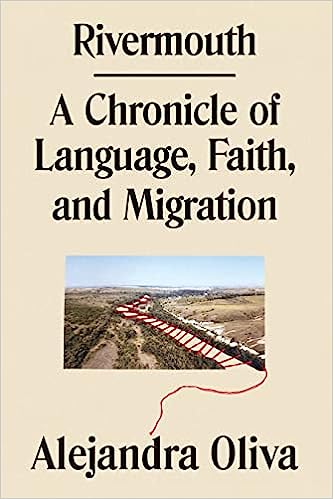 And last but not least, this is another look at U.S. immigration, this one from a Mexican American translator who has worked with asylum seekers from many years. Oliva talks about the infuriating and inhumane treatment of people trying to navigate U.S. immigration policies in the face of racism and misinformation. She examines who qualifies for citizenship and why, and shares the story of her own family's life at the border. It's a powerful, compassionate, and sometimes enraging look at people who want a better life, sometimes a safer life, for themselves and their children. This is a 2023 nonfiction must-read. (CW include violence, loss of a loved one, racism, and xenophobia.)
Backlist bump: Translation Nation: Defining a New American Identity in the Spanish-Speaking United States by Hector Tobar
Subscribe to First Edition for interviews, lists, rankings, recommendations, and much more, featuring people who know and love books.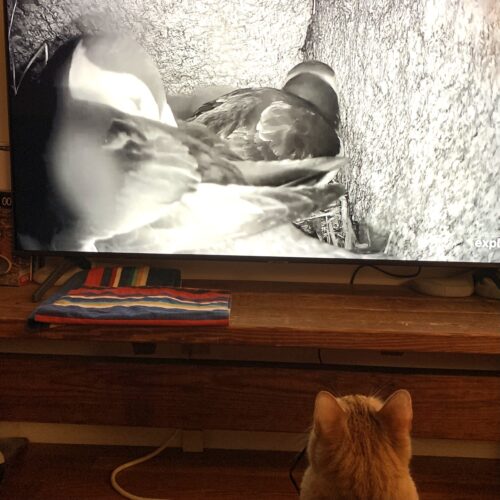 This week, I am reading This Wretched Valley by Jenny Kiefer, Linghun by Ai Jiang, and The Infinite Miles by Hannah Fergesen. In non-book things, I have been watching lots of quiz shows. I have a bunch cluttering my DVR, so we've been going through them. The song stuck in my head this week is "Down By the Water" by PJ Harvey. And here is your weekly cat picture: I like to leave the live puffin cam on when I'm working. The cats are often transfixed by it, even when the puffins aren't doing anything. Like in this photo, they're asleep, and Farrokh can't stop staring. Related: The puffling hatched just over a week ago and it is SO cute and, no surprise, a big fan of fish.
Thank you, as always, for joining me each Tuesday as I rave about books! I am wishing you all a wonderful rest of your week, whatever situation you find yourself in now. And yay, books! See you next week. – XO, Liberty