It's that time again — new release time! Today, I have a heartpunching story from a father to his son, a gothic historical novel set at a music school, and a cringe-inducing memoir of a marriage. (Just trust me.) This week also marks the release of one of my favorite novels of the year: Loot by Tania James! It is a fantastic, imaginative work of historical fiction. I talked about it on this week's podcast and I was so excited about it, it's possible only dogs will be able to understand what I said. Seriously, run, don't walk.
I am also excited to pick up so many of today's other releases! At the top of my list are The Gulf by Rachel Cochran, Kiss Me in the Coral Lounge: Intimate Confessions from a Happy Marriage by Helen Ellis, and 8 Lives of a Century-Old Trickster by Mirinae Lee. You can hear about more of the fabulous books coming out today on this week's episode of All the Books! Vanessa and I talked about some of the books we're excited about this week, including Loot, Psyche and Eros, and Better Living Through Birding.
Looking for fascinating stories, informed takes, useful advice, and more drawn from our collective experience as power readers, teachers, librarians, booksellers, and bookish professionals? Subscribe to The Deep Dive, a biweekly newsletter featuring stories to inform and inspire readers, to get exclusive content delivered to your inbox!
And now, it's time for everyone's favorite game show: AHHH MY TBR! Here are today's contestants.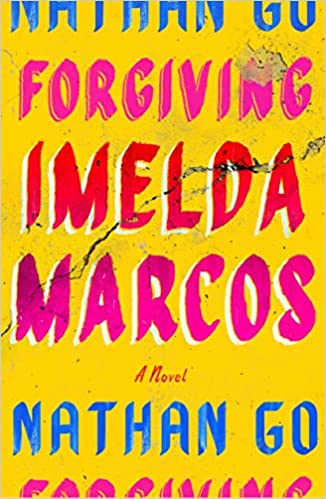 The removal of Philippine president Ferdinand Marcos and his shoe-loving wife Imelda from power was a huge news story when I was in fourth grade. So I was really curious about this novel, about a Filipino father telling a newsworthy story to his estranged journalist son in America. Lito is the former driver for Corazon Aquino, who succeeded Ferdinand Marcos. Years after the end of his job, he writes down a never-before told story involving Corazon and Imelda in the hopes that this one gift might bring his son some fame. And the gift of the story might also bring Lito a little forgiveness. I did find the ending to be a bit rushed, but overall, I thought this was a touching, poignant novel about a man at the end of his life looking for closure. (CW for violence, murder, war, child abuse, substance use and abuse, sexism, racism, illness, loss of a loved one, and suicide.)
Backlist bump: Insurrecto by Gina Apostol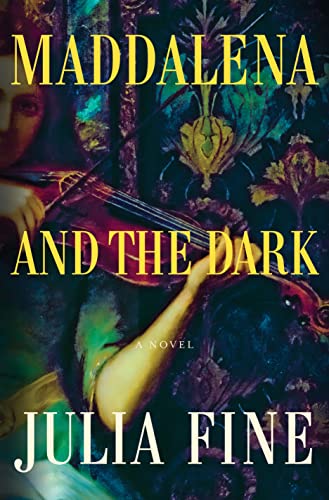 On today's episode of "I'll Read Anything Kelly Link Blurbs": This is a gothic 18th century novel about two best friends at a music school in Venice. Life for young women in the 1700s doesn't offer much other than marriage and motherhood. When Luisa and Maddalena are drawn to one another at the Ospedale della Pietà, they have more on their minds than music. Maddalena has a plan to get them out of their scripted futures. But it involves a strange plot that draws the girls down deeper into a dark they may never return from. This is a simmering, heady, fairy tale about friendship, futures, and changing your fate. (CW for sexism, misogyny, violence, illness, body horror.)
Backlist bump: The Upstairs House by Julia Fine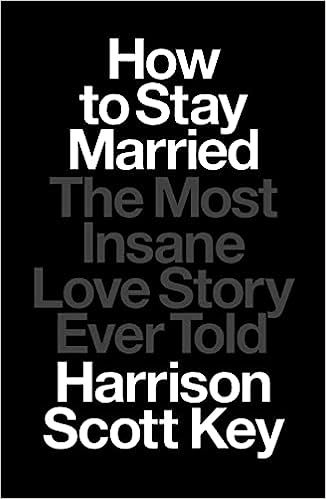 First I must admit that I am only halfway through this one, and it's like a train wreck I can't look away from, except it's funny. Key is a Thurber-award winning humorist, known for his books and TED talks. This is his memoir about finding out his wife of many years was having an affair, for many years, with a friend. But instead of divorce, they went to counseling, got really horrifyingly honest with one another, and started over. This isn't a book about blame or revenge. It's about the institution of marriage, something millions of people sign up for every year. Key is brutally honest about his relationship, and his feelings over the whole situation, and he also can't help but be funny. As he says, "Men never talk about being betrayed. I want to. I feel I must. I have many deep convictions, and one of them is that suffering can and should be monetized." Perhaps this wouldn't be entertaining if readers didn't know up front that they work things out, but it is earnest and funny, and I'm rooting for them.
Backlist bump: Congratulations, Who Are You Again? by Harrison Scott Key
Subscribe to First Edition for interviews, lists, rankings, recommendations, and much more, featuring people who know and love books.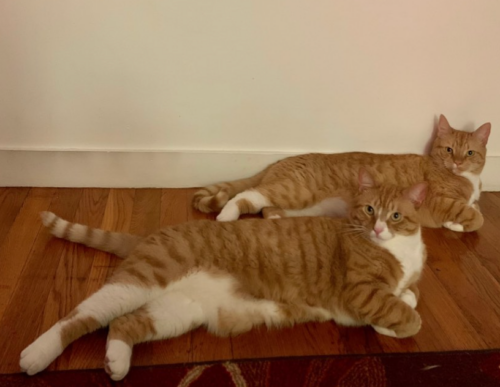 This week, I am reading The Madstone by Elizabeth Crook and Everything I Learned, I Learned in a Chinese Restaurant: A Memoir by Curtis Chin. In non-book things, I started watching Mrs. Davis but I think I figured out the big reveal, so I may have spoiled it for myself, lol. The song stuck in my head is "The Recluse" by Cursive. And here is your weekly cat picture: I managed to capture a rare moment of twinning by Farrokh and Zevon.
Thank you, as always, for joining me each Tuesday as I rave about books! I am wishing you all a wonderful rest of your week, whatever situation you find yourself in now. And yay, books! See you next week. – XO, Liberty