Welcome to Read This Book, a newsletter where I recommend one book that should absolutely be put at the top of your TBR pile. Recommended books will vary across genre and age category and include shiny new books, older books you may have missed, and some classics I suggest finally getting around to.
Before I do that, are you looking for fascinating stories, informed takes, useful advice, and more drawn from our collective experience as power readers, teachers, librarians, booksellers, and bookish professionals? Subscribe to The Deep Dive, a biweekly newsletter to inform and inspire readers, delivered to your inbox! Your first read (The Power Reader's Guide to Reading Logs & Trackers) is on the house. Check out all the details and choose your membership level at bookriot.substack.com.
Today's pick is an incredibly fun backlist title to kick off LGBTQIA+ Pride Month!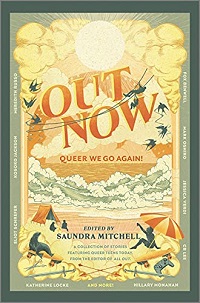 This is a queer young adult anthology and I rarely say this about anthologies but, every single story in this collection is a winner. It was thoughtfully put together and features a racially diverse range of characters that are multiple different flavors of queer. It also includes a wide range of genre representation, which I appreciate.
There's a vampire story titled, "What Happens in the Closet" by Caleb Roehrig that had me literally laughing out loud because of how awful the vampires are (and it's not because of the violence). The same story made me cringe because of the awkwardness of being a teen, the awkwardness of being gay, and the combined awkwardness of being a teen who is gay.
Another story that has a nice balance is titled "Lumber Me Mine" by CB Lee. It has the rawness of a fresh breakup out of a toxic relationship with a person who is incredibly manipulative but then it also has a super swoon-worthy girl our lead character meets in Woodshop class. She's only in Woodshop because she is avoiding the Nutrition and Household Planning class since that's where her ex will be. I don't want to give too much away but I really enjoyed this story.
One of my absolute favorite stories in this whole book is "Victory Lap" by Julian Winters. It is so sweet and I absolutely cried multiple times which is silly because it's a short story! I would cry on one page, be fine for the next, and then start crying all over again a paragraph later. Luke Stone, our protagonist, is looking for a prom date with the help of his friends. We learn that Luke recently quit the cross country team to help his dad out more at his dad's well-known barber shop. We also learn that Luke's mother had passed away and also that Luke hasn't come out to his dad yet. This story could totally be a recipe for disaster but it is filled with so much goofy dad goodness and I have a soft spot in my heart for dad jokes as well as for really good dads.
One of the many things I appreciate about this collection is that the characters are also all along different points in their queer journeys. Some are already well-established in their identities and some are figuring things out still and some figure things out by the end of the story and some don't and that's okay. There's so much more in this anthology as well. A story that features LSD, a story including a few Greek gods, a story featuring a kitchen witch which is also another one of my most favorites in this book. Aliens! Selkies! Dystopian futures! A super fun read that has something for everyone.
Subscribe to First Edition for interviews, lists, rankings, recommendations, and much more, featuring people who know and love books.
---
That's it for now, book-lovers!
Patricia
Find me on Book Riot, the All the Books podcast, Twitter, and Instagram.
Find more books by subscribing to Book Riot Newsletters.