Happy new release day to all who celebrate! Today, I have an award-winning historical novel, a wonderful memoir, and a new mind-bending thriller from one of my very favorite authors. I am also excited to pick up so many of today's releases! At the top of my list are Dykette by Jenny Fran Davis, Painted Devils by Margaret Owen, and Human Sacrifices by María Fernanda Ampuero, Frances Riddle (translator).
You can hear about more of the fabulous books coming out today on this week's episode of All the Books! Tirzah and I talked about some of the books we're excited about this week, including Yellowface, We'll Never Tell, and Saint Juniper's Folly.
But first, be sure to check out First Edition! BookRiot.com co-founder Jeff O'Neal explores the wide bookish world. Interviews, lists, rankings, retrospectives, recommendations, and much more, featuring people who know and love books. Subscribe to First Edition on Spotify, Apple Podcasts, or your podcatcher of choice.
And now, it's time for everyone's favorite game show: AHHH MY TBR! Here are today's contestants.
The Postcard by Anne Berest, Tina Kover (translator)
This is a remarkable, powerful work of autobiographical fiction. It's based on true events in Berest's family's life, and indeed, the main character is named Anne Berest. Two decades ago, sixty years after the end of WWII, the Berest family received a mysterious postcard. On the back were the names of several members of their family who were killed at Auschwitz. Anne and her mother enlist the help of others, amateur detectives and professionals, to discover where the postcard came from and to learn more about the family they never knew. This puzzle will take them all over the globe, and it's a beautiful, sad story that will get its hooks in your heart. The Postcard won the Choix Goncourt Prize, which is widely considered to be France's most important literary award. (CW for the horrors of war and mass genocide, including antisemitism, torture, violence, murder, and loss of loved ones.)
Backlist bump: Suite Française by Irène Némirovsky, Sandra Smith (translator)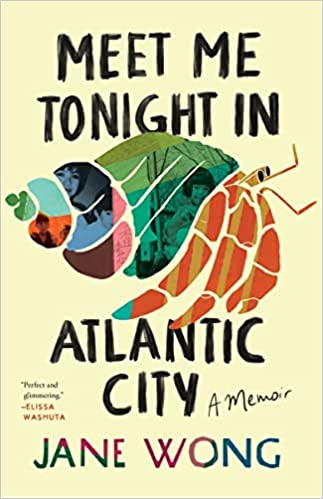 Here is a wonderful memoir from Tin House, one of my favorite small presses! This is Wong's story of growing up in the 1980s in Atlantic City. She and her brother were raised in their family's Chinese restaurant on the Jersey shore. But as her family worked to achieve the "American dream", her father was fighting a battle with his gambling addiction, one that would eventually cost his family everything. This is an honest and forgiving recollection of a childhood, one of those memoirs that is an examination of events as an adult that maybe you didn't understand fully as a child, and is perfect for fans of Seeing Ghosts and Stay True. (CW for racism and racist language, substance abuse, and domestic violence.)
Backlist bump: Seeing Ghosts: A Memoir by Kat Chow
And last, but not least, the new novel from one of my auto-buy authors! I am a HUGE fan of Nick Harkaway (and his alter ego Aidan Truhan), so forgive me if I just squee for several minutes. His work is always MIND-BLOWING. Even just trying to succinctly describe this novel, a book I have already read, is tying my brain in knots. It's a classic noir-meets-sci-fi mystery, about a detective who is called in to investigate a murder. The victim? A genetically-modified Titan, one of a few thousand elites with their genes rearranged to live a longer life. (Oops.) Cal Sounder is an expert on Titans, but as he digs deeper into the murder, his investigation is going to take him down a dark path that he may never return from. (CW for violence and murder, classism.)
Backlist bump: The Gone-Away World by Nick Harkaway
Looking for fascinating stories, informed takes, useful advice, and more from experts in the world of books and reading? Subscribe to Book Riot's The Deep Dive to get exclusive content delivered to your inbox.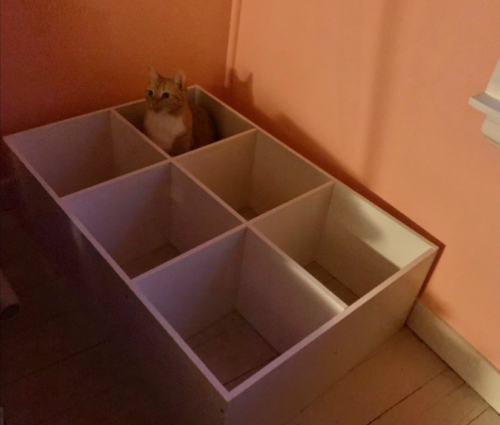 This week, I am reading When Crack Was King: A People's History of a Misunderstood Era by Donovan X. Ramsey and When the Angels Left the Old Country by Sacha Lamb. I also just got Madonna: A Rebel Life by Mary Gabriel, which I am very curious about but I don't know if I am ready for 900 pages of Madonna just yet. In other news, the Celtics just won the Eastern conference semifinals (yay!), so I am taking the next few days until the first new conference game on Wednesday to avoid screens and cram as many books as I can into my brain pan. (Nom nom nom.) The song stuck in my head is "Missed the Boat" by Modest Mouse. And here is your weekly cat picture: Zevon is helping me rearrange the shelves in my library. Doesn't this look helpful?