Happy #TransRightsReadathon week! I hope you're picking up lots of trans books this week and donating to worthy causes. An important update: Sim Kern, who's running the event, has shifted the focus to trans books in general, to avoid outing authors.
I thought I would do a quick round up of sapphic books by out trans/nonbinary authors at the Lesbrary, which ended up being a much bigger undertaking than I was expecting! I thought I'd have about 15-20 titles and ended up closer to 60. And that's just specifically books with sapphic content by authors who publicly identify as trans and nonbinary! There are so many great options for the readathon.
For the #TransRightsReadathon, you can donate to local trans organizations, support other participants' fundraisers, or even donate to Sim Kern's! They are raising money for Tony's Place, a shelter for trans and queer youth in Houston, Texas.
Looking for fascinating stories, informed takes, useful advice, and more from experts in the world of books and reading? Subscribe to Book Riot's newest newsletter, The Deep Dive, to get exclusive content delivered to your inbox. Subscribe and choose your membership level today at bookriot.substack.com
Bookish Goods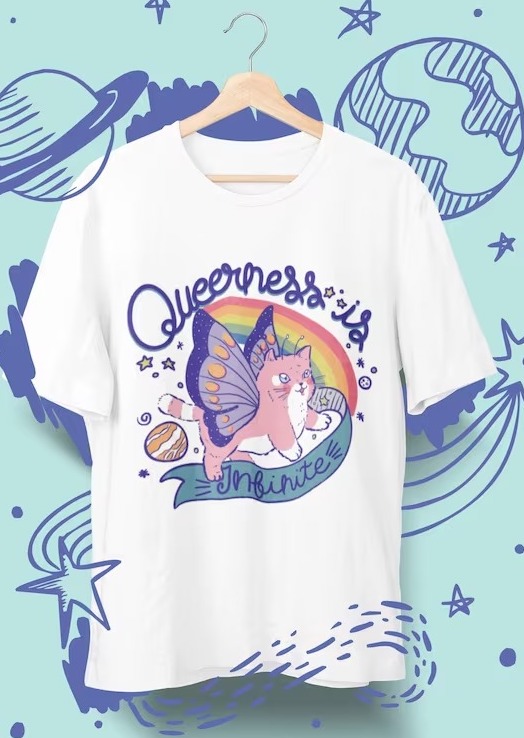 Since this newsletter's theme is time travel, this Queerness is Infinite shirt was fitting — plus, I couldn't resist the cat! Sizes S-4X. $30
New Releases
The Fake by Zoe Whittall (Sapphic Fiction)
I just finished reading this one and flew through it! After Shelby's wife dies, she is mired in grief, unable to do anything other than cuddle her dog in bed. When she drags herself to a grief support group, she meets Cammie, a charismatic woman recovering from cancer and mourning her sister, who helps Shelby through her grief. Meanwhile, Gibson has just divorced his wife and finds himself swept up in a whirlwind romance with a young woman named Cammie. Soon, though, Gibson and Shelby realize that some of Cammie's stories don't quite add up…
Flux by Jinwoo Chong (Queer Speculative Fiction)
This is a time travel adventure mashed up with a 1980s noir detective. It alternates between three point of view characters, including a queer Asian American man — but there's something wrong with these stories. A corporation has invented time travel and using it for selfish means, throwing everyone's timelines out of whack, and three of them will have to help each other to solve the mystery of what's going on.
Home by Cailean Steed (Queer Thriller)
Infamous by Lex Croucher (Sapphic Regency Historical Fiction)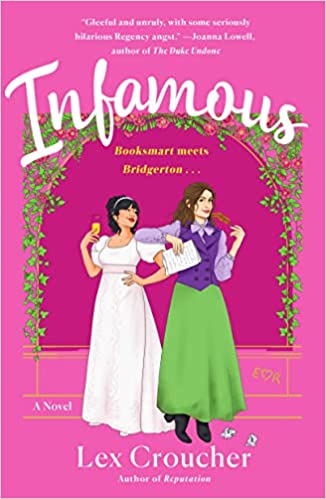 Hirano and Kagiura, Vol. 2 by Shou Harusono (M/M Manga)
Pulse, Vol. 3 by Ratana Satis (F/F Manga)
Doughnuts Under a Crescent Moon, Vol. 4 by Shio Usui (F/F Manga)
Black and Queer on Campus by Michael P. Jeffries (Queer Nonfiction)
Ace Notes: Tips and Tricks on Existing in an Allo World by Michele Kirichanskaya (Asexual Nonfiction)
For more new releases, check out our New Books newsletter!
Riot Recommendations
In honor of Flux, this Riot Recs is about queer time-travel stories! There's actually a surprising amount of lesbian time travel novels, but here are just a couple examples of queer people bouncing around the timeline.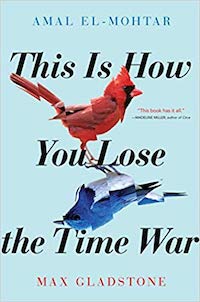 This is an epistolary sci-fi novel about two time travelers on opposite sides of a war who fall in love through coded letters to each other. Be prepared to sink into the gorgeous language and be carried away by their epic, star-crossed romance — even if you can't always follow exactly what's happening.
When Andre received a liver transplant, it came with an unexpected side effect: the ability to time travel. Now he's bouncing between the present and 1969, falling in love with a boy in each timeline. But which time, and which boy, will be his happily ever after?
All the Links Fit to Click