Happy Tuesday, star bits! Have you started planning for your 2023 reading? Do you plan your reading? It's around now every year that I get antsy to start a new reading spreadsheet. It probably has more to do with being a spreadsheet nerd than anything. I am not setting any goals for the second year in a row, however, because I never even get close to achieving them. Like, in the past, I have said I wanted to read all of Kurt Vonnegut's books again, or 10 books that start with Z, or Middlemarch, etc. And I never complete them, so this year I didn't set goals and it worked out just fine, lol. (I do still want to read Middlemarch, though.)
Now on to today's books: Topping my list of books to buy today is the new hardcover edition of They Can't Kill Us Until They Kill Us by Hanif Abdurraqib, Eat Plants, B*tch: 91 Vegan Recipes That Will Blow Your Meat-Loving Mind by Pinky Cole, and Strega by Johanne Lykke Holm and Saskia Vogel (translator). You can hear about more of today's new releases on this week's episode of All the Books! Tirzah and I talked about some of the best books we read for this week and more, including They're Going To Love You, The Lies We Tell, and Pride and Protest. And now, it's time for everyone's favorite game show: AHHH MY TBR! Here are today's contestants.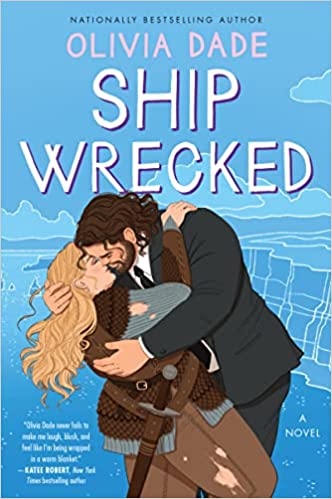 Dade's books are great escapism. They're fun, they're fluffy, they're sexy. An actress and actor who had a hot one-night stand — that ended with her leaving after without another word — are about to star in a show together. She's kinda into the idea of them getting together again, but why should he trust her? So for six years of shooting their show, nothing happens…until the end of the last season. But when they return to their homes on different continents, can they keep the spark alive? (It's a romance, so you know they answer already…)
Backlist bump: Spoiler Alert by Olivia Dade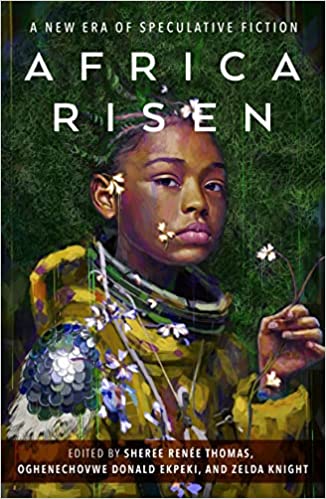 One of my new favorite things to read are anthologies featuring stories by several different authors. The variety and scope of imagination in one place is always amazing. I loved this collection of speculative African diaspora stories, which include shapeshifters, supercomputers, child robots, and lion goddesses. My favorite story was "A Knight in Tunisia" by Alex Jennings, who is the author of one of the most fun books of the year, The Ballad of Perilous Graves.
Backlist bump: Octavia's Brood: Science Fiction Stories from Social Justice Movements edited by Walidah Imarisha and adrienne maree brown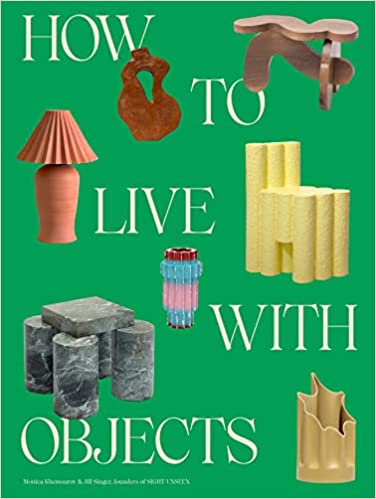 This book was too intriguing not to check out, and I am glad I did! If you like art, or bright colors, or weird objects, or all of these things, you'll love this book. It's a look at items in people's homes, but they're all very interesting, like a giant candy bar, or a giant lipstick, or U-shaped vases. And there's text to go along, describing why we like things, different aesthetics, and general information about objects. These are basically just really cool versions of things we all have in our homes. I am definitely going to get a hard copy of this one.
Backlist bump: Bibliostyle: How We Live at Home with Books by Nina Freudenberger
Want to read books from this newsletter? You can, for free! Get three free audiobooks with a trial to Audiobooks.com. Claim your 3 free audiobooks now!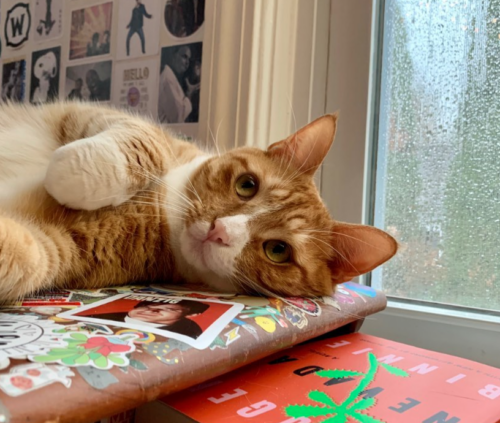 This week, I am reading Symphony of Secrets by Brendan Slocumb and Monstrilio by Gerardo Sámano Córdova. Outside of books (and the NBA), I have started rewatching The Good Place for the 10th time and it is just what my soul needed. I love this show so much! It's definitely in my top five favorite shows. And the song stuck in my head is the Family Ties theme. (Please make it stop.) You can still listen to the playlist of music from the 1980s I made. And here is your weekly cat picture: Farrokh was making a cute face at me, which is like "awwwwww." But what you need to know is that he was really making that face at me because he wanted some of my yogurt. He always has an ulterior motive.
---
Thank you, as always, for joining me each week as I rave about books! I am wishing the best for all of you in whatever situation you find yourself in now. And yay, books! – XO, Liberty