Hey‌ ‌there‌ horror fans, ‌I'm‌ ‌Jessica‌ ‌Avery‌ ‌and‌ ‌I'll‌ ‌be‌ ‌delivering‌ ‌your‌ ‌weekly‌ ‌brief‌ ‌of‌ ‌all‌ ‌that's‌ ‌ghastly‌ ‌and‌ ‌grim‌ ‌in‌ ‌the‌ ‌world‌ ‌of‌ ‌Horror.‌ ‌Whether‌ ‌you're‌ ‌looking‌ ‌for‌ ‌a‌ ‌backlist‌ ‌book‌ ‌that‌ ‌will‌ ‌give‌‌ you‌ ‌the‌ ‌willies,‌ ‌a‌ ‌terrifying‌ ‌new‌ ‌release,‌ ‌or‌ ‌the‌ ‌latest‌ ‌in‌ ‌horror‌ ‌community‌ ‌news,‌ ‌you'll‌ ‌find‌ ‌it‌ ‌here‌ in‌ ‌The‌ ‌Fright‌ ‌Stuff.
Well, another Halloween season has come and gone folks. But we all know that Halloween's a state of mind, and the creepiest of seasons never really ends. Every day is a horror day in this community, and 2022 definitely has more scares to deliver before the year is done!
Bookish Goods
In keeping with this week's Riot Recommendations theme: once you're sure that your house plant doesn't intend to murder you (or perhaps as a bribe to make sure that it doesn't!) consider replanting it in this delightfully creepy Pennywise planter, inspired by the film adaptation of Stephen King's IT. Because the only thing creepier than a possibly evil plant is a creepy-ass clown staring at you from across your living room. You're welcome.
$28
New Releases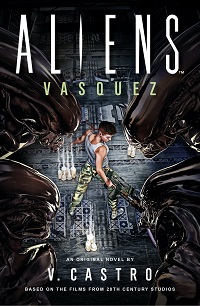 V. Castro gives vivid life to the backstory of Alien's character Jenette Vasquez, including how she came to be one of the Colonial Marines on that ill-fated mission to Hadley's Hope. Jenette's life has always been a fight for survival. Imprisoned for a murder she didn't commit, when the Colonial Marines offer her a chance to not only get out of jail but get off of Earth entirely, Jenette takes it. Even though it means leaving behind everyone she loves, including her two newborn children. Fast forward years after the tragic incident on LV-426 and Jenette's twins are all grown up, but their lives have taken very different turns. Until an unnamed planet with untapped potential puts Leticia and Ramon on a collision course, not only with each other, but with a deadly Xenomorph outbreak.
I'm always excited to get my hands on a new short fiction collection, especially if it's from an author whose work I haven't had a chance to get acquainted with. Collections are one the best ways to get an idea of an author's style as well as some of the genres and themes they like to experiment with. C.J. Tudor's debut short story collection, A Sliver of Darkness, is an excellent example as it features a whole range of frightening and strange tales about everything from suspect hat boxes to dinners at the end of the world. So if you enjoyed Tudor's novel The Chalk Man, be sure to pick up a copy of the new collection, out tomorrow!
For a more comprehensive list, check out our New Books newsletter!
Riot Recommendations
Do you ever wonder about your house plants? Like, what do they really think of you? Sure you remember to water them (most of the time) and they're not dying. And yeah, you really need to change out their soil and repot some of them sometime soon. But, again, they're still alive. So what if you kind of forgot to water them for like two weeks that one time. You were busy, and they recovered! And sure both the aloe and the spider plant are throwing out babies in a desperate plea for bigger pots. But it's not like you're going to wake up in the middle of the night and find them ringed around your bed, plotting your murder. Right? Right. (Probably.)
The plants in these books, however, are definitely out to kill you.
Bonus Short Story Recommendation!
Fresh From the Skeleton's Mouth
Your November horror shopping list is here, courtesy of Tor Nightfire!
The 2021 Shirley Jackson Award winners have been announced!
Worried you might have missed out on some great horror books this year? Check out Vulture's picks for the best horror books of 2022.
As always, you can catch me on twitter at @JtheBookworm, where I try to keep up on all that's new and frightening.