Happy Tuesday, star bits! I do believe I am now in my eighth year of writing the New Books newsletter and I must say, it's just as fun as when I started. Thank you for joining me on this weekly book journey! ❤️ Now, for books: we've hit a mid-summer publishing lull this week, which means there are only hundreds of great books out today, instead of thousands. Whatever shall we do??? At the very top of my list of new releases for this week to acquire are Mary: An Awakening of Terror by Nat Cassidy, Blackwater by Jeannette Arroyo and Ren Graham, and Lumberjackula by Mat Heagerty and Sam Owen.
And on this week's episode of All the Books! Tirzah and I discussed the best books we read for this week and more, including The Force of Such Beauty, Just Like Home, and The Daughter of Doctor Moreau. And now, it's time for everyone's favorite game show: AHHH MY TBR! Here are today's contestants.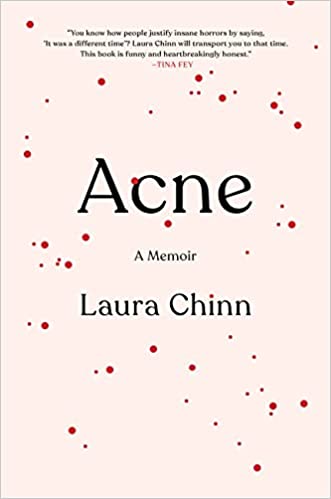 I will admit to never having seen any of writer/actor Chinn's work, but I heard such great things about this book that I picked it up. And it is indeed excellent, not the story of how she found fame so much as an examination of her life before that. Chinn recounts her experiences as the mixed race child of a broken home as she deals with hardships and a severe acne condition. Despite a lot of obstacles and trauma, Chinn still finds a way to make her memoir funny and enlightening. It's perfect for fans of Jenny Lawson and Sara Benincasa, and anyone who had an awkward, difficult upbringing. (CW for racism, sexual assault, chemical use and abuse, and suicidal ideation.)
Backlist bump: Agorafabulous!: Dispatches from My Bedroom by Sara Benincasa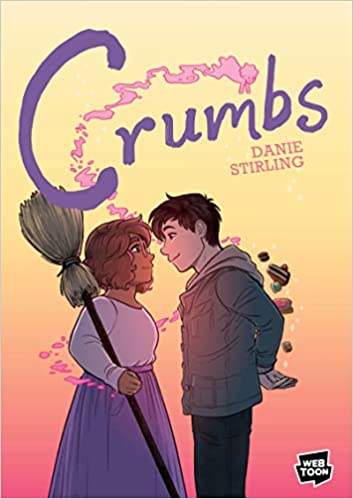 Crumbs by Danie Stirling
When Tirzah mentioned this on All the Books! this week, it reminded me I had a copy, so I went spelunking and found it. And I am glad I did! It's a love story in the Mooncakes vein, collected from the webcomic, about a young witch trying to figure out her life. Ray eats at a bakery where the baked goods are handcrafted to help your dreams come true. And then Ray meets Laurie, an aspiring musician. Sparks fly, but is their romance in the stars? This is a beautifully illustrated and colored YA graphic novel that will give you warm feelings like a good cup of hot tea. (CW for loss of a loved one.)
Backlist bump: Mooncakes by Suzanne Walker and Wendy Xu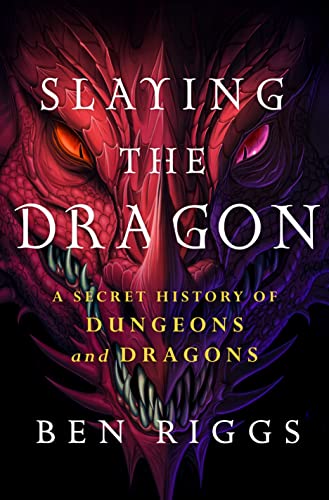 Okay, this last book is extremely nerdy insider baseball. But if you love D&D, or Magic: The Gathering, World of Warcraft, or any fantasy game or novel, You'll probably find it fascinating, like I did. This is a look at the creation — and almost ruination — of the most popular role-playing game of all time. Desite being an enormous mega hit, the company behind D&D had to contend with poor management, poor budgeting, and all kinds of other pitfalls. And of course, there was the Satanic Panic of the 1980s… This is an extremely detailed look at. the business side of the game. I learned a lot and also thought, "Why would they do that??!" on many occasions as I read it. (CW for sexism and sexual harassment.)
Backlist bump: Looking For Group by Alexis Hall
Don't forget you can get three free audiobooks at Audiobooks.com with a free trial!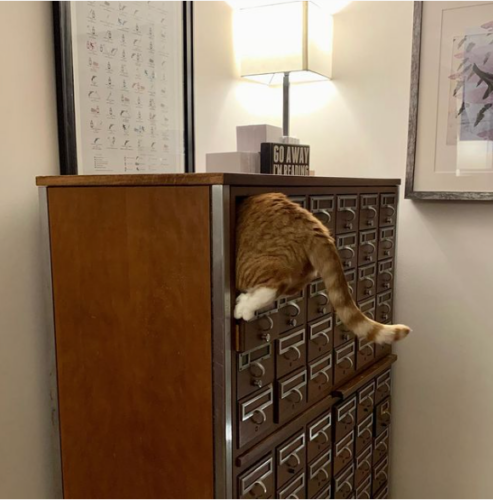 This week: I am reading Patricia Wants To Cuddle by Samantha Allen and Bloodmarked (The Legendborn Cycle) by Tracy Deonn. Outside of books, my fervent need to watch Palm Springs repeatedly flared up, so that's how I have spent quite a bit of time lately when I am not adding titles to my card catalog. The song stuck in my head is "Hot Blur" by How Sad. And here is your weekly cat picture: Look. at. this. fool. I pulled two drawers out of my card catalog to do some arranging, and Farrokh immediately jumped into the space. Oh, to have the self-confidence of a cat and just explore everything all the time! JK, I would hate that because it would cut in on my reading time. 😝
---
Thank you, as always, for joining me each week as I rave about books! I am wishing the best for all of you in whatever situation you find yourself in now. And yay, books! – XO, Liberty ❤️