Hey‌ ‌there‌ horror fans, ‌I'm‌ ‌Jessica‌ ‌Avery‌ ‌and‌ ‌I'll‌ ‌be‌ ‌delivering‌ ‌your‌ ‌weekly‌ ‌brief‌ ‌of‌ ‌all‌ ‌that's‌ ‌ghastly‌ ‌and‌ ‌grim‌ ‌in‌ ‌the‌ ‌world‌ ‌of‌ ‌Horror.‌ ‌Whether‌ ‌you're‌ ‌looking‌ ‌for‌ ‌a‌ ‌backlist‌ ‌book‌ ‌that‌ ‌will‌ ‌give‌‌ you‌ ‌the‌ ‌willies,‌ ‌a‌ ‌terrifying‌ ‌new‌ ‌release,‌ ‌or‌ ‌the‌ ‌latest‌ ‌in‌ ‌horror‌ ‌community‌ ‌news,‌ ‌you'll‌ ‌find‌ ‌it‌ ‌here‌ in‌ ‌The‌ ‌Fright‌ ‌Stuff.
This week I'm pushing back my usual first Monday of the month new releases newsletter to bring you something really exciting!
By now you've probably heard about, and might have had the chance to read, Eric LaRocca's amazing horror novella Things Have Gotten Worse Since We Last Spoke. It went viral on social media, was a #1 bestseller in LGBTQ+ Horror Fiction on Amazon, and is now a finalist on the 2021 Bram Stoker Awards ballot for Superior Achievement in Long Fiction.
Well Titan Books has a really exciting announcement: They're going to be releasing a GORGEOUS new hardcover edition of of LaRocca's novella on September 6th! Things Have Gotten Worse Since We Last Spoke and Other Misfortunes will also include two other never-before-published stories: "The Enchantment" and "You'll Find It's Like That All Over" alongside the titular novella, and I get to have the very great pleasure of sharing the stunning new cover with all of you today, right here on The Fright Stuff!
Drum roll please!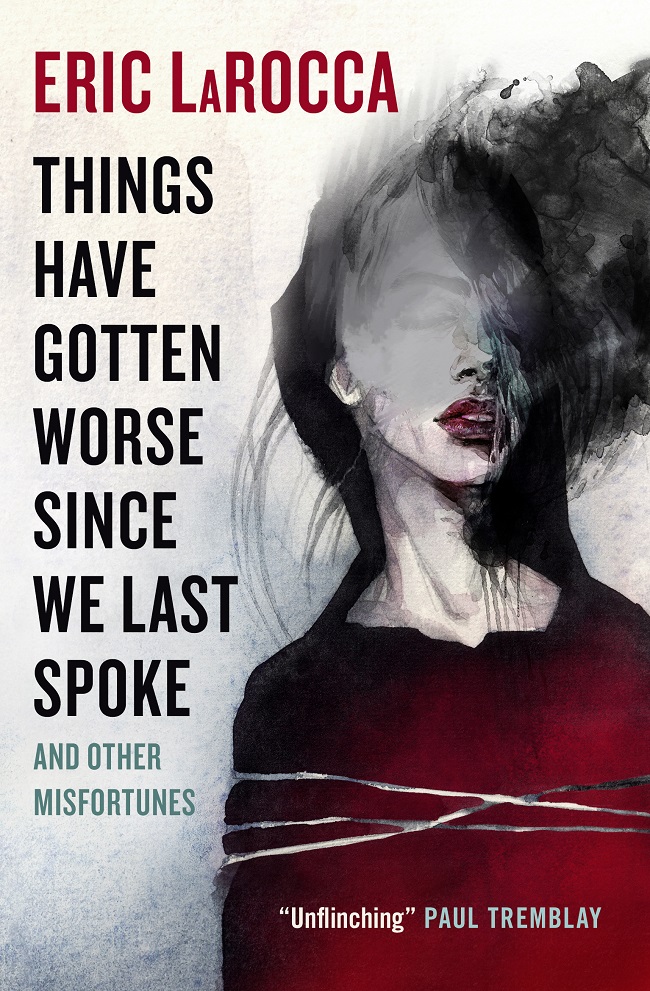 Voila! It's so gorgeous, I can't even stand it. I'm absolutely obsessed with the reds.
For those who haven't made the acquaintance of LaRocca's novella yet, Things Have Gotten Worse Since We Last Spoke is about the dark, obsessive, sadomasochistic relationship that develops between two young women who meet in an internet chatroom in the early 2000's. It's incredibly disturbing in the way that only the best horror can be. It's also crushingly beautiful at times, which actually manages to make the story even more upsetting and unnerving.
Originally published by indie press Weirdpunk Books, LaRocca's novella began making the social media rounds and garnering praise from all corners of the horror community for it's unsettling but unforgettable quality. Now it's violent beauty is being honored in this breathtaking hardcover collection, one of a two book deal with Titan that also includes a forthcoming premium edition of LaRocca's collection The Strange Thing We Become and Other Dark Tales (2023).
And I've got one more treat for you all, thanks to the fab folks over at Titan: an excerpt from the never-before-published story "The Enchantment"! A little something to whet your appetite as we wait out the endless months until September 6th.
From "The Enchantment"
Olive watches as car headlights shimmer through the foyer window, the white light bleeding across the marble floor.
"Shh. He's coming," she says.
"Are you ready—?" her husband, James, replies as he ducks behind the foyer's walnut credenza.
Olive's ears pin at the noise of car keys jingling, footsteps approaching.
The door unlocks, swinging open to reveal the pockmarked face of a young teenage boy. He shivers, a gust of snow clinging to him as he removes his knitted hat. His hands frisk the wall for the light-switch.
As soon as his fingers find it: lights on.
Olive and James leap out from hiding, shouting in unison, "Surprise!"
Milo lurches back, clutching his backpack.
"Happy Birthday, Milo," they cheer.
Olive watches her son's face thaw with a half-hearted smile as he realizes, slowly letting his guard down. She sees his eyes glance up at the giant banner pinned above the entryway – "Happy 16th Birthday, Milo" written in exquisite cursive lettering.
With open arms, Olive approaches her teenage son and swaddles him as if he were a mere child.
"Happy Birthday, dear," she says. "We love you."
She senses her son reluctantly lean into the hug, his arms remaining at his side. It wasn't much, but she couldn't ask for anything more.
Or perhaps she could.
Quickly thinking, she snatches a green party hat from the nearby table and straps it to her son's head.
As always, James interferes, ushering Olive aside and passing Milo a small box wrapped in a bright red bow.
"Happy Birthday, son," he says. "You didn't think we'd forget about you, did you—?"
Milo stammers, unsure. "I don't—I didn't think I'd see you here."
Milo's unsureness pains Olive. How could he possibly think his own parents would forget him? Before she can intercede, James pats Milo on the shoulder in the way that all fathers seem to patronize their sons.
"Wouldn't miss it for the world," he says.
Without another moment of hesitation, Olive swipes the gift from Milo.
"Why don't we leave the presents for later, dear?" she suggests. "We can have cake first."
She pulls the mittens from his hands, guiding him further into the house as if he were a mere visitor.
"He's probably full, Olive," James says. "Let the boy open his gift."
As she pulls her son by the hand, she does a quick double take. There's something wrong.
"What's this—?" she asks, pulling her son's hand closer to her face for proper inspection.
She opens his fist, revealing his palm desecrated with a giant black circle as if drawn with permanent marker.
"You're still doing this?" she asks. "Milo. We talked about this."
Before she can chastise him any further, Milo slips out of his mother's grasp and recoils.
"You said he wasn't doing that anymore," James says, always eager to argue.
"I thought he wasn't. I've hidden all the markers from him."
"You don't think he can find a permanent marker at school?"
"They're supposed to be watching him," Olive reminds her husband.
"What sixteen-year-old needs someone to be watching him regularly?"
As they bicker, Milo begins to sneak out of the entryway and away from earshot. Out of the corner of her eye, Olive watches her son as he creeps off. As he ducks into the nearby dining room, he passes a giant oil painting mounted on the wall detailing the crucifixion of Jesus Christ.
She watches him for a moment, bewildered, as his eyes seem to linger on the nails driven into Christ's hands and the blood weeping there.
He gazes at the portrait longingly as if it were the first time that he were seeing it, as if it were truly a sight to behold, as if he would give anything to endure such wondrous suffering.
Fresh From the Skeleton's Mouth
Over on the Nightfire blog, author Christopher Golden has curated a list of 13 classic works of isolation horror that you won't want to miss.
Catriona Ward (The Last House on Needless Street) spoke with The Guardian about her upcoming horror novel Sundial, and the transformative experience of horror.
Stephen King has announced that his next book will focus on Holly Gibney, a character originally featured in King's Mr. Mercedes.
---
As always, you can catch me on twitter at @JtheBookworm, where I try to keep up on all that's new and frightening.