Sponsored by Andrews McMeel Publishing.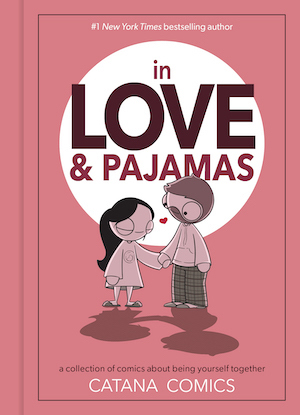 When you've reached that sweatpants-wearing cozy place in your relationship, it's all In Love & Pajamas! This brand-new collection by Catana Comics (Little Moments of Love, Snug) presents many never-before-seen comics and some fan favorites to delight and amuse readers of all ages. Wholesome, sweet, feel-good humor, a perfect gift for your other half (or yourself).
Happy Tuesday, readers! I hope you had a great weekend. You are never going to believe this but I spent my weekend—get ready—reading books. Haha, JK, that's a regular weekend for me. Bonus: I read something I really enjoyed that I can share with you today! I'm excited about a lot of today's new releases and I hope that very soon I'll be able to get my hands on Jaguars' Tomb by Angélica Gorodischer, the reissue of No More Lies by Dick Gregory, and The Mission House by Carys Davies.
Speaking of today's great books, for this week's episode of All the Books! Torzah and I discussed some of the wonderful books that we've read, such as The Memory Theater, First Comes Like, The Echo Wife, and more.
This one is for you, Cassie: And now, it's time for everyone's favorite gameshow: AHHHHHH MY TBR! Here are today's contestants:
This is the third book in a series, but because I love this series so much, I wanted to make sure that I either 1) let you know the third one was coming out or 2) introduced you to this excellent series! It's set in an alternate Edwardian England, where magic is real and witches exist.
In the first book, we meet Miles Singer, a magic-marked human who has been hiding out as a doctor in a veteran's hospital after the war. Er, for reasons. He has been successful in keeping his identity—and his abilities— a secret until a dying patient is brought in and reveals Miles's identity. Now Miles must figure out who the patient was and how he knew the truth. Luckily, a handsome stranger is willing to give Miles help with his investigation.
The next books revolve around related characters from the first book, and all are excellent. If you love an alternative history fantasy series, I cannot recommend this one enough!
Backlist bump: Witchmark (The Kingston Cycle, 1) by C. L. Polk
And speaking of witches: this is a fascinating, brutal collection of essays about the terrors visited upon the (almost entirely) women who have been accused of witchcraft over the centuries. Nuernberger divides each chapter into the story of a specific victim from history and examines the hypocrisies, horrors, and ignorance that led to each of their demise, along with stories of women in her own life and her observations of the world. Make no mistake, it is hard to read sometimes, but Nuernberger has done an engrossing job discussing their deaths as tied to the beauty and terror of nature. This book will not be for everyone, but I am glad I read it.
(CW for graphic descriptions of the torture and death of people accused of witchcraft.)
Backlist bump: Witches of America by Alex Mar
How to Order the Universe by María José Ferrada, Elizabeth Bryer (translator)
And this is the book I mentioned on All the Books as wanting to read. I took the time over the weekend to fit it in, and I thought it was great!
It's a Paper Moon-esque story set in Pinochet-era Chile, and follows seven-year-old M. She is extremely intelligent and precocious and is fascinated by her father's work. D is a traveling salesman who sells tools, and M convinces him to write her excuse notes for school and instead take her with him on his sales calls. This works to D's advantage, because people are less likely to say no or yell at him in front of a little kid. M also uses this to her advantage to extort toys from her dad.
Their arrangement works so well that he even lends her out to another salesman to help with his visits, and M is raking in the loot. But everything changes when their friendship with a photographer named E leads to tragedy. It's a really bittersweet story of a girl's love for her dad and the things in life that even the most intelligent children don't understand when they are young.
(CW for violence and death, homophobic language and racist remarks, and children smoking cigarettes.)
Backlist bump: Crooked Heart by Lissa Evans
---
Thank you, as always, for joining me each week as I rave about books! I am wishing the best for all of you in whatever situation you find yourself in now. – XO, Liberty