Sponsored by Hachette Book Group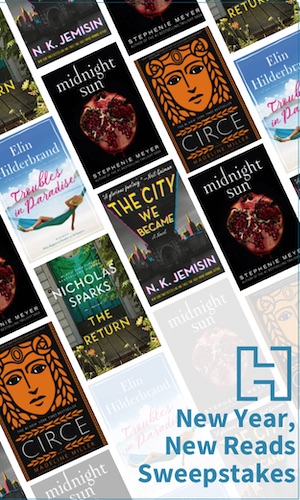 Thanks to Hachette for sponsoring today's edition of Today in Books. Go here to enter for a chance to win one of their best-selling books of the year
Bookshop.org's Releases List of Their 50 Best-Selling Books
Bookshop.org, which was founded to provide a superior off-the-shelf digital storefront for independent bookstores, announced their 50 best-selling titles of the year. It is sort of the list you might expect, but the most interesting item isn't a book: it's the running count of the amount of money Bookshop.org has funneled to independent bookstores since launching in January—more than $10 million.
Books by the Foot provides…well, that.
Check out this fascinating profile of Books by the Foot, a Washington-DC area supplier of whole collections/decorations/sets/zoom backgrounds of books. From politicians to celebrities to movie sets, clients come to Books by the Foot to buy in bult that thing that comes with an interesting bookshelf (or at least a stocked bookshelf at all).
What Does it Mean that, on the whole, 2020 was a pretty good year for book sales?
If you've been paying attention (and since you are reading a newsletter about book news, I am guessing you have), it won't come as a huge surprise that book sales have been darn strong this year. Audio, YA, gardening were all big winners, and as you might expect travel was down big. Probably it doesn't mean much other than if you were a thing that people could do at home, you held up sort of ok.
Thanks to Hachette for sponsoring today's edition of Today in Books. Go here to enter for a chance to win one of their best-selling books of the year, or just click the image below: