Sponsored by Blackstone Publishing.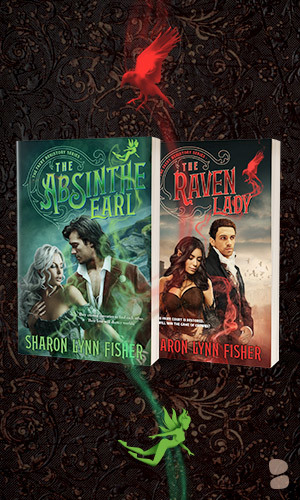 Enter the world of The Faery Rehistory, a slow-burn Irish fantasy romance series from author Sharon Lynn Fisher. Start with the magical book 1, The Absinthe Earl, and then delve right into the just released book 2, The Raven Lady. "The mix of Irish and Icelandic mythology, fairy lore, and steampunk magic make for a delightful read… I thoroughly enjoyed following the intrigue, subterfuge, and building romance… I highly recommend to fantasy readers who appreciate an inventive take on magic and folklore." — Luanne G. Smith, bestselling author of The Vine Witch
Happy Monday, folks! I finished Crash Landing On You, and I gotta tell you, if you have the mental capacity to read subtitles (or happen to speak Korean), K-Dramas are the way to go. I have to do some digging to find out which ones don't have an HEA, but CLOY was basically exactly what I've been looking for in a series: spending a long time investing in characters and their HEA, and getting that without the other aspects of the show getting in the way. No last minute cliffhanger pulling the central couple together so they can go another season or two. No will-they-won't-they dragging on for years. Just a lot of Feelings. It's perfect for a romance reader. 
Okay, let's get into the romance reader thing.
News and Useful Links
The auction isn't open yet, but the items available for bid are up on the Romancing the Runoff site. Donations include annotated books by authors like Diana Biller, Alyssa Cole, and Mia Hopkins; a cameo in a book, hangouts with authors, gift baskets, and autographed books—including a copy of The Duke & I signed by Julia Quinn and a couple of the stars of Bridgerton. Look out, folks. Things are about to get heated.
(And if you haven't seen it, this is a heck of a thread of videos from Georgia authors.)
And an article about Stacey Abrams that also talks about RTR.
The CW is bringing us Modern Austen, and I gotta say, I'm intrigued. That network seems to be better at making shows with monsters than they are human drama, but we'll see!
We're also getting a series adaptation of The Wrath and the Dawn.
Also, if you want a deeper look into Bridgerton, here's a great article about it (with more pictures *fans self*).
If you're a fan of the Nymphs & Trojans books, you can now get merch!
And if you're excited about the release of How to Catch A Queen, check out the release party with Alyssa and Meg Cabot!
Finally, vote for your favorite HEA with The Swoon Awards! (A new project by some awesome Romancelandia folks!)
Deals
Family Man by Heidi Cullinan and Marie Sexton
I am by no means Italian nor do I claim knowledge about what it's like to be part of a big Italian family, but I loved the crap out of this book. It's an age-gap romance featuring an older man still discovering his identity and a younger one who helps him with that. And of course, the aforementioned big Italian family. I mean, it's soooooper white, but it's precious. It's 1.99 right now, so you gotta tell me if it still stands up (since it's been a while since I read it)!
Recs!
We're getting into holiday reading territory! I don't read a million holiday books every year, but I do enjoy picking up a few when I get the chance, especially if they're not your run-of-the-mill cold hands, warm heart Christmas self-discovery romance. Here are a few I'm looking forward to picking up this year. (Yeah, they're mostly Christmas. Sorry.)
Bakery rivals fall in love around Christmastime in the Phillipines! When a new fancy baker from Manila comes into town, trying to lure away her customers, cafe owner Sari goes to war—prank war, that is!
(Now a Hallmark Movie!) You know I love a good time travel romance, and this one gives it a holiday spin! A tour guide at a historic mansion is in for a shock when the famed historic owner of said historic mansion shows up in modern times. Obviously, he has to go back, but how?
This historical features an estranged married couple who have to get to know each other when he returns home from service and the pair must prepare for their daughter's Christmas marriage. Yep, this is a couple old enough to have a daughter getting married. When does that happen, especially in a historical?
Being Merry by Meka James (November 27)
Even if I had no idea what this book was about, I would be all about a Meka James Christmas story. Her stories are fun and sexy. And this one sounds like the grumpy/sunshine wlw story of my dreams, with a woman full of holiday cheer in need of a home and the Grinch who grudgingly takes her in.
Another Jackie Lau Christmas book! Another Jackie Lau fake dating Christmas book! And look at that cover; he's so grumpy, I'm so excited.
Three people. One snowstorm. Lots of Feelings. I'm so ready.
(This book was previously published in the Reindeer Games anthology, so check your kindle to see if you have that already–I'm speaking from experience.)
This is a new romance centering Hannukah and two people who love it. While Sarah, who has been put in charge of coordinating the town festival celebration is excited to go big or go home, Isaac is more interested in the idea of celebrating quietly with family and food. But when Sarah comes into his life because of his metal sculptures, their chemistry (and her enthusiasm) might help change his mind.
Katrina Jackson published two New Years books last year, and I took the easy road with Grand Theft NYE, a quick, fun romance about a thief and the man who let her get away. This one is a super slow burn between two people who take much longer to figure their stuff out. I'm ready.
Minnie and Quinn were born at the same time in the same hospital, but Quinn was the one to get the special prize for being born first. And of course, Minnie has resented that for years. But when they meet later as adults, and keep running into each other, maybe there's something there.
---
What holiday romances are you reading this year?
As usual, catch me on Twitter @jessisreading or Instagram @jess_is_reading, or send me an email at wheninromance@bookriot.com if you've got feedback, bookrecs, or just want to say hi!