Sponsored by Amazon Publishing.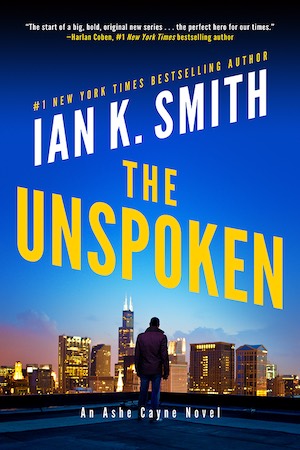 Solving the case of a missing girl might be former Chicago PD detective Ashe Cayne's best shot at redemption. Hired to investigate the disappearance of a wealthy young woman, Cayne quickly uncovers secrets the woman's been hiding from her family. He also fears he'll never find her alive. Then, when her boyfriend is found murdered, Cayne will have to navigate his complicated relationships within the Chicago PD to find the missing woman and see justice done. Read the first pulse-pounding read in the new series from New York Times bestselling author Ian K. Smith.
It's time for another Tuesday full of books! There are several amazing new books out today. I am so madly in love with Plain Bad Heroines and Shit, Actually, and I can't wait for everyone to read them! And at the top of my list of today's titles that I want to read are Where the Wild Ladies Are by Aoko Matsuda and Finding Latinx: In Search of the Voices Redefining Latino Identity by Paola Ramos.
You can also hear about some amazing books on this week's episode of All the Books! Tirzah and I discussed Plain Bad Heroines, Foreshadow, Ex Libris, and more great new books.
Because I have not read many of the books coming out this week (that I enjoy enough to recommend), I have decided to do something a little different and recommend three AMAZING books coming next year that you should mark down on your TBR right now. (Don't fret: 2021 may seem far away, but just think, we're already halfway through October!) These are books that I can't stop thinking about, and I hope everyone will love as much as I do!
And now, it's time for everyone's favorite gameshow: AHHHHHH MY TBR! Here are today's contestants:
In the Quick by Kate Hope Day (March 2)
You may have heard me mention this on All the Books! a few weeks ago. It won't be the last time by a mile – this might already be my favorite book of 2021! It's set in a future where space travel is no biggie anymore, and teens go off to space boarding school to ready themselves for a career among the stars. June is a brilliant girl who is accepted early because of her famous uncle. While at school, a space shuttle goes missing, and everyone gives it up for lost, except for June, who is convinced the crew is still out there. But no one is interested in listening to a 12-year-old. Six years later, June embarks on her own first mission in space. But the crew of that lost shuttle still haunts her.
I loooooooooooooved this book. It's so smart and beautiful. (also, I highly recommend skipping the publisher's description, because it does not do the book justice.)
Backlist bump: If, Then by Kate Hope Day
The Rib King by Ladee Hubbard (January 19)
This book melted my brain in the best way. It's freaking genius! It is set in the early 20th century and takes place in two parts. The first section follows the African American staff of a white family whose fortune is slipping away, and the racism and danger the staff faces every day, both at work and outside the home. And the second part is set ten years later, after a horrific crime at the home. It details the life of one of the former maids as she attempts to grow her own business, but keeps finding her dealings overshadowed by the her time at the home. It's such a powerful novel that I immediately read it again because I didn't want to lose that feeling it gave my brain. And you heard it here first: This is my guess for the National Book Award for Fiction in 2021!
Backlist bump: The Talented Ribkins by Ladee Hubbard
(Just a heads up that there will be discussion of violence and death in this description.)
And this is one of the best true crime books I have read in a long time! When McGarrahan was a young reporter in Miami, they sent her to witness the execution of a man accused of killing two police officers. What she saw is too distressing to write down here, so I'll just say that it caused her to quit her job shortly after and take off looking for answers that would make sense of the world. But many years later, hearing whispers that the man she saw executed was innocent of the crime, McGarrahan – now a private detective – decided to investigate the case herself. This is an excellent examination of trauma, the death penalty, corruption, celebrity, and the people left behind. (Related: the other amazing true crime book I have read recently is We Keep the Dead Close by Becky Cooper, out November 10!)
Backlist bump: The Fact of a Body: A Murder and a Memoir by Alex Marzano-Lesnevich
---
As always, I am wishing the best for all of you in whatever situation you find yourself in now. Please reach out to your friends and family if you need someone to talk to, and be sure to keep social distancing and washing your hands to keep yourself and others safe.
Thanks for subscribing! – XO, Liberty