Sponsored by Smash It! by Francina Simone, published by Inkyard Press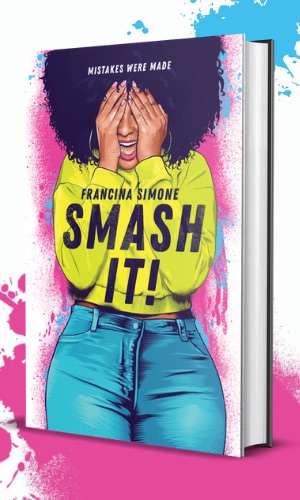 Olivia "Liv" James is done with letting her insecurities get the best of her. So, she does what any self-respecting hot mess of a girl who wants to SMASH junior year does . . . she makes a list–a F*ck-It list.
She kicks it off by trying out for the school musical, saying yes to a date and making new friends. However, with change comes a lot of missteps, and being bold means following her heart. So, what happens when Liv's heart is interested in three different guys—and two of them are her best friends?
Hey YA Readers!
There might still be a few months left in the Longest Year Ever, but that doesn't mean we can't get excited about new books hitting shelves in 2021. Even if the new year doesn't necessarily promise to be entirely different, rest assured new books mean something to look forward to.
Let's take a look at 8 exciting books hitting shelves next year. Descriptions come from 'Zon, since I haven't yet read any of these.
Project Runway goes to Comic Con in an epic queer love story about creativity, passion, and finding the courage to be your most authentic self.
Raffy has a passion for bedazzling. Not just bedazzling, but sewing, stitching, draping, pattern making―for creation. He's always chosen his art over everything―and everyone―else and is determined to make his mark at this year's biggest cosplay competition. If he can wow there, it could lead to sponsorship, then art school, and finally earning real respect for his work. There's only one small problem… Raffy's ex-boyfriend, Luca, is his main competition.
Raffy tried to make it work with Luca. They almost made the perfect team last year after serendipitously meeting in the rhinestone aisle at the local craft store―or at least Raffy thought they did. But Luca's insecurities and Raffy's insistence on crafting perfection caused their relationship to crash and burn. Now, Raffy is after the perfect comeback, one that Luca can't ruin.
But when Raffy is forced to partner with Luca on his most ambitious build yet, he'll have to juggle unresolved feelings for the boy who broke his heart, and his own intense self-doubt, to get everything he's ever wanted: choosing his art, his way.
Charlie Vega is a lot of things. Smart. Funny. Artistic. Ambitious. Fat.
People sometimes have a problem with that last one. Especially her mom. Charlie wants a good relationship with her body, but it's hard, and her mom leaving a billion weight loss shakes on her dresser doesn't help. The world and everyone in it have ideas about what she should look like: thinner, lighter, slimmer-faced, straighter-haired. Be smaller. Be whiter. Be quieter.
But there's one person who's always in Charlie's corner: her best friend Amelia. Slim. Popular. Athletic. Totally dope. So when Charlie starts a tentative relationship with cute classmate Brian, the first worthwhile guy to notice her, everything is perfect until she learns one thing–he asked Amelia out first. So is she his second choice or what? Does he even really see her? UGHHH. Everything is now officially a MESS.
A sensitive, funny, and painful coming-of-age story with a wry voice and tons of chisme, Fat Chance, Charlie Vega tackles our relationships to our parents, our bodies, our cultures, and ourselves.
As a biracial, unenrolled tribal member and the product of a scandal, eighteen-year-old Daunis Fontaine has never quite fit in, both in her hometown and on the nearby Ojibwe reservation. Daunis dreams of studying medicine, but when her family is struck by tragedy, she puts her future on hold to care for her fragile mother.
The only bright spot is meeting Jamie, the charming new recruit on her brother Levi's hockey team. Yet even as Daunis falls for Jamie, certain details don't add up and she senses the dashing hockey star is hiding something. Everything comes to light when Daunis witnesses a shocking murder, thrusting her into the heart of a criminal investigation.
Reluctantly, Daunis agrees to go undercover, but secretly pursues her own investigation, tracking down the criminals with her knowledge of chemistry and Ojibwe traditional medicine. But the deceptions―and deaths―keep piling up and soon the threat strikes too close to home.
Now, Daunis must learn what it means to be a strong Anishinaabe kwe (Ojibwe woman) and how far she'll go to protect her community, even if it tears apart the only world she's ever known.
Fans of Netflix's On My Block and readers of Elizabeth Acevedo and Angie Thomas will love this debut novel about a girl whose life is turned upside down after one local act of vandalism throws both her relationships and neighborhood into turmoil.
Chinelo, or Nelo as her best friend Kate calls her, is all about her neighborhood Ginger East. She loves its chill vibe, ride-or-die sense of community, and the memories she has growing up there with her friends. Ginger East isn't what it used to be though. After a deadly incident at the local arcade, most of her friends' families moved away. Kate, whose family owns the local corner store, is still there and as long as that stays constant, Nelo's good.
When Kate's parent's store is vandalized and the vandal still at large, Nelo is shaken to her core. And then the police and the media get involved and more of the outside world descends upon Ginger East with promises to "fix the neighborhood." Suddenly, Nelo finds herself in the middle of a drama unfolding on a national scale.
Worse yet, Kate is acting strange. She's pushing Nelo away at the exact moment they need each other most. Now Nelo's entire world is morphing into something she hates and she must figure out how to get things back on track or risk losing everything–and everyone–she loves.
Every seven years, the Agon begins. As punishment for a past rebellion, nine Greek gods are forced to walk the earth as mortals, hunted by the descendants of ancient bloodlines, all eager to kill a god and seize their divine power and immortality.
Long ago, Lore Perseous fled that brutal world in the wake of her family's sadistic murder by a rival line, turning her back on the hunt's promises of eternal glory. For years she's pushed away any thought of revenge against the man–now a god–responsible for their deaths.
Yet as the next hunt dawns over New York City, two participants seek out her help: Castor, a childhood friend of Lore believed long dead, and a gravely wounded Athena, among the last of the original gods.
The goddess offers an alliance against their mutual enemy and, at last, a way for Lore to leave the Agon behind forever. But Lore's decision to bind her fate to Athena's and rejoin the hunt will come at a deadly cost–and still may not be enough to stop the rise of a new god with the power to bring humanity to its knees.
An eighteen-year-old aspiring actress trades in starry Nebraska skies for the bright lights of 1950s Broadway in this show-stopping novel from award-winning author Melanie Crowder.
Mazie has always longed to be on Broadway. But growing up in her small Nebraska town, that always seemed like an impossible dream. So when an opportunity presents itself to spend six weeks auditioning, Mazie jumps at the chance, leaving behind everything–and everyone–she's ever known.
New York City is a shock to the senses: thrilling, but lonely. Auditions are brutal. Mazie's homesick and she misses the boyfriend whose heart she broke when she left. Nothing is as she expected.
With money running out, and faced with too many rejections to count, Mazie is more determined than ever to land a role. But when she discovers that booking a job might mean losing sight of herself, everything Mazie always thought she wanted is called into question.
Mazie is the story of a girl caught between two lives–and two loves–as she navigates who she is, what matters most, and the cost of following her dream.
Jenny Han meets "Jane the Virgin" in this flashy and fun Own Voices romcom from debut author Monica Gomez-Hira.
Carmen Aguilar just wants to make her happily ever after come true. Except apparently "happily ever after" for Carmen involves being stuck in an unpaid summer internship! All she has to do is perform! In a ball gown! During the summer. In Miami.
Fine. Except that Carmen's company is hired for her spoiled cousin Ariana's over the top quinceañera.
And of course, her new dance partner at work is none other than Mauro Reyes, Carmen's most deeply regrettable ex.
If Carmen is going to move into the future she wants, she needs to leave the past behind. And if she can manage dancing in the blistering heat, fending off Mauro's texts, and stopping Ariana from ruining her own quinceañera Carmen might just get that happily ever after after all.
Acidly funny and compulsively readable, Mercedes Helnwein's debut novel Slingshot is a story about two people finding each other and then screwing it all up. See also: soulmate, friendship, stupidity, sex, bad poetry, and all the indignities of being in love for the first time.
Grace Welles had resigned herself to the particular loneliness of being fifteen and stuck at a third-tier boarding school in the swamps of Florida, when she accidentally saves the new kid in her class from being beat up. With a single aim of a slingshot, the monotonous mathematics of her life are obliterated forever…because now there is this boy she never asked for. Wade Scholfield.
With Wade, Grace discovers a new way to exist. School rules are optional, life is bizarrely perfect, and conversations about wormholes can lead to make-out sessions that disrupt any logical stream of thoughts.
So why does Grace crush Wade's heart into a million tiny pieces? And what are her options when she finally realizes that 1. The universe doesn't revolve around her, and 2. Wade has been hiding a dark secret. Is Grace the only person unhinged enough to save him?
---
Thanks for hanging out, and we'll see you again soon!
— Kelly Jensen, @heykellyjensen on Instagram and editor of Body Talk, (Don't) Call Me Crazy, and Here We Are.