Sponsored by our Robyn Carr Prize Pack giveaway, courtesy of Harlequin.com.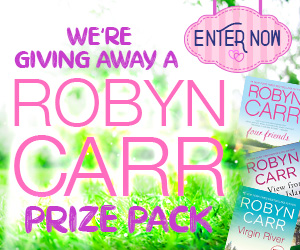 We're teaming up with Harlequin.com to give away a prize pack which includes the following Robyn Carr titles: Four Friends, The Life She Wants, The Summer That Made Us, The View from Alameda Island, and Virgin River. Enter now!
Happy Thursday! While I am excited we are "spending" this time together today, I am a little sad we will have to wait until next Thursday to talk again, because Monday is a holiday. It will go by fast, though! I promise to save all the best news I hear about to share with you next week.
As soon as I finish writing this newsletter, I have to record next week's episode of All the Books! and then I have a four-day weekend. I AM SO EXCITED. It's supposed to be lovely here in Maine and even hot – possibly 80 on Friday! ("Birds singin', squirrels makin' lots of rotten little squirrels, the sun beaming down in a nice non-fatal way. It's very exciting. I can't wait to see if I freckle.") I plan to read a lot of books, watch the last episodes of Steven Universe, and possibly attempt to bleach my hair because I am tired of looking at these red roots.
Now, on to the newsletter! I have a few things to share with you that I am VERY excited about! Remember, whatever you are doing or not doing this week, you are doing a good job! I am sending you virtual hugs. This is hard, but we are doing what is necessary, and I'm so proud of us! I hope you are safe, and please remember to be kind to yourself and others. Thanks for subscribing, and I'll see you again on Monday! – xoxo, Liberty
Trivia question time! Which Stephen King novel was once offered in a limited edition with an aluminum-coated asbestos cloth cover? (Scroll to the bottom for the answer.)
Deals, Reals, and Squeals!
City of Brass by S.A. Chakraborty is being made into a Netflix series!
Here's the cover reveal for Across the Green Grass Fields, the newest installment of Seanan McGuire's Wayward Children series.
Taika Waititi is leading a star-studded cast of supporting actors in a reading of Roald Dahl's James and the Giant Peach on YouTube.
Edgar Wright is going to adapt Tade Thompson's The Murders Of Molly Southbourne.
Here's the first look at Veronica Schanoes' debut story collection, Burning Girls and Other Stories.
Here's the first look at Adriana Herrera's new department store romance Here to Stay.
Charlie Jane Anders announced her first YA novel.
Holly Black announced her upcoming Cardan novella.
HBO Max will adapt L.C. Rosen's Camp, which is out this coming Tuesday.
These Women, the new Ivy Pochada novel that came out this week, is being made into a series.
Bill Gates shared his summer reading picks.
Book Riot Recommends 
At Book Riot, I work on the New Books! email, the All the Books! podcast about new releases, and the Book Riot Insiders New Release Index. I am very fortunate to get to read a lot of upcoming titles, and learn about a lot of upcoming titles, and I'm delighted to share a couple with you each week so you can add them to your TBR! (It will now be books I loved on Mondays and books I'm excited to read on Thursdays. YAY, BOOKS!)
Excited to read:
The Arrest by Jonathan Lethem (Ecco, November 10)
I love, love, love Lethem's novel As She Climbed Across the Table, and many of his other novels, so I was delighted to learn this week that he has a new novel for us at the end of 2020. (2020 is going to end, right??!) The description says it's "an utterly original post-apocalyptic yarn about two siblings, the man that came between them, and a nuclear-powered super car." And it's set in Maine, which is even more exciting for me!
What I'm reading this week.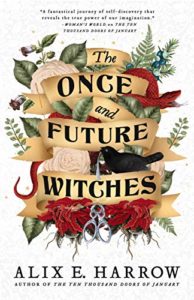 The Once and Future Witches by Alix E. Harrow
East of Hounslow by Khurrum Rahman
Weird Al: Seriously by Lily E. Hirsch
Tokyo Ueno Station by Yu Miri
Beach Read by Emily Henry
Song stuck in my head:
Who Needs You by The Orwells
And this is funny:
Happy things:
Here are a few things I enjoy that I thought you might like as well:
And times like these call for a bonus cat picture!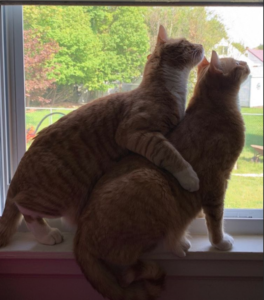 THE CUTE, IT BURNS. Pigeon watching has never been more adorable.
Trivia answer: Firestarter.
You made it to the bottom! High five. Thanks for reading! – xo, L