Sponsored by our Robyn Carr Prize Pack giveaway, courtesy of Harlequin.com.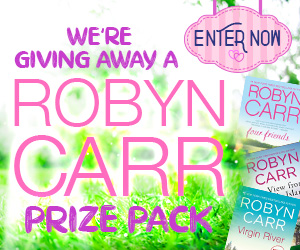 We're teaming up with Harlequin.com to give away a prize pack which includes the following Robyn Carr titles: Four Friends, The Life She Wants, The Summer That Made Us, The View from Alameda Island, and Virgin River. Enter now!
Happy Thursday, readers! How is everyone holding up? I feel a bit more optimistic about things than I did a few weeks ago, but maybe it's just because the sun is out all the time now. The sun is not my friend, but I am getting Vitamin D by proxy, so that's something.
I have been watching newer Agatha Christie adaptations these last few days. Loved Ordeal by Innocence, mostly because Bill Nighy is a treasure. I thought The Pale Horse was pretty but kinda disappointing. And I didn't like The ABC Murders at all, for many reasons, which was sad because it's my favorite Christie. (John Malkovich didn't work for me as Poirot at all, and they changed one of the murders that, when I read it as an 8-year-old, scarred me for life. And yet I wanted to see it on the screen, lol.) Now to watch Crooked House!
Now, on to the newsletter! Like the last few weeks, I have a little bit of book news for you today, and a few links to some things that might make you smile during this time.
Remember, whatever you are doing or not doing this week, I am sending you virtual hugs. This is hard, but we are doing what is necessary, and I'm so proud of us! I hope you are safe, and please remember to be kind to yourself and others. Thanks for subscribing, and I'll see you again on Monday! – xoxo, Liberty
Trivia question time! What punctuation mark's name is the Greek word for together? (Scroll to the bottom for the answer.)
Deals, Reals, and Squeals!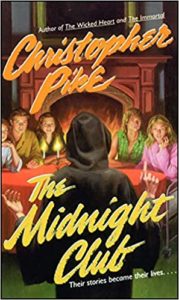 The Midnight Club by Christopher Pike will be a Netflix series.
Daniel Radcliffe kicks off an all-star reading of the first Harry Potter book.
Jacqueline Woodson and Albertine won the 2020 Hans Christian Andersen awards.
Here are the book-related winners of this year's Pulitzer Prizes.
Here's the first trailer for Becoming, Netflix's documentary based on Michelle Obama's memoir.
Sit and drink petty royal tea: Prince Harry and Meghan are writing a memoir together about their royal experiences.
Stephenie Meyer did indeed announce the upcoming publication of Midnight Sun, a Twilight saga novel told from Edward's perspective that was leaked on the internet many years ago, leaving its future in doubt.
Nicole Kidman will produce an adaptation of Kimberly McCreight's new novel A Good Marriage.
Here's the first look at Jeff and Ann VanderMeer's upcoming anthology The Big Book of Modern Fantasy.
Book Riot Recommends 
At Book Riot, I work on the New Books! email, the All the Books! podcast about new releases, and the Book Riot Insiders New Release Index. I am very fortunate to get to read a lot of upcoming titles, and learn about a lot of upcoming titles, and I'm delighted to share a couple with you each week so you can add them to your TBR! (It will now be books I loved on Mondays and books I'm excited to read on Thursdays. YAY, BOOKS!)
Excited to read: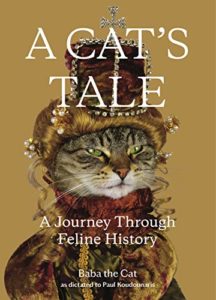 A Cat's Tale: A Journey Through Feline History by Baba the Cat, as told to Dr. Paul Koudounaris (Henry Holt and Co., November 10)
Cats are my favorite things after books, unless we're talking about my own cats, and then they win. Either way, a serious history book about cats throughout time? YES PLEASE. I hope it will be an epic nerd-purr.
What I'm reading this week.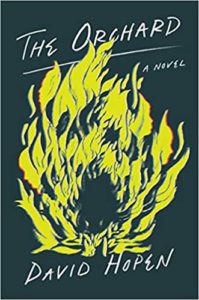 The Orchard: A Novel by David Hopen
The Book of V by Anna Solomon
Stealing Thunder by Alina Boyden
Latitudes of Longing by Shubhangi Swarup
Boys of Alabama by Genevieve Hudson
And this is funny.
Song stuck in my head:
Somebody's Crying by Chris Isaak
Happy things:
Here are a few things I enjoy that I thought you might like as well:
And times like these call for a bonus cat picture!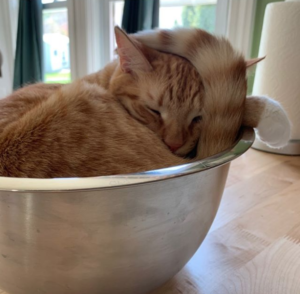 Zevon put his tail on his head.
Trivia answer: Hyphen.
You made it to the bottom! High five. Thanks for reading! – xo, L