Sponsored by New Harbinger Publications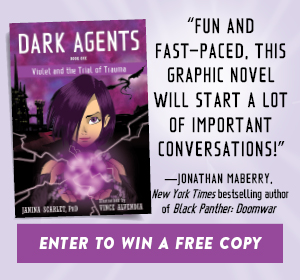 This spellbinding graphic novel follows the adventures of Violet—a young witch whose parents were murdered when she was a child. As she wages war against necromancers and demons, Violet learns to overcome her internal monsters as well.
Hey YA Fans!
I hope you're all healthy and weathering this new reality of ours. I know that one of my personal challenges has been staving off anxiety enough to sit down and enjoy a book. In those times when I can't, I've found tuning into streaming shows and movies to be just what I need.
Today's newsletter will highlight some of the best YA adaptations currently streaming on Netflix. I know not everyone has 'Flix, but I chose to focus here because they lend themselves to social interaction while in quarantine with Netflix Party.
Kick back and enjoy your YA, visual style. Note that since we're entering a new month soon, some of these might end up disappearing later in the week. I've done my best to make sure they'll be around for a good while.
This list is going to be pretty white, since adaptations themselves trend that way. Descriptions of the adaptation are from IMDB, and in cases where the name of the adaptation differs from the name of the YA book, I've noted that.

Set ninety-seven years after a nuclear war has destroyed civilization, when a spaceship housing humanity's lone survivors sends one hundred juvenile delinquents back to Earth, in hopes of possibly re-populating the planet.
A teenage girl's secret love letters are exposed and wreak havoc on her love life.
Lara Jean and Peter have just taken their relationship from pretend to officially official when another recipient of one of her old love letters enters the picture.
The adventures of a young orphan girl living in the late 19th century. Follow Anne as she learns to navigate her new life on Prince Edward Island, in this new take on L.M. Montgomery's classic novels.
(I know this is debatable on whether or not it's a YA series, but the books are beloved by YA readers, so I'm including it!).

United by dire circumstances, four unlikely allies from a Philadelphia prep school – the hacker, the slacker, the athlete, and the perfect student – band together to attempt the impossible: steal from the U.S. Mint.
Willowdean ('Dumplin'), the plus-size teenage daughter of a former beauty queen, signs up for her mom's Miss Teen Bluebonnet pageant as a protest that escalates when other contestants follow her footsteps, revolutionizing the pageant and their small Texas town.
Privileged teens living on the Upper East Side of New York can hide no secret from the ruthless blogger who is always watching.

In a small town on Christmas Eve, a snowstorm brings together a group of young people.
Naomi and Ely have loved each other their whole lives, even though Ely isn't exactly into girls. The institution of a "No Kiss List" has prevented the two from rifts in the past, but bonds are tested when they both fall for the same guy.
Radio Rebel (In YA, it's titled Shrinking Violet by Danielle Joseph)
Tara, a painfully shy high-schooler, has a secret: she is also a confident DJ known as Radio Rebel, who lends her voice to others.

The high school freshman kid sister of the murdered Zoë finds her diary, which sheds new light on the murder missed by the police. She investigates.
A hard-partying high school senior's philosophy on life changes when he meets the not-so-typical "nice girl."
An unexpected friendship forms when three teenage girls meet in Shoplifters Anonymous.
The lives, loves, dangers and disasters in the town, Mystic Falls, Virginia. Creatures of unspeakable horror lurk beneath this town as a teenage girl is suddenly torn between two vampire brothers.
---
Thanks for hanging out. We'll see you again later this week!
— Kelly Jensen, @heykellyjensen on Instagram and editor of (Don't) Call Me Crazy and Here We Are.