Sponsored by our $50 Barnes and Noble giveaway! Enter here!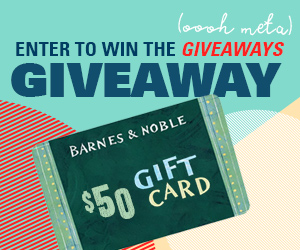 We're giving away a $50 gift card to Barnes and Noble to one lucky reader. Enter here (and don't forget to send us pics of your book stack if you win!).
Happy Thursday, readers. How is everyone doing out there in Week 2 of self-quarantine? I found it hard to concentrate on books the first week, but this week, I am reading them faster than ever. Which makes a nice break from reality. Books have gotten me through hard times before, and they'll save me again this time, that's for sure.
Today I have a little bit of book news for you, and a few links to some things that might make you smile during this time. Also, here's where you can learn more about COVID-19 Updates from the Bookish World. We'll continue to update it regularly.
Whatever you are doing or watching or reading this week, I am sending you virtual hugs. I hope you are safe, and please remember to be kind to yourself and others. Thanks for subscribing, and I'll see you again on Monday! – xoxo, Liberty
Trivia question time! Who was the first American author to win the Nobel Prize for Literature? (Scroll to the bottom for the answer.)
Deals, Reals, and Squeals!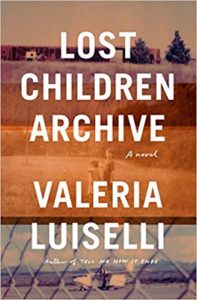 Valeria Luiselli has won the Rathbones Folio Prize.
Cheryl Strayed will be doing a special Dear Sugar appearance on Friday.
There's a new Tana French coming in October!
Watch as our very own Jenn Northington interviews N.K. Jemisin on Saturday.
Here's the first trailer for Defending Jacob with Chris Evans and Michelle Dockery.
Book Riot Recommends 
At Book Riot, I work on the New Books! email, the All the Books! podcast about new releases, and the Book Riot Insiders New Release Index. I am very fortunate to get to read a lot of upcoming titles, and learn about a lot of upcoming titles, and I'm delighted to share a couple with you each week so you can add them to your TBR! (It will now be books I loved on Mondays and books I'm excited to read on Thursdays. YAY, BOOKS!)
Excited to read: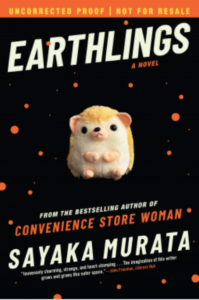 Earthlings: A Novel by Sayaka Murata, Ginny Tapley Takemori (translator) (Grove Press, November 10)
I was a big fan of Murata's last novel, Convenience Store Woman. And it had a delightful cover. But this cover tops it – look at that cute little hedgehog! I just want to squish its face. Here's the beginning of the description: "As a child, Natsuki doesn't fit into her family. Her parents favor her sister, and her best friend is a plush toy hedgehog named Piyyut who has explained to her that he has come from the planet Popinpobopia on a special quest to help her save the Earth." I'M SOLD. All your awkward, lonely childhood books are belong to me.
What I'm reading this week.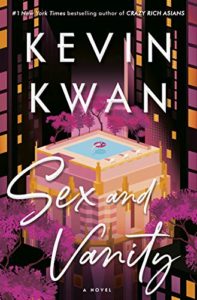 Sex and Vanity: A Novel by Kevin Kwan
Malorie: A Bird Box Novel by Josh Malerman
The Invisible Life of Addie La Rue by V.E. Schwab
The Shadows by Alex North
The Death of Vivek Oji by Akwaeke Emezi
And this is funny.
My cats would murder me in my sleep if I tried this.
Song stuck in my head:
Waking Up the Giants by Grizfolk
Happy things:
Here are a few things I enjoy that I thought you might like as well:
Trivia answer: Sinclair Lewis.
You made it to the bottom! High five. Thanks for reading! – xo, L