Sponsored by our $50 Barnes and Noble giveaway! Enter here!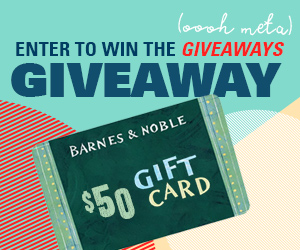 We're giving away a $50 gift card to Barnes and Noble to one lucky reader. Enter here (and don't forget to send us pics of your book stack if you win!).
Well. It's a Monday, which means Kissing Books. That's all I can really say about it.
News and Useful Links
It's been a relatively quiet week, but there are a few things of note to bring us a little joy and/or to make us think about things.
Earlier this month, Corey wrote about their favorite romances with Jewish rep.
If you've ever read a romance novel and thought "no real man could ever be that clueless" then have I got news for you. And while I read this whole thing with hearts in my eyes, there are definitely some good conversations that have come out of it:
Romance novel couples as songs from Crazy Ex Girlfriend? Yes, please!
Or if you prefer, pets as romance covers!
If you don't subscribe to Alyssa Cole's Girls With Glasses newsletter? Well, you should. Also, Capybaras.
Adriana Herrera's coming out with some telenovela-style romances and I'm here for it.
And there are going to be more Bromance Book Club books.
Also, to bring some color into your lives, how about some covers? Alexa Martin shared hers for her upcoming fourth book, Snapped, while Reese Ryan shared hers for the fourth book in the Bourbon Brothers series, Reunion of Rivals.
Do you subscribe to (one of) the other Kissing Books, Carly Lane's weekly newsletter? Check out this week's, and join in on the fun!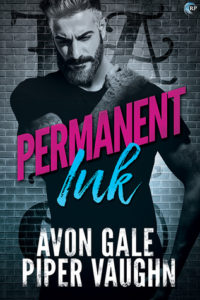 Deals
For the next six days (until 3/29) Piper Vaughn has made their self-pub works 99 cents each! If you only know them from the hockey series they're currently writing with Avon Gale for Carina, you've got lots of fun to look forward to. You could try Permanent Ink, which features an age gap and tattoos, or Bookmarked, which has a bookseller protagonist. They've written mermaids and musicians, kink and no kink. There's lots to choose from; try one or two out.
Recs!
This past weekend was a special Social Distancing 24in48 Readathon, and while I did not hit 24 hours because I believe in sleep (and you know, my phone was right there), I made it through quite a few books, even a couple that weren't romance. (I missed reading comics!) But after starting out with a book from my Kindle Unlimited collection, which I have been strangely curating and probably not using to the best of its abilities since I also buy books, get ARCs, and borrow things from the library, I thought this would be a great time to clean out my KU shelf a bit (since I can only have ten out at a time and have to keep adding things to my wishlist when I see them). Here are the books I finished: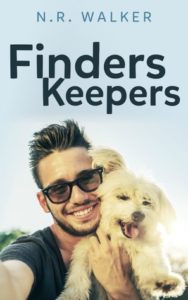 Finders Keepers
NR Walker
I think I've mentioned this book as a desired read, and now I've actually read it! Set on the Gold Coast of Australia, it features Griffin, a young man who's new to the area, and a dog he finds at a trailhead. When he finds the owner via the dog's collar, he agrees to hold onto the dog, Wicket (HIS NAME IS WICKET) until the owner, Dane, gets back from a work conference. The two start exchanging texts, including lots of photos of the Ewok/dog, which turn into phone conversations, which turns into something more.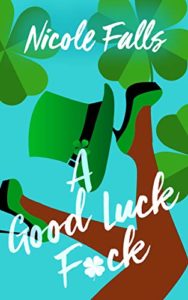 A Good Luck F*ck
Nicole Falls
Nicole Falls never fails to make me laugh! This brief book, which she wrote sometime in the past couple weeks, starts with Clover, who has inherited the running of the family bar from her grandfather, lamenting a local partner canceling a pub crawl because of the impending pandemic. When she takes advantage of the probable lack of business to do some much needed updates to the bar, she recruits long-time friend Nic—who she has had a bit of a crush on since they were kids—to help out. Nic, who has definitely been into her, even if he hasn't realized it.
CW for a lighter approach to the COVID-19 situation. If you'd rather read about a universe in which the pandemic isn't happening and never did, skip this one.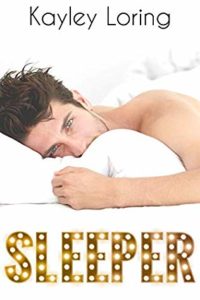 Sleeper
Kayley Loring
Shane can't sleep. Like, really, can't sleep. He's had insomnia forever, which doesn't really work for him when he's been left alone with his rambunctious twin kindergarteners for three months. His ex-wife is off shooting a period movie somewhere and his nanny has just quit to get married. After somehow managing to get the buggers off to school, he decides to find a new nanny, even if his ex has told him not to hire anyone new without her say so. In comes Willa, younger sister to his oldest friend who is now in LA looking for work in the perfume industry. But she does have nanny experience. Also, she's had a crush on him since she was twelve, but works hard to hide it. What could possibly go wrong? Especially when he actually falls asleep when she's nearby?
(Note, I didn't actually finish this one because I decided early on that I wasn't into the "she's my friend's younger sister and therefore off limits" rhetoric, but the writing was entertaining and so were the people! Check it out at your leisure.)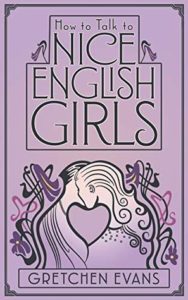 How to Talk to Nice English Girls
Gretchen Evans
This is another of those of which I read a few pages when I downloaded it and determined to come back to it. It was still a bit of a slow starter, but once the story really started, I was all in. Set in the early 1920s, it tells the story of Marian, a younger sister who knows she will grow to become the spinster lady managing her parents' household, and Katherine, the outspoken American daughter of her father's business partner. Marian is giving the task of "looking after" Katherine while she and her father are visiting England, in the hopes that she will influence her for the better. Obviously…that doesn't happen.
CN for period thoughts on external perceptions of same-gender relationships, but nothing directed at either protagonist.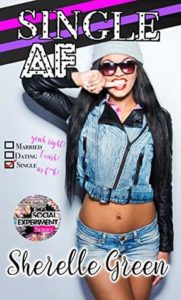 Single AF
Sherelle Green
Meeka is single. Super single. Not just dealing with a dry spell; she hasn't had any kind of emotional or sexual contact with a man in years. It doesn't help that she's started measuring anyone she might even potentially date up against Tone, the colleague and friend-of-a-friend who she's developed a vaguely antagonistic professional relationship with. When they're partnered on a project at the online TV network they work for, they start to discover more about each other…and maybe will finally make this attraction something more.
This isn't so much a content warning as a…well, a content warning? There is a lot of use of "crazy" in the vernacular of contemporary language, and some of Meeka's past extreme actions in relationships are played for laughs. These include several invasions of privacy on her part and some uh…light gaslighting on someone else's part. A lot of it leads to more serious conversations about what Meeka has done and what she has and hasn't deserved.
I've been adding a few books as I have finished and returned others, so we'll see where the wind takes me next!
What are you reading?
(Are you reading? I'll tell you, before the weekend started, I hadn't been able to focus much on any book for very long. Even across the weekend, books that should have only taken a couple hours took at least twice as long as my focus wandered. This has been a rough time for all of us, so don't be hard on yourself if you've been having trouble reading while the world is going to shit. Take your time, find something you love, and try to enjoy it. Or just take some time to reset. We all need it every once in a while, especially under deep stress.)
As usual, catch me on Twitter @jessisreading or Instagram @jess_is_reading, or send me an email at wheninromance@bookriot.com if you've got feedback, bookrecs, or just want to say hi!