Sponsored by Penguin Teen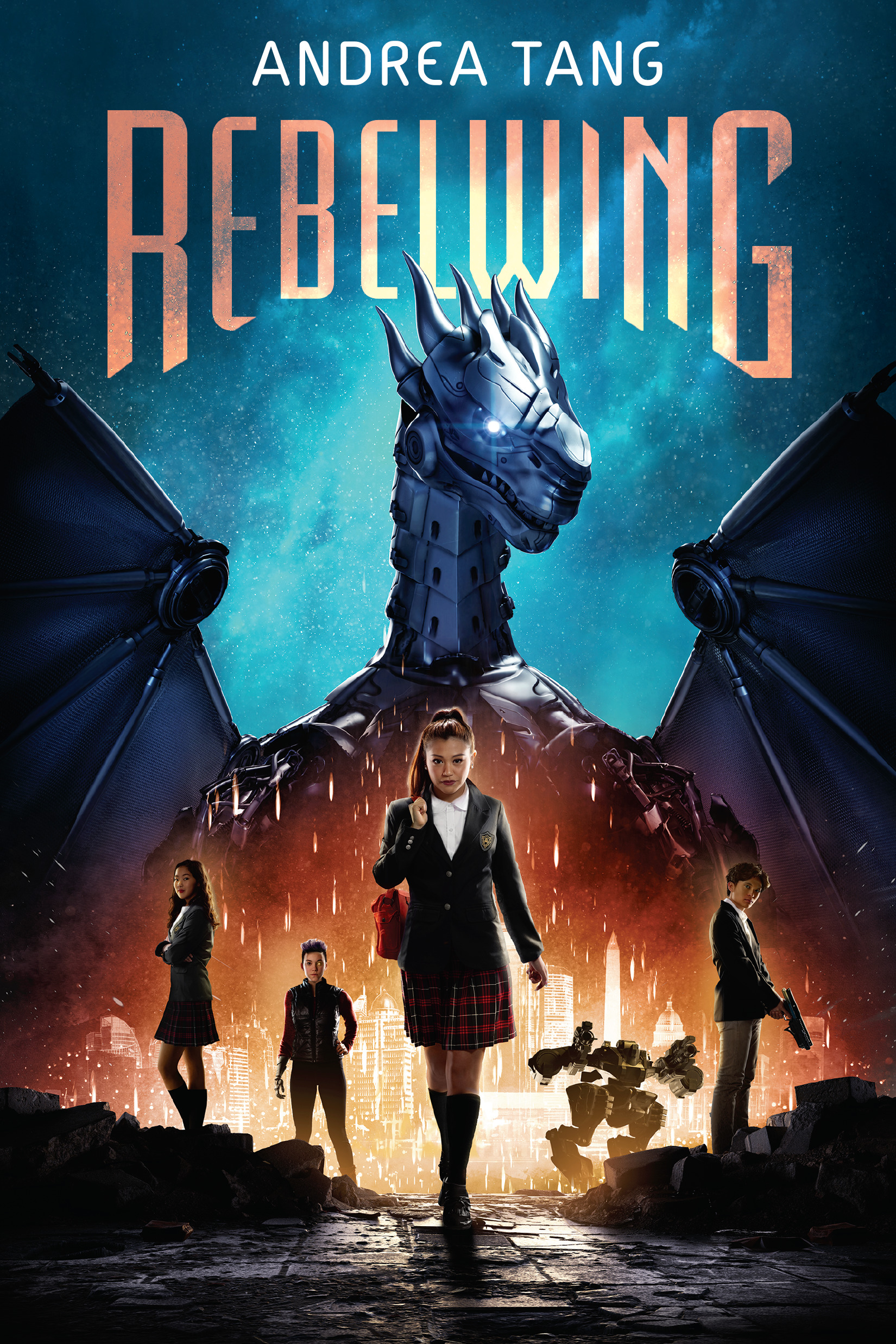 Things just got weird for Prudence Wu.
Pru is used to life throwing her some unpleasant surprises-she goes to prep school, after all, and selling banned media obviously has its risks. But a cybernetic dragon? That's new.
She tries to forget that the only reason she's not in jail is because some robot saved her, so she's not exactly thrilled when Rebelwing shows up again.
Even worse, it's become clear that Rebelwing has imprinted on her permanently, which means she'd better figure out this whole piloting-a-dragon thing-fast. Because Rebelwing just happens to be the weapon her government needs, and Pru's the only one who can fly it.
Hey YA Fans!
Before getting into the books, I'll be out of office for a little over a week and this here newsletter will be lovingly tended to by fellow YA fans and devotees. Get excited to hear from some new voices for the next few inbox treats.
As you likely know, March is Women's History Month. It's the perfect opportunity to share some amazing YA historical fictions that center girls. Here are a handful of favorites, all of which are worth picking up ASAP (and all of them are out and available now!).
Audacity by Melanie Crowder
This novel in verse is set in the early 20th century, at the beginning of the Labor Rights Movement in the US. It's a fictionalized spin on the real life story of Clara Lemlich, whose family immigrated to the US from Russia. She becomes a leader in the movement, speaking up and out about terrible working conditions in factories, with a keen eye to the Triangle Shirtwaist Factory. Clara is a daring, badass girl who disobeys her family's wishes in order to better the lives of those around her, as well as to better her own education and English skills.
It's the historical summer of 1977 when New York City is burning and a serial killer named Son of Sam is on the loose. Nora, our narrator, is Latina, and her best friend is a white girl. Both of them are deeply invested in feminism, but what Medina does is offer a look at the ways feminism isn't necessarily inclusive, either in the late 70s or now. The setting is compelling, and the challenges that Nora experiences with her family are realistic and heartening — and she, as a budding feminist, comes to understand better where her experiences are in her world, as well as how far she can push herself.
It's 1890 Atlanta. Jo, who is unafraid to speak her mind, lives with Old Gin — a man who took her in after she was "abandoned" by her parents — under the house of a local publisher who is unaware that they live there. When Jo overhears the folks upstairs talking about how agony aunt columns have led to newspaper sales soaring, she takes it upon herself to suggest a column and does so through a pen name "Miss Sweetie." They're game for it, and she begins to write these regular columns under the name and under strict anonymity. Sales are up . . . and so is interest in finding out who she really is. Immersive, with a really fascinating look at Chinese American history and the ways in which white feminism actively harms people of color.
Pulp by Robin Talley
This is a little less traditional when it comes to YA historical fiction, in that it's primarily about a contemporary teen girl named Abby with the voice of a girl named Janet from the early 50s included alongside it. But what Abby finds is what makes it worth including on this list: pulp lesbian fiction that leads her down a road of understanding the history of queer people in America.  I knew nothing about the Lavender Scare, and vis a vis Janet and Abby, it becomes palpable and terrifying. I also absolutely loved that lesbian pulp — which I did know about — was woven in as the thread binding both Abby in 2017 and Janet in 1955 together.
Bolden, who is a long-time writer for young people, brings readers to 1919 Washington DC in this story about an upper class Black girl who wants nothing more than to make something interesting of her life. Savannah knows she's privileged in her wealth. But she's worried she'll never do something important or powerful in her life. Her brother has moved to New York City and has a photography shop, and she's bored by her long-time friend and neighbor Yolande. When the housekeeper's daughter steps in to clean the Riddle's home, Savannah forms a quick bond with her, and it's through her she finds her way to a school on the other side of town that helps less-privileged girls gain a solid education. Here she volunteers, but more, it's here she meets someone who introduces her to the concepts of radicalism, socialism, and anarchy. At this pivotal time in history, Savannah finds herself with a few close calls to trouble, but when it gets too close, she and her mother connect over a history her mother never had shared with Savannah before. A great read about a Black girl who is privileged — far too rare in YA and rarer still in YA historical fiction.
Want to immerse yourself across a wide range of historical time periods and settings, filled with girls written by female and nonbinary YA writers? These two anthologies will be an utter treat. Each story is about a non-celebrity girl, though some are based on real people in history, and the details about setting and era are fantastic. Like all anthologies, these collections are made for reading either cover to cover or picking and choosing stories that call out to you and leaving others behind.
---
Whether you pick up one of these books or all of them, you're in for a world of great stories about teen girls through history.
Thanks for hanging out, and I'll see you again soon!
— Kelly Jensen, @heykellyjensen on Instagram and editor of (Don't) Call Me Crazy and Here We Are.