Sponsored by Houghton Mifflin Harcourt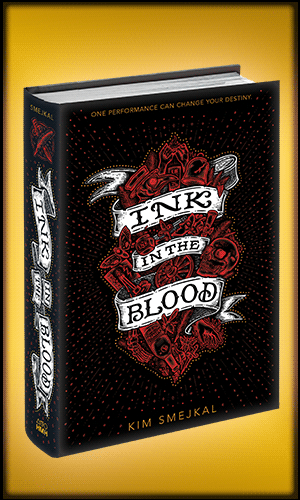 Two friends who use tattoo magic to send divine messages must rely on each other to survive when they discover the fake deity they serve is very real—and very angry. This dark and twisty YA is perfect for fans of Leigh Bardugo and Kendare Blake.
Hey YA Readers!
It's my new favorite time of year: time to shout about great YA horror books. In the middle of the winter, you ask? Yes, indeed!
For the season year in a row, I've been part of the Summer Scares committee, which works to pick three great horror books each year in three categories — adult, YA, and middle grade — and have all sorts of resources made available for highlighting horror to new readers. Though the program is aimed at librarians, there's so much here for all readers, too. You can read more about the amazing resources and books selected previously here. We select backlist titles that should be readily available in libraries, making snapping them up ASAP possible.
On Valentine's Day, this year's winners were announced. It seems only right to talk a bit more about the three amazing YA titles selected this year. These would be perfect books for new readers of YA horror, as well as those who love this genre and want to expand their reading horizons. What makes this list, as well as the adult and middle grade lists, special is that they showcase a wide range of what horror looks like on the page, reaching readers who prefer no gore to those who want their horror dark and bloody.
The Agony House by Cherie Priest and Tara O'Connor
This hybrid horror story blends text written Priest with comics drawn by O'Connor. It follows Denise who, along with her mother and step-father, moves back to New Orleans after they left post-Hurricane Katrina. The family has purchased a run down home and plan to rehab it and turn it into a bed and breakfast. But things aren't going well in the renovation, and Denise becomes doubly concerned when she stumbles upon an old comic book in the home's attic, drawn by a famous artist who'd gone missing decades before. She takes it upon herself to discover what may be lurking — and what that disappeared artist has to do with it.
What makes this book special in addition to its format is that it's really at heart about gentrification. Denise has to face the fact her family is attempting to make a profit off a gentrifying neighborhood and that those who've always lived in this less-prosperous part of the city are being deeply impacted by people like her family.
It's spooky, smart, and a book that challenges expectations of what a horror book for teens can do. Perfect for readers who want their horror a little less gory and a little more chilling.
The moment I read Lukavics's debut, I knew this book was a sign of a writer who had something special. Lukavics is a queen of dark, sinister horror.
Perhaps this book is best not talked about too in-depth, since the pitch for it is pretty much perfect: this is Little House On The Prairie meets horror. The house that the Verner family moves into is not good news, and what they experience is utterly terrifying. I still have nightmares about some of those scenes, and I read this book five years ago.
This is one for those who aren't faint at heart and who really want their bones rattled.
Here's a little insider talk: this book was on the short list for last year's inaugural Summer Scares, but I didn't want to include it before knowing that the final book in the trilogy would be available. Guess what comes out this summer? Now is the time to start your adventure with these powerful brujas.
Alex is a bruja, but she hates having the power. She performs a spell to rid herself of her magic, but it goes horribly wrong. Her entire family disappears, and the only way she can get them back is to travel with a boy who she doesn't like to Los Lagos, an in-between land. Along the way, we experience magic, witchcraft, a fiercely loving family, and a bisexual main character.
This one feels especially tailored to young readers. That doesn't mean it won't appeal to adults, but this has all of the hallmarks of a YA book meant to reach teens in particular, and the fact that it's a trilogy will keep readers hooked. The final book Wayward Witch hits shelves August 1.
---
Thanks for hanging out, y'all, and I hope you'll pick at least one of these fabulous reads up. See you again on Thursday!
— Kelly Jensen, @heykellyjensen on Instagram and editor of (Don't) Call Me Crazy and Here We Are.
**Psst — you can now also preorder my upcoming August release, Body Talk: 37 Voices Explore Our Radical Anatomy!