Sponsored by the Read Harder Journal, a reading log for tracking your books and reading outside your comfort zone!
This smartly designed reading log consists of entry pages to record stats, impressions, and reviews of each book you read. Evenly interspersed among these entry pages are 12 challenges inspired by our annual Read Harder initiative, which began in 2015 to encourage readers to pick up passed-over books, try out new genres, and choose titles from a wider range of voices and perspectives. Each challenge includes an inspiring quotation, an explanation of why the challenge will prove to be rewarding, and five book recommendations that fulfill the challenge. Get your copy (or one for the reader in your life for the holidays) here!
I am a big believer in the power of color, from the way it can impact your mood to the way a favorite can say something about a person. Every year, when Pantone names their color of the year, I love to think about what it might mean about the new year to come.
This year's pick is a really safe color, Classic Blue. I'll admit to it not being my favorite choice out of the last few years, and it's not my favorite shade of blue either (I prefer darker, and I hoped to see a rich emerald green or a brassy gold for 2020).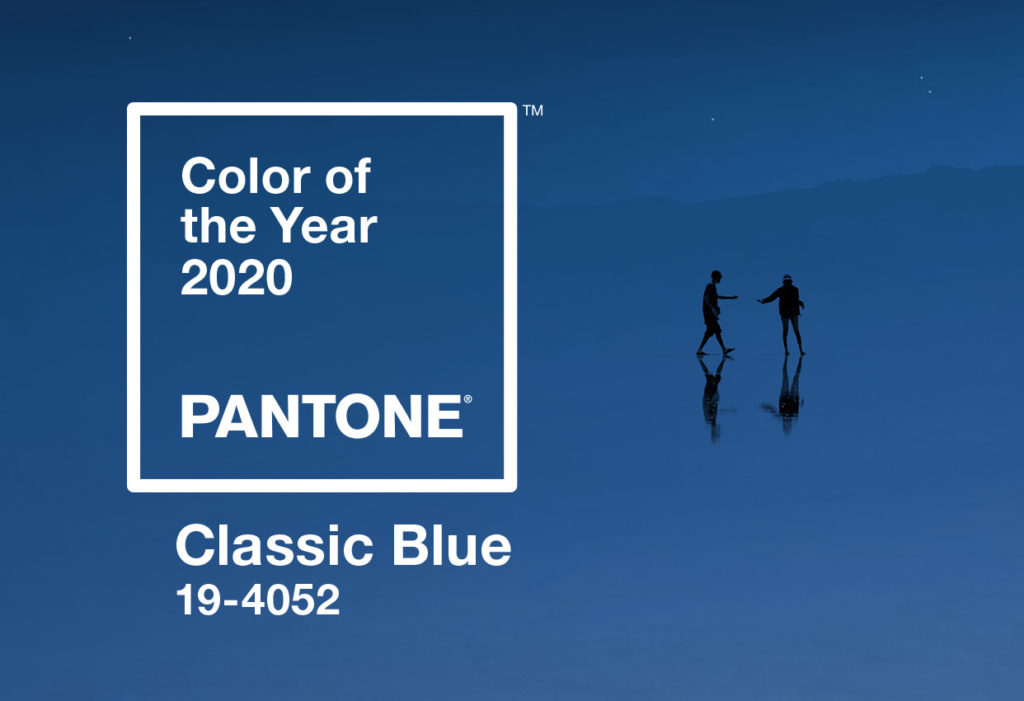 That said, let's take a peek at what YA books coming out this year have taken this color as their primary cover color, without even knowing Classic Blue would be The Color of the year (I recognize this sounds like I'm personifying book covers). Note that these aren't necessarily going to be perfect matches, but they'll be close, and this isn't a comprehensive list.
Descriptions are from the 'zon, as I've not yet read any of these titles as of writing this newsletter.
For as long as she can remember, it's been Robin and her mom against the world. Growing up as the only child of a single mother in Seoul, Korea, wasn't always easy, but it has bonded them fiercely together.
So when a vacation to visit friends in Huntsville, Alabama, unexpectedly becomes a permanent relocation—following her mother's announcement that she's getting married—Robin is devastated.
Overnight, her life changes. She is dropped into a new school where she doesn't understand the language and struggles to keep up. She is completely cut off from her friends in Seoul and has no access to her beloved comics. At home, she doesn't fit in with her new stepfamily, and worst of all, she is furious with the one person she is closest to—her mother.
Then one day Robin's mother enrolls her in a local comic drawing class, which opens the window to a future Robin could never have imagined.
Fragile Remedy by Maria Ingrande Mora (June 16)
Sixteen-year-old Nate is a GEM — a Genetically Engineered Medical Surrogate — created by Gathos City scientists as a cure for the elite from the fatal lung rot ravaging the population. As a child, Nate was smuggled out of the laboratory where he was held captive and into the Withers — a quarantined, lawless region. He manages to survive as a Tinker, fixing broken tech in exchange for food or a safe place to sleep. When he meets Reed, a kind and fiercely protective boy that makes his heart race, and his misfit gang of scavengers, Nate finds the family he's always longed for even if he can't risk telling them what he is.  But Gathos created a genetic failsafe in their Gemsa flaw in their DNA that causes their health to rapidly deteriorate as they age unless they are regularly dosed with medication controlled by Gathos City. When violence erupts across the Withers, Nates illegal supply of medicine is cut off, and a vicious attack on Reed threatens to expose his secret. With time running out, Nate is left with only two options: work for a shadowy terrorist organization that has the means to keep him alive, or stay — and die — with the boy he loves.
Her story begins . . . in Paris. The only daughter of the King's crown jeweler, Juliette marvels at the large, deep-blue diamond Louis XIV has commanded her father to make shine like the sun. But Jean Pitau has never cut a diamond quite like this, and shaping it is a risky endeavor. As Jean spirals into depression, Juliette takes it upon herself to cut the stone, and with every misstep, brings her family closer to ruin.
Her story resumes . . . in a cold, dark cell of the Bastille prison. Charged with stealing the King's diamond, Juliette has but one chance to convince him that her motives were pure. If she fails, this night may very well be her last. Though, death wouldn't be her worst fate. Because recording Juliette's confession is René, a court-appointed scribe, and the man she loves. But René holds his own grudge against Juliette, and this is her one and only chance to win back his heart.
Two siblings. Two brilliant talents. But only one Mozart.
Born with a gift for music, Nannerl Mozart has just one wish–to be remembered forever. But even as she delights audiences with her masterful playing, she has little hope she'll ever become the acclaimed composer she longs to be. She is a young woman in 18th century Europe, and that means composing is forbidden to her. She will perform only until she reaches a marriageable age–her tyrannical father has made that much clear.
And as Nannerl's hope grows dimmer with each passing year, the talents of her beloved younger brother, Wolfgang, only seem to shine brighter. His brilliance begins to eclipse her own, until one day a mysterious stranger from a magical land appears with an irresistible offer. He has the power to make her wish come true–but his help may cost her everything.
Lost Roads by Jonathan Maberry (August 25)
Gutsy Gomez's danger-filled journey to save those infected with the zombie plague continues in New York Times bestselling author Jonathan Maberry's terrifying follow-up to Broken Lands.
Gabriella "Gusty" Gomez lost her mother, and now she's losing her home.
Gutsy and her friends, along with Benny and his crew, have just survived a massive attack on New Alamo by the Night Army—a mix of mindless shambling los muertos and sentient half-zombie ravagers. She's also reeling from the revelation that the residents of her town were the lab rats of the biological testing facility linked to creating the most dangerous zom, the Raggedy Man, who controls all of the living dead.
And the first raid was only a test. The real Night Army is coming, and this time, it'll be a handful of survivors against seven billion zombies.
In The Night Country, Alice Proserpine dives back into a menacing, mesmerizing world of dark fairy tales and hidden doors. Follow her and Ellery Finch as they learn The Hazel Wood was just the beginning, and that worlds die not with a whimper, but a bang.
With Finch's help, Alice escaped the Hinterland and her reclusive grandmother's dark legacy. Now she and the rest of the dregs of the fairy tale world have washed up in New York City, where Alice is trying to make a new, unmagical life. But something is stalking the Hinterland's survivors―and she suspects their deaths may have a darker purpose. Meanwhile, in the winking out world of the Hinterland, Finch seeks his own adventure, and―if he can find it―a way back home…
Savannah Riddle is lucky. As a daughter of an upper class African American family in Washington D.C., she attends one of the most rigorous public schools in the nation–black or white–and has her pick among the young men in her set. But lately the structure of her society–the fancy parties, the Sunday teas, the pretentious men, and shallow young women–has started to suffocate her.
Then Savannah meets Lloyd, a young West Indian man from the working class who opens Savannah's eyes to how the other half lives. Inspired to fight for change, Savannah starts attending suffragist lectures and socialist meetings, finding herself drawn more and more to Lloyd's world.
Set against the backdrop of the press for women's rights, the Red Summer, and anarchist bombings,Saving Savannah is the story of a girl and the risks she must take to be the change in a world on the brink of dramatic transformation.
Spellhacker by M. K. England (January 21)
In Kyrkarta, magic—known as maz—was once a freely available natural resource. Then an earthquake released a magical plague, killing thousands and opening the door for a greedy corporation to make maz a commodity that's tightly controlled—and, of course, outrageously expensive.
Which is why Diz and her three best friends run a highly lucrative, highly illegal maz siphoning gig on the side. Their next job is supposed to be their last heist ever.
But when their plan turns up a powerful new strain of maz that (literally) blows up in their faces, they're driven to unravel a conspiracy at the very center of the spellplague—and possibly save the world.
No pressure.
In this gripping, romantic sequel to These Witches Don't Burn, Hannah must work alongside her new girlfriend to take down the Hunters desperate to steal her magic.
Hannah Walsh just wants a normal life. It's her senior year, so she should be focusing on classes, hanging out with her best friend, and flirting with her new girlfriend, Morgan. But it turns out surviving a murderous Witch Hunter doesn't exactly qualify as a summer vacation, and now the rest of the Hunters seem more intent on destroying her magic than ever.
When Hannah learns the Hunters have gone nationwide, armed with a serum capable of taking out entire covens at once, she's desperate to help. Now, with witches across the country losing the most important thing they have–their power–Hannah could be their best shot at finally defeating the Hunters. After all, she's one of the only witches to escape a Hunter with her magic intact.
Or so everyone believes. Because as good as she is at faking it, doing even the smallest bit of magic leaves her in agony. The only person who can bring her comfort, who can make her power flourish, is Morgan. But Morgan's magic is on the line, too, and if Hannah can't figure out how to save her–and the rest of the Witches–she'll lose everything she's ever known. And as the Hunters get dangerously close to their final target, will all the Witches in Salem be enough to stop an enemy determined to destroy magic for good?
---
Thanks for starting the new year here, and we'll see you again next week!
— Kelly Jensen, @heykellyjensen on Instagram and editor of (Don't) Call Me Crazy and Here We Are.