Sponsored by Children of Virtue and Vengeance by Tomi Adeyemi, with Fierce Reads
Proclaimed a best book of the year by BuzzFeed, Bustle, NPR, and Paste, Tomi Adeyemi's #1 New York Times-bestselling novel Children of Blood and Bone has taken the world by storm. Entertainment Weekly calls it "a phenomenon" and USA Today says it's "impossible to put down."
Now the phenomenon continues in Children of Virtue and Vengeance, the stunning sequel that everyone is talking about.
As you're gearing up for the new year, I suspect it's not a stretch to guess for many of us, that means thinking about our reading goals. If you're taking part in Read Harder in 2020, you might know one of the tasks for the coming year is to read a YA nonfiction book.
Whether or not you're doing the challenge, you shouldn't miss out on YA nonfiction. 2020 promises such a wonderful range of voices and stories, and below are a few hitting shelves in the first few months of the year that should be on your radar.
I haven't read any of these yet (!), so apologies for using Amazon descriptions. But I assure you that I've got all of these sitting on my own TBR…and some, literally, on a pile to get to ASAP.
In a series of personal essays, prominent journalist and LGBTQIA+ activist George M. Johnson explores his childhood, adolescence, and college years in New Jersey and Virginia. From the memories of getting his teeth kicked out by bullies at age five, to flea marketing with his loving grandmother, to his first sexual relationships, this young-adult memoir weaves together the trials and triumphs faced by Black queer boys.
Both a primer for teens eager to be allies as well as a reassuring testimony for young queer men of color, All Boys Aren't Blue covers topics such as gender identity, toxic masculinity, brotherhood, family, structural marginalization, consent, and Black joy. Johnson's emotionally frank style of writing will appeal directly to young adults.
The true story of the Edelweiss Pirates, working-class teenagers who fought the Nazis by whatever means they could.
Fritz, Gertrud, and Jean were classic outsiders: their clothes were different, their music was rebellious, and they weren't afraid to fight. But they were also Germans living under Hitler, and any nonconformity could get them arrested or worse. As children in 1933, they saw their world change. Their earliest memories were of the Nazi rise to power and of their parents fighting Brownshirts in the streets, being sent to prison, or just disappearing.
As Hitler's grip tightened, these three found themselves trapped in a nation whose government contradicted everything they believed in. And by the time they were teenagers, the Nazis expected them to be part of the war machine. Fritz, Gertrud, and Jean and hundreds like them said no. They grew bolder, painting anti-Nazi graffiti, distributing anti-war leaflets, and helping those persecuted by the Nazis. Their actions were always dangerous. The Gestapo pursued and arrested hundreds of Edelweiss Pirates. In World War II's desperate final year, some Pirates joined in sabotage and armed resistance, risking the Third Reich's ultimate punishment. This is their story.
First human to cross the Atlantic via airplane; one of the first American media sensations; Nazi sympathizer and anti-Semite; loner whose baby was kidnapped and murdered; champion of Eugenics, the science of improving a human population by controlled breeding; tireless environmentalist. Charles Lindbergh was all of the above and more. Here is a rich, multi-faceted, utterly spellbinding biography about an American hero who was also a deeply flawed man. In this time where values Lindbergh held, like white Nationalism and America First, are once again on the rise, THE RISE AND FALL OF CHARLES LINDBERGH is essential reading for teens and history fanatics alike.
Say Her Name by
Zetta Elliott, illustrated by Loveis Wise (1/14)
Inspired by the #SayHerName campaign launched by the African American Policy Forum, these poems pay tribute to victims of police brutality as well as the activists insisting that Black Lives Matter. Elliott engages poets from the past two centuries to create a chorus of voices celebrating the creativity, resilience, and courage of Black women and girls.
This collection features forty-nine powerful poems, four of which are tribute poems inspired by the works of Lucille Clifton, Audre Lorde, Nikki Giovanni, and Phillis Wheatley.
This provocative collection will move every reader to reflect, respond-and act.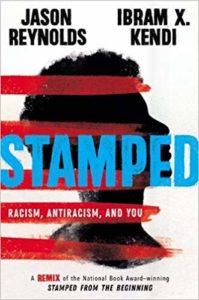 Stamped: Racism, Antiracism, and You by Jason Reynolds and Ibram X. Kendi (3/10)
A timely, crucial, and empowering exploration of racism–and antiracism–in America
This is NOT a history book.
This is a book about the here and now.
A book to help us better understand why we are where we are.
A book about race.
The construct of race has always been used to gain and keep power, to create dynamics that separate and silence. This remarkable reimagining of Dr. Ibram X. Kendi's National Book Award-winning Stamped from the Beginning reveals the history of racist ideas in America, and inspires hope for an antiracist future. It takes you on a race journey from then to now, shows you why we feel how we feel, and why the poison of racism lingers. It also proves that while racist ideas have always been easy to fabricate and distribute, they can also be discredited.
Through a gripping, fast-paced, and energizing narrative written by beloved award-winner Jason Reynolds, this book shines a light on the many insidious forms of racist ideas–and on ways readers can identify and stamp out racist thoughts in their daily lives.
A thrilling and incisive examination of the post-Reconstruction era struggle for and suppression of African American voting rights in the United States.
Following the Civil War, the Reconstruction era raised a new question to those in power in the US: Should African Americans, so many of them former slaves, be granted the right to vote?
In a bitter partisan fight over the legislature and Constitution, the answer eventually became yes, though only after two constitutional amendments, two Reconstruction Acts, two Civil Rights Acts, three Enforcement Acts, the impeachment of a president, and an army of occupation. Yet, even that was not enough to ensure that African American voices would be heard, or their lives protected. White supremacists loudly and intentionally prevented black Americans from voting — and they were willing to kill to do so.
In this vivid portrait of the systematic suppression of the African American vote, critically acclaimed author Lawrence Goldstone traces the injustices of the post-Reconstruction era through the eyes of incredible individuals, both heroic and barbaric, and examines the legal cases that made the Supreme Court a partner of white supremacists in the rise of Jim Crow. Though this is a story of America's past, Goldstone brilliantly draws direct links to today's creeping threats to suffrage in this important and, alas, timely book.
---
Don't miss these pieces on Book Riot over the last week…
---
Thanks for hanging out, and we'll see you again later this week!
— Kelly Jensen, @heykellyjensen on Instagram and editor of (Don't) Call Me Crazy and Here We Are.