Sponsored by Crown of Coral Pearl by Mara Rutherford from Inkyard Press
For generations, the princes of Ilara have married the most beautiful maidens from the ocean village of Varenia. But though every girl longs to be chosen as the next princess, the cost of becoming royalty is higher than any of them could ever imagine . . .
For fans of Sarah J. Maas and Three Dark Crowns comes a new YA fantasy series intertwining politics, forbidden romance, and the power of sisterhood.
Hey Hey Hey YA Fans!
Let's dig into the latest in YA book news from the last few weeks. With summer coming to a close and publishing ramping up for a busy fall season, we'll be seeing more news hitting soon.
Here's something I'd love to know: What are some of the YA books you hope will be adapted? Since we've had so much adaptation news this year, I'm curious what titles haven't been talked about for the big or small screen that you'd love to see. Hit reply and let me know. I might round 'em up!
Back In The Day…
Since the news is light this week, how about a quick blast from the past when it comes to YA books? Here's a peek at the books that hit shelves 5 years ago, 10 years ago, 20 years ago, 30 years ago, and 40 years ago!
2014: To All The Boys I've Loved Before by Jenny Han hit shelves, as did E. Lockhart's We Were Liars.
2009: Catching Fire by Suzanne Collins and If I Stay by Gayle Forman.
1999: Monster by Walter Dean Myers, The Perks of Being A Wallflower by Stephen Chbosky, Speak by Laurie Halse Anderson (1999 was a huge year in YA, y'all!).
1989: Weetzie Bat by Francesca Lia Block and Remember Me by Christopher Pike.
1979: I don't categorize Flowers In The Attic by VC Andrews as YA, but I'm including it here since so many teens read this one (in not-so-secret secret). Tex by SE Hinton also hit shelves.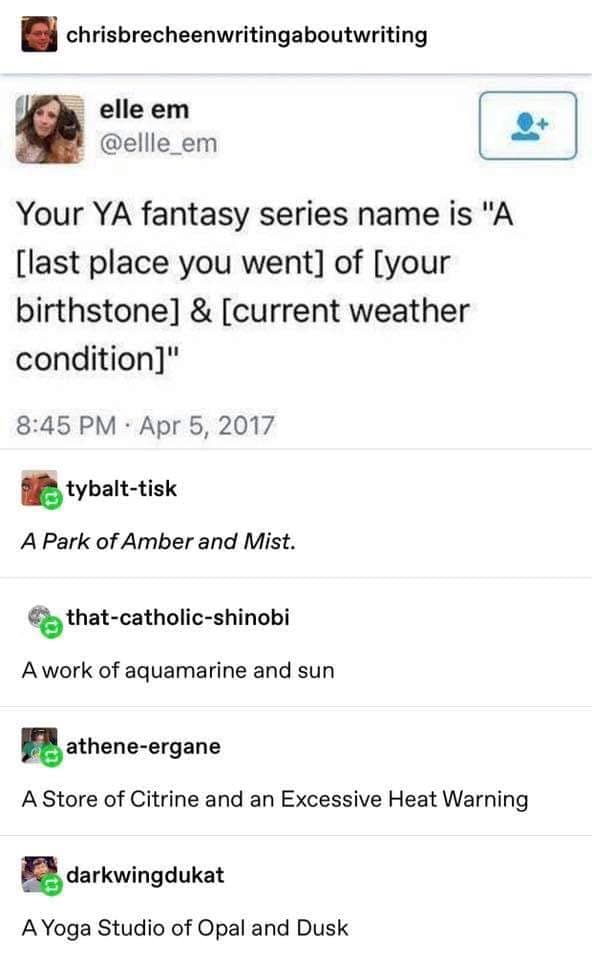 [Image of a tweet from user @ellle_em that reads "Your YA fantasy series name is "A [last place you went] of [your birthstone] and [current weather condition]"]
Mine is "A Kitchen of Sapphire and Breeze." Yours?
---
Thanks for hanging out and we'll see you again next week!
— Kelly Jensen, @veronikellymars on Instagram and editor of (Don't) Call Me Crazy and Here We Are.