Sponsored by Yellow Jacket, an imprint of Little Bee Books
For Nobbin Swill, life is no fairy tale. His family has been the king's royal dung farmers for generations, but Nobbin doesn't want to follow in his family's footsteps. On a dark, cloudy night, Nobbin catches a flicker of moonlight glimmering off something in the dung. It could possibly be a button or buckle that would fetch him a coin from the shoemaker. But it turns out to be a very valuable ring belonging to the king! Could this ring lead to a dung-free life? This hilarious, brand-new middle-grade series with two-color illustrations throughout is The Sisters Grimm meets Shrek!
Hi Kid Lit Friends!
Can you believe this is the last Tuesday of August? The next two months are big for children's book publishing; lots of exciting new releases and fabulous titles! Get ready to put plenty of books on your TBR… As always, if I've had the chance to read one of these books and loved it, I marked it with a 
. Please note that all descriptions come from the publisher.
Picture Book New Releases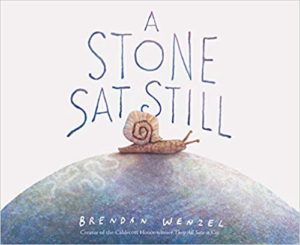 A Stone Sat Still by Brendan Wenzel
A Stone Sat Still tells the story of a seemingly ordinary rock—but to the animals that use it, it is a resting place, a kitchen, a safe haven…even an entire world. This is a gorgeous exploration of perspective, perception, and the passage of time, with an underlying environmental message that is timely and poignant.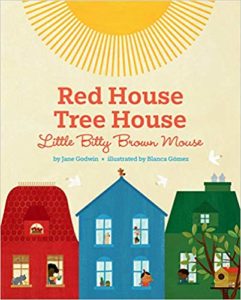 Red House Tree House, Little Bitty Brown Mouse by Jane Godwin, illustrated by Bianca Gomez
A little mouse makes her way around the world, and invites preschoolers along as she sets out: Red house / Blue house / Green house / Tree house! / See the tiny mouse in her little brown house? Seamless, simple, and inspiring, the rhyming story abounds in concepts for the very young, with a particular focus on colors, and a delightful search-and-find element on every spread–the intrepid mouse herself!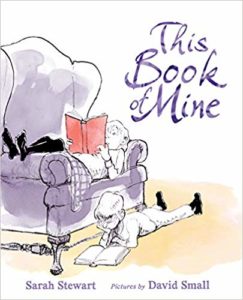 This Book of Mine by Sarah Stewart, illustrated by David Small
This Book of Mine is a celebration of the power of reading, of the ways in which books launch our adventures, give us comfort, challenge our imaginations, and offer us connection. From new mothers to fantasy lovers, butterfly hunters to musicians, the readers of This Book of Mine all share a common passion for favorite books―whether freshly discovered at the library or bookstore or saved from childhood and reread across a lifetime.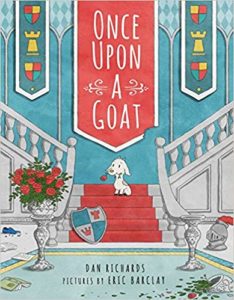 Once Upon a Goat by Dan Richards, illustrated by Eric Barclay
Once upon a time, a very prim and proper king and queen begged their fairy godmother for a child. They'd prefer a boy, with glowing skin, bright eyes, and two roses for lips . . . but any kid will do. When they find themselves gifted with a baby goat (also known as a kid) instead, they can't imagine how he'll fit into their lives. But of course, it isn't long before he's part of the royal family.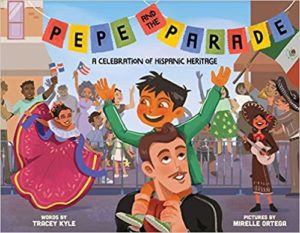 Pepe and the Parade by Tracey Kyle, illustrated by Mirelle Ortega
Pepe wakes up energized to attend his first Hispanic Day parade. With new food to taste, music to dance to, and a parade to watch, Pepe couldn't be more excited to celebrate and share his Hispanic heritage. Many of Pepe's friends also attend the festival, celebrating their own Hispanic ties. Mexican, Dominican, Panamanian, Colombian, Honduran, Nicaraguan, Chilean, Puerto Rican, Salvadoran, Guatemalan, and Cuban cultures are all represented in the parade. A day filled with joy and pride, Pepe and the Parade is a jubilant celebration of culture and identity.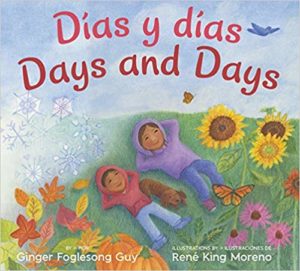 Dias y dias, Days and Days by Ginger Foglesong Guy, illustrated by Rene King Moreno
Días y días y días pasan, hasta que pasan doce meses y cuatro estaciones. Amigos y familiares juegan en el sol, en la lluvia, en el viento y en la nieve. ¡Y entonces comienza un año nuevo!
Days and days and days go by, adding up to twelve months and four seasons. Friends and family play in sun and rain and wind and snow. And then, a new year starts again!
My Name is Wakawakaloch by Chana Steifel, illustrated by Mary Sullivan
No one can pronounce Wakawakaloch's name. Why couldn't she be called something simple . . . like Gloop? That's a name you can find on a T-shirt! But after a visit with her tribe's elder, Wakawakaloch discovers what her name means, and how powerful names can be. Gloop may be easy to say, but the girl who helps her friends embrace differences and wear their names proudly? Her name is Wakawakaloch!
Middle Grade New Releases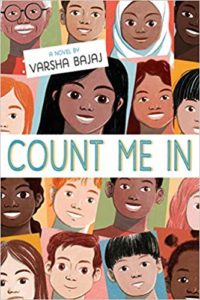 Count Me In by Varsha Bajaj
Karina Chopra would have never imagined becoming friends with the boy next door–after all, they've avoided each other for years and she assumes Chris is just like the boys he hangs out with, who she labels a pack of hyenas. Then Karina's grandfather starts tutoring Chris, and she discovers he's actually a nice, funny kid. But one afternoon something unimaginable happens–the three of them are assaulted by a stranger who targets Indian-American Karina and her grandfather because of how they look. Her grandfather is gravely injured and Karina and Chris vow not to let hate win. When Karina posts a few photos related to the attack on social media, they quickly attract attention, and before long her #CountMeIn post–"What does an American look like? #immigrants #WeBelong #IamAmerican #HateHasNoHomeHere"–goes viral and a diverse population begin to add their own photos. Then, when Papa is finally on the road to recovery, Karina uses her newfound social media reach to help celebrate both his homecoming and a community coming together.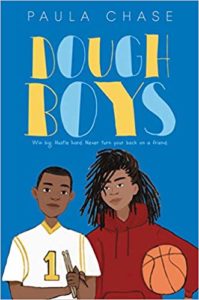 Dough Boys by Paula Chase
Deontae "Simp" Wright has big plans for his future. Plans that involve basketball, his best friend, Rollie, and making enough money to get his mom and four younger brothers out of the Cove, their low-income housing project. Long term, this means the NBA. Short term, it means being a dough boy—getting paid to play lookout and eventually moving up the rungs of the neighborhood drug operation with Rollie as his partner. Roland "Rollie" Matthews used to love playing basketball. He loved the rhythm of the game, how he came up with his best drumbeats after running up and down the court. But playing with the elite team comes with extra, illegal responsibilities, and Rollie isn't sure he's down for that life. The new talented-and-gifted program, where Rollie has a chance to audition for a real-life go-go band, seems like the perfect excuse to stop being a dough boy. But how can he abandon his best friend?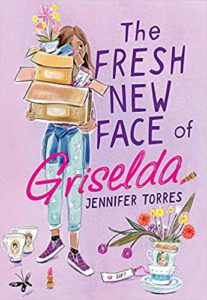 The Fresh New Face of Griselda by Jennifer Torres
Griselda "Geez" Zaragoza has a love for beautiful things, like her collection of vintage teacups and the flower garden she and her dad planted in the front yard. But when his business fails, Griselda loses not just her home, but also her confidence and her trust in her unflappable parents. Tagging along with big sister Maribel, who postponed college for a job selling Alma Cosmetics, Geez dreams up a way to reclaim the life she thinks she lost. If she can sell enough tubes of glistening, glittery Alma lip gloss, she'll win a cash prize that could help jump start her dad's business.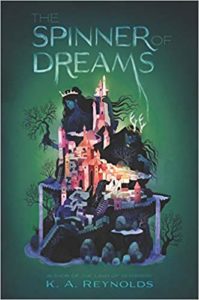 The Spinner of Dreams by K.A. Reynolds
Annalise Meriwether—though kind, smart, and curious—is terribly lonely. Cursed at birth by the devious Fate Spinner, Annalise has always lived a solitary life with her loving parents. She does her best to ignore the cruel townsfolk of her desolate town—but the black mark on her hand won't be ignored. Not when the monster living within it, which seems to have an agenda of its own, grows more unpredictable each day.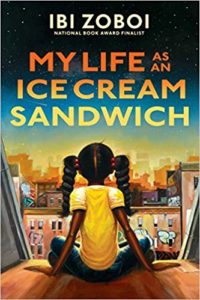 My Life as Ice Cream Sandwich by Ibi Zoboi
Twelve-year-old Ebony-Grace Norfleet has lived with her beloved grandfather Jeremiah in Huntsville, Alabama ever since she was little. As one of the first black engineers to integrate NASA, Jeremiah has nurtured Ebony-Grace's love for all things outer space and science fiction—especially Star Wars and Star Trek. But in the summer of 1984, when trouble arises with Jeremiah, it's decided she'll spend a few weeks with her father in Harlem.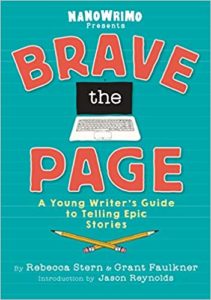 Brave the Page by Rebecca Stern and Grant Faulker
Partly a how-to guide on the nitty-gritty of writing, partly a collection of inspiration to set (and meet) ambitious goals, Brave the Page is the go-to resource for middle-grade writers. Narrated in a fun, refreshingly kid-friendly voice, it champions NaNoWriMo's central mission that everyone's stories deserve to be told. The volume includes chapters on character, plot, setting, and the like; motivating essays from popular authors; advice on how to commit to your goals; a detailed plan for writing a novel or story in a month; and more!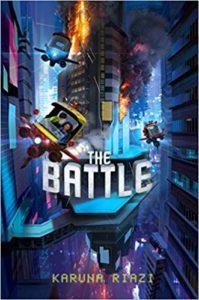 The Battle by Karuna Riazi
Twelve-year-old Ahmad Mirza struggles to make friends at his new middle school, but when he's paired with his classmate Winnie for a project, he is determined to impress her and make his very first friend. At home while they're hard at work, a gift from big sister Farah—who is away at her first year in college—arrives. It's a high-tech game called The Battle of Blood and Iron, a cross between a video game and board game, complete with virtual reality goggles. He thinks his sister has solved his friend problem—all kids love games. He convinces Winnie to play, but as soon as they unbox the game, time freezes all over New York City.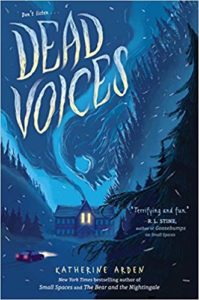 Dead Voices by Katherine Arden
Having survived sinister scarecrows and the malevolent smiling man in Small Spaces, newly minted best friends Ollie, Coco, and Brian are ready to spend a relaxing winter break skiing together with their parents at Mount Hemlock Resort. But when a snowstorm sets in, causing the power to flicker out and the cold to creep closer and closer, the three are forced to settle for hot chocolate and board games by the fire. Ollie, Coco, and Brian are determined to make the best of being snowed in, but odd things keep happening. Coco is convinced she has seen a ghost, and Ollie is having nightmares about frostbitten girls pleading for help. Then Mr. Voland, a mysterious ghost hunter, arrives in the midst of the storm to investigate the hauntings at Hemlock Lodge. Ollie, Coco, and Brian want to trust him, but Ollie's watch, which once saved them from the smiling man, has a new cautionary message: BEWARE.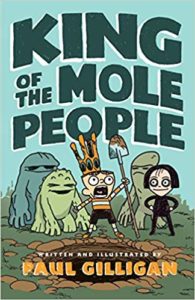 King of the Mole People by Paul Gilligan
Doug Underbelly is doing his best to be normal. It's not easy: he's bad at jokes, he's lousy at sports, and he lives in a creaky old mansion surrounded by gravestones. Also Magda, the weird girl at school, won't leave him alone. And if that weren't enough, he recently got crowned King of an underground race of Mole People. Doug didn't ask to be king―it's a job he can't really avoid, like the eel sandwiches his dad makes for him (with love). If he thought dealing with seventh grade was tricky, it's nothing compared to navigating the feud between Mole People, Slug People, Mushroom Folk and Stone Goons, not to mention preventing giant worms from rising up and destroying everything. How will Doug restore order? It's all a matter of diplomacy!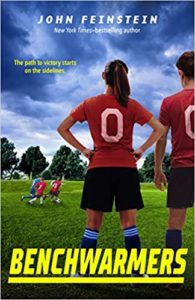 Benchwarmers by John Feinstein
Twelve-year-old Jeff Michaels, son of a Philadelphia TV sports reporter, is just learning to play soccer on the new sixth-grade team at his middle school. Andrea Carillo has fought her way onto the squad, but the coach doesn't think girls should play with boys, so she's riding the bench with Jeff―even though she's one of the best players. With Jeff's help, the Philly media gets ahold of the story, and suddenly Andi is all over the news as she shows her worth on the soccer field. But amid bullies, threats, and a media firestorm, will Andi's skills and Jeff's perseverance be enough to save the season?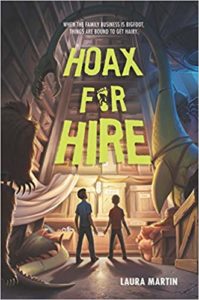 Hoax for Hire by Laura Martin
The McNeil family has always been professional hoaxers—tricking bystanders into believing they're seeing legendary creatures like Bigfoot and the Loch Ness Monster. Unlike the rest of his family, twelve-year-old Grayson hates hoaxing and wants nothing to do with the business—even when the McNeils land a huge job and must pull off four sea monster hoaxes in a week. But when things go disastrously wrong and Dad and Gramps go missing, Grayson and his brother, Curtis, are the only people who can finish the job and save their family.
Graphic Novel New Releases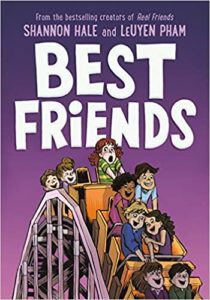 Best Friends by Shannon Hale and LeUyen Pham
Sixth grade is supposed to be perfect. Shannon's got a sure spot in the in-crowd called The Group, and her best friend is their leader, Jen, the most popular girl in school. But the rules are always changing, and Shannon has to scramble to keep up. She never knows which TV shows are cool, what songs to listen to, and who she's allowed to talk to. Who makes these rules, anyway? And does Shannon have to follow them?
What are you reading these days? I want to know! Find me on Twitter at @KarinaYanGlaser, on Instagram at @KarinaIsReadingAndWriting, or email me at karina@bookriot.com.
Until next time!
Karina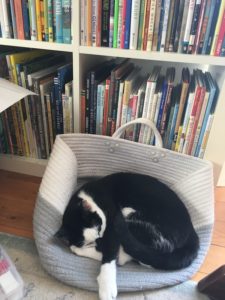 *If this e-mail was forwarded to you, follow this link to subscribe to "The Kids Are All Right" newsletter and other fabulous Book Riot newsletters for your own customized e-mail delivery. Thank you!*