Sponsored by Liveright, publishers of Rion Amilcar Scott's The World Doesn't Require You
THE WORLD DOESN'T REQUIRE YOU introduces a generational voice, as Rion Amilcar Scott tackles violence, religion, and love— with humor and magic. Welcome to Cross River, Maryland, a town established by the country's only successful slave revolt. Residents include David Sherman, a struggling musician who happens to be God's last son; Tyrone, a ruthless PhD candidate; and Jim, an all-too-obedient robot. Lauren Groff calls The World Doesn't Require You "a beautiful book – wild, restless, deeply intelligent". Esquire deems Rion Amilcar Scott "A bold new talent… Faulkner meets Asimov." THE WORLD DOESN'T REQUIRE YOU is available wherever great books are sold.
Happy Tuesday! August may be halfway over, but the plethora of wonderful new releases never ends! I was lucky enough to read several good books coming out today, and you can hear about more awesome reads on this week's episode of the All the Books! María Cristina and I discussed The Whisper Man, Into the Planet, Color Me In, and more great books. And I am most excited to get my hands on Girls and Their Cats by BriAnne Wills and Elyse Moody, Coventry: Essays by Rachel Cusk, and The Trojan War Museum: and Other Stories by Ayse Papatya Bucak.
Thanks so much for reading and enjoy your week! XOXO, Liberty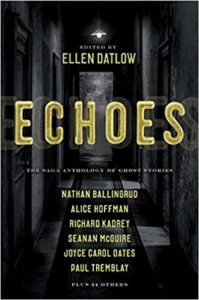 Echoes: The Saga Anthology of Ghost Stories edited by Ellen Datlow
Datlow, the author and editor extraordinaire responsible for tons of amazing anthologies, is back with several of today's incredible writers with stories of the supernatural to stand your hair on end, just in time for fall and Halloween. Includes contributions from Aliette de Bodard, Seanan McGuire, Indrapramit Das, Stephen Graham Jones, and Alice Hoffman.
Backlist bump: The Best Horror of the Year Volume Ten by Ellen Datlow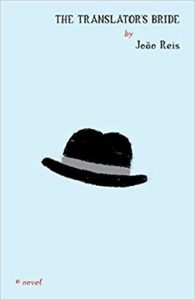 The Translator's Bride by João Reis
I am not going to lie: this book is not going to be to everyone's liking. I don't mean that in a bad way, but it is a bit quirky. It's about a translator in an unnamed city who is trying to win back his bride, who has left him. It's told in his rambling thoughts, which are indeed paragraph after paragraph of run-on sentences. It's fun to read but also a little bit of work. But it's weird and interesting, too!
Backlist bump: History. A Mess. by Sigrún Pálsdottír, Lytton Smith (Translator) (Okay, this isn't really backlist, because it came out a month ago, but it's great, and it's in paperback, so that's something.)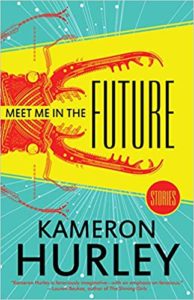 Meet Me in the Future: Stories by Kameron Hurley
Two new Kameron Hurley books in one year–how did we ever get so lucky?!? This is a collection of amazing SF/F stories, set in brutal worlds, that deliver a fantastic, smart punch to your brain!
Backlist bump: How Long 'til Black Future Month?: Stories by N. K. Jemisin
See you next week!