Sponsored by The Daughters of Temperance Hobbs, the new book from New York Times bestselling author Katherine Howe. On sale now from Henry Holt.
A magical bloodline. A family curse.
Can Connie break the spell before it shatters her future?
The new book from Katherine Howe, bestselling author of The Physick Book of Deliverance Dane.
"There's real magic in this book." –Kathleen Kent
New York Times bestselling author Katherine Howe returns to the world of The Physick Book of Deliverance Dane with a bewitching story of a New England history professor who must race against time to free her family from a curse.
Hello, and happy Monday! As I am writing this, it is Friday afternoon and the new season of Mindhunter has just dropped. So now I am trying to figure out how I can marathon-watch the whole season *and* also read a bunch of books this weekend. I really need a clone! (Just kidding, nobody wants that.) Hopefully by the time this reaches you, I will have figured out a good solution. Please enjoy the rest of your week, and remember to be excellent to each other! I'll see you again on Thursday. – xoxo, Liberty
Here's Monday's trivia question: Who is the main villain in Mervyn Peake's Gormenghast novels?? (Scroll to the bottom for the answer.)
Deals, Reels, and Squeals!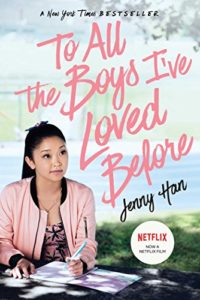 Netflix announced the premiere date of To All the Boys: P.S. I Still Love You, and mentioned the third film is already in production.
The cast has been revealed for There's Someone Inside Your House, the adaptation based on the novel by Stephanie Perkins.
Here are the details about the second season of The Haunting of Hill House.
Love, Simon, based on the book Simon vs. the Homo Sapiens Agenda by Becky Albertalli and adapted as a movie, is now going to be a Disney series, with a new lead actor.
And The Last Letter from Your Lover by Jojo Moyes is getting a screen adaptation.
The TV adaptation of Mervyn Peake's Gormenghast series has been picked up by Showtime.
Lev Grossman's The Magicians will start over as a new comic series.
And Sarah Chalke will star in the Netflix series Firefly Lane, based on the book by Kristin Hannah.
Cover Reveals
Here's the first look at The Hidden Girl and Other Stories by Ken Liu. (Gallery / Saga Press, February 25, 2020)
Epic Reads shared a video of a peek behind the scenes for the cover shoot of Deathless Divide, the sequel to Justina Ireland's Dread Nation, with a cover reveal at the end!
Book Riot Recommends 
At Book Riot, I work on the New Books! email, the All the Books! podcast about new releases, and the Book Riot Insiders New Release Index. I am very fortunate to get to read a lot of upcoming titles, and learn about a lot of upcoming titles, and I'm delighted to share a couple with you each week so you can add them to your TBR! (It will now be books I loved on Mondays and books I'm excited to read on Thursdays. YAY, BOOKS!)
Loved, loved, loved: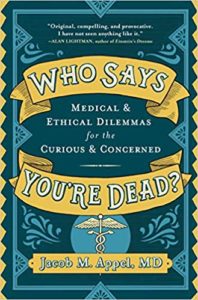 Who Says You're Dead?: Medical & Ethical Dilemmas for the Curious & Concerned by Jacob M. Appel MD
Okay, everyone who thinks they'll ever shuffle off their mortal coil: stop reading here. The rest of you, come with me. This book is full of fascinating information and ethical questions that you may or may not have wondered, like donor matches – should people be told if they are tested and it turns out they don't actually match with their family? And if you're on life support, who decides when you're dead? There are these and a lot more hypothetical scenarios to get your brain gears going. Yes, this is morbid and unsettling stuff, but we're all gonna go sometime, baby.
What I'm reading this week: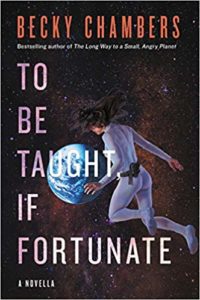 To Be Taught, If Fortunate by Becky Chambers
Dominicana: A Novel by Angie Cruz
Things We Didn't Talk About When I Was a Girl: A Memoir by Jeannie Vanasco
Deadland (DS Alexandra Cupidi) by William Shaw
Pun of the week: 
I took a pole and 100% of the occupants were angry with me when their tent collapsed.
Here's a kitten picture:
These two goofs.
And this is funny.
When people don't read the book.
Trivia answer: Steerpike.
You made it to the bottom! Thanks for reading! – xo, L