Sponsored by AfterShock Comics
Betrayed by his people and exiled to Earth, Lord Oberon, the former king of the Fairies, seeks out an innocent prophesied child in order to manipulate her into becoming his ultimate weapon so that he can reclaim his rightful throne. From writer Ryan Parrot (VOLITION) and artist Milos Slavkovic (Lightstep), OBERON is an original supernatural adventure proving once and for all that fairies should never be trusted.
Happy Thursday! I am back to share delightful book stuff with you, because you can't just watch the Last Christmas trailer over and over. I mean, I guess you could, but there are so many amazing books to read! (Okay, maybe one more time.) Whatever you're doing, I hope you have a great rest of your week, and remember to be kind to yourself and others. I'll see you again on Monday. – xoxo, Liberty
Trivia question time! What was Louisa May Alcott's pen name when she was first published at the age of 19? (Scroll to the bottom for the answer.)
Deals, Reals, and Squeals!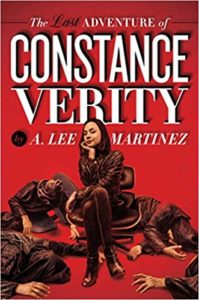 REALLY excited for this: Awkwafina will star in an adaptation of The Last Adventure of Constance Verity.
And here's a look at the Wheel of Time cast.
Here's the first trailer for the new animated Addam's Family movie.
And the first trailer for Greta Gerwig's new adaptation of Little Women.
Cyntoia Brown signed a major book deal upon her release from prison.
Jessica Darling by Megan McCafferty is being adapted as a series.
Here's the first look at the cover of Prairie Lotus by Linda Sue Park. (Clarion Books, March 3, 2020)
And the cover of Sensational by Jodie Lynn Zdrok. (Tor Teen, February 11, 2020)
And one more: Here's the cover reveal of A Murderous Relation (A Veronica Speedwell Mystery) by Deanna Raybourn. (Berkley, March 10, 2020)
Reese Witherspoon will star in the Netflix adaptation of the Thomas Pierce science fiction short story Tardy Man.
And Ernest Hemingway's A Moveable Feast is also getting an adaptation.
Book Riot Recommends
At Book Riot, I work on the New Books! email, the All the Books! podcast about new releases, and the Book Riot Insiders New Release Index. I am very fortunate to get to read a lot of upcoming titles, and learn about a lot of upcoming titles, and I'm delighted to share a couple with you each week so you can add them to your TBR! (It will now be books I loved on Mondays and books I'm excited to read on Thursdays. YAY, BOOKS!)
Excited to read: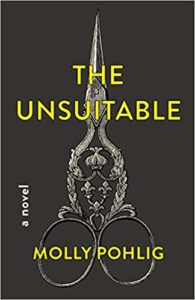 The Unsuitable by Molly Pohlig (Henry Holt and Co., April 14, 2020)
Henry Holt, you had me at "She is awkward, plain, and most pertinently, believes that her mother, who died in childbirth, lives in the scar on her neck." Like…what??? This sounds AMAZING. It's a Victorian gothic and a ghost story, and is about a young woman trying to take charge of her future, even as her father tries to marry her off to a man with silver skin, and her "mother" becomes more volatile. I cannot wait to find out what all of this means!
What I'm reading this week.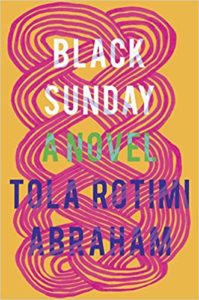 Black Sunday: A Novel by Tola Rotimi Abraham
The Warehouse: A Novel by Rob Hart
Everything Inside: Stories by Edwidge Danticat
Deadland (DS Alexandra Cupidi) by William Shaw
How Quickly She Disappears by Raymond Fleischmann
And this is funny.
Trivia answer: Flora Fairfield.
You made it to the bottom! High five. Thanks for reading! – xo, L