Sponsored by TBR: Tailored Book Recommendations
TBR is Book Riot's subscription service offering Tailored Book Recommendations for readers of all stripes. Been dreaming of a "Stitch Fix for books?" Now it's here! Tell TBR about your reading preferences and what you're looking for, and sit back while your Bibliologist handpicks recommendations just for you. TBR offers plans to receive hardcover books in the mail or recommendations by email, so there's an option for every budget. Sign up here.
Today is one of those days that I am grateful for stories. Romances, in particular, are there for us when we need an ending—a satisfying, sigh-inducing, happy ending. The journey that every pair (or more) must take may be harrowing, but in the end, something works out for them. Something works out.
News and Useful Links
Glamour went to RWA, ultimately pulling together a list of attendees' favorite romances. It's a delight to read and there are definitely some books I have yet to try.
I still haven't read Long Shot but I want a copy with this cover. Or maybe I just want to make it my wallpaper for a while. Or something. I want to look at this all the time. And the images Romance Sparks Joy commissioned for their other book club, too.
I don't know if you've been following the conflict between Macmillan and libraries, but it's bound to impact the way libraries purchase things. RWA has issued a statement about it, knowing that Macmillan's choice will likely influence that of other publishers.
In happier news, Romance Sparks Joy has decided to continue with their book club!
I didn't know #JenkinsJuly was happening until it's over, but this wonderful essay was a great introduction to it.
For the rest of this month, you can enter to win a $100 gift card to The Ripped Bodice on the Book Riot website! (you have to sign up for KB to enter, and you've obviously already signed up, but don't worry; you can still enter!)
Deals
Hey, it's August, so there are new Kindle deals!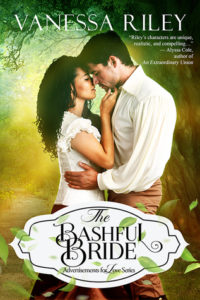 Have you picked up any of Vanessa Riley's historicals? The Bashful Bride, the second book in the series, is on sale for 99 cents right now! (It's a perfect time to check all three Advertisements for Love books, as the fourth, The Bewildered Bride, comes out next week.) I haven't yet checked this one out (though I'm pretty sure I own it) but check out this part of the summary: "Infatuation and a mutual love for Shakespeare might not be enough to bind a couple looking to outrun the chains and secrets of family and the past." Like…come on. What else do you need?
If you want something completely different—say, a m/m romance featuring dragon shifters?—Sean Michael's Branded by Flames (and the second in the series, Seduced by the Tide) is on sale! Grab it for 1.99 this month, because the rest of the books' prices indicate that these books don't go on sale very often.
Recs!
This past weekend, I participated in Dewey's 24-Hour Reverse Readathon, which started at 8pm EDT on Friday night instead of the regular Readathon's midnight. This way, readers on the other side of the globe would be able to participate without losing all of their nighttime sleeping options. I pulled together three books with a theme (have you noticed I've been trying to do that more) and was generally successful! I didn't make it 24 hours—sleep was too important—but I did manage to complete two books and read some of a third…which I went on to finish that day anyway, just outside of the parameters of Readathon. What theme held them together?
I Didn't Want To Leave My Career In Professional Sports But I Had No Choice
The first book in this is the one that stands out as far as why the athlete left their career, but you'll understand when you read it.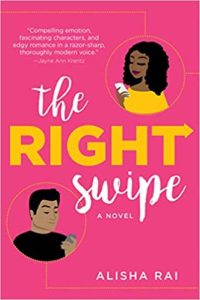 The Right Swipe
Alisha Rai
If you have read the Forbidden Hearts series, you're familiar with Rhiannon Hunter. The moment she appeared in the third FH book, Hurts to Love You, I was desperate for her story. She was a wealthy woman who dressed like a tech bro, and who owned her own company. Her personality was delightful in its prickliness, and I just wanted to get into her head.
Luckily for me, Alisha was already planning to give us what we wanted. So in the first book in the Modern Love series, we get to see what happens when Rhiannon decides to give someone a rare second chance.
Rhi had an amazing night after using her own app to find a hookup in a small town, but when she agreed to meet her date again—something she absolutely never does—he never shows up. Not one to forgive a ghoster, she unmatches him and moves on. But when she runs into Samson again at a conference, and he's the new face of a competitor dating site that she wants to buy, they have a few hurdles to get over in order to see what they could have been. Starting with her understanding the circumstances of his accidental ghosting. And then? Anything.
CW here for discussions of sexual harassment and emotional abuse, threats of violence, discussion of CTE, and everyday racism.
(Also, if you haven't read Intercepted and Fumbled—particularly the latter—then now is a good time to read them, especially since the third one is out later this year!)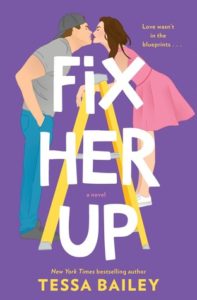 Fix Her Up
Tessa Bailey
Georgie has been in love with her brother's best friend since she knew what boys were, but he doesn't know that. And now that Travis is back in town after an injury lost him his shortstop position in the major leagues, she's not sure what to do about it. As the only person apparently interested in shaking him out of his drunken stupor, Georgie installs herself as A Person Who Cares, much to Travis's annoyance. But there is a surprising attraction there, and when a job opportunity is opened to Travis, Georgie is the one who puts Fake Dating For His Wholesome Image on the table. He agrees, but there can't be any sex; there's only so many codes a man can break or whatever BS.
But of course, that's not really a thing they can both make sure doesn't happen.
(And also, the "best friend's younger sister" damn the patriarchy type thing is responded to perfectly here.)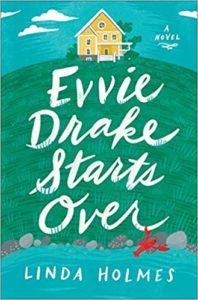 Evvie Drake Starts Over
Linda Holmes
This isn't specifically a romance so much as it's contemporary fiction with romantic elements, but it's still really a romance. Does that make sense?
Evvie Drake was leaving her husband when she got a phone call that he'd been in a car accident. By the time she arrived at the hospital, he'd already died. Now, a year later, she's living alone in their house, grieving the fact that she didn't feel grief. When her BFF asks her to rent out the attached apartment to a friend of his who needs to get away, she's willing to give him a try. Drew, suffering from what is apparently called The Yips (fascinating to read about, by the way), has been dealing with antagonism from inside and outside of baseball, and he just wants to be where nobody knows him and maybe have a drink and watch some TV. Look at a beach. Eat some lobster. Definitely not get his hopes up about getting his game back. But when he moves into Evvie's house, they spark up a friendship…which slowly, ever…so…godforsaken…slowly, becomes more. And they're both lightly hopeful about their futures as the other helps them see it.
CW for gaslighting and occasionally violent ex husband and the apparent unceasing whiteness of Coastal Maine.
***
Also I have to throw out that the three non-sports love interests in this trio all have really interesting jobs: Rhi owns a dating app, Georgie is a legit clown, and Evvie does transcription for journalists. Cool, right?
What's your favorite non-sports sports romance?
As usual, catch me on Twitter @jessisreading or Instagram @jess_is_reading, or send me an email at jessica@riotnewmedia.com if you've got feedback, bookrecs, or just want to say hi!