Well folks, it's the end of the month, but it's a brand new day. I'm still riding on a bit of a contact high from #RWA19, and I'm letting it carry me through the rest of July.
---
Sponsored by TBR: Tailored Book Recommendations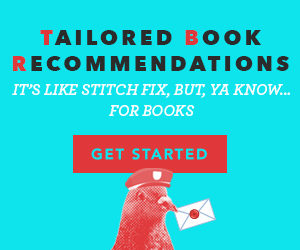 TBR is Book Riot's new subscription service offering Tailored Book Recommendations for readers of all stripes. Been dreaming of a "stitchfix for books?" Now it's here! Tell TBR about your reading preferences and what you're looking for, and sit back while your Bibliologist handpicks recommendations just for you. TBR offers plans to receive hardcover books in the mail or recommendations by email, so there's an option for every budget. Sign up here.
---
News and Useful Links
In new, noteworthy information: we now have multiple Black recipients of the RITA award, after 37 years of not a single one. At the ceremony on Friday night, Kennedy Ryan's Long Shot and M. Malone's Bad Blood were both recipients of the honor in their categories (contemporary and novella). Nisha Sharma's My So-Called Bollywood Life also won in the YA category, making her the first South Asian author to win a RITA. I have lots of thoughts on this and will probably write something longer, but I am so incredibly happy for them (and all of the winners in their categories). Watch the ceremony. It's long AF but the speeches are Worth It.
The entire RWA conference (which I basically attended on Twitter) involved a lot of hugging and selfies but also some really interesting panels that the good people of the interwebs have threaded for us. For instance:
Some amazing folks started the RWA Trailblazers page (and a related video) for the 2019 RITA Awards Ceremony, and it is pretty magnificent.
Remember when Jen decided to read the entire RITA finalist list? She wrote about the experience.
Oh! Also. While RWA was happening we also had the joy of #NotRWA19 on Twitter, where select experts on certain categories gave Twitter-thread lectures and facilitated conversations about specific topics. It's a fascinating tagdive if you weren't following along.
And of course, RWA wasn't the only thing happening last week! The Ripped Bodice also announced The Ripped Bodice Awards for Excellence in Romantic Fiction! I'm excited to have been asked to be a judge, and am in amazing company. Winners will be announced on Valentine's Day!
Deals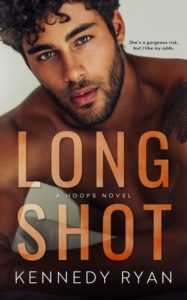 Speaking of RITA winners, have you read Long Shot? It's 4.99 right now (or free to read on Kindle Unlimited) and from what I hear, very much worth the effort. I've read some of Kennedy Ryan's other work, and her writing is off the charts magnificent. This one is a difficult read and also has some content warnings so I would definitely check those out before picking it up, but the whole series is definitely Worth It.
M. Malone's Bad King and the connected Bad Blood (which won the RITA for best novella) are both 2.99. These books both involve weddings: King with one in the future and Blood with one in the past, but they're interesting takes on familiar tropes.
Recs!
If you've listened to the newest episode of When In Romance (or if you know me at all haha), you might be aware of the fact that I love fake relationships. I was excited about The Wedding Date because of it (and the trapped-in-an-elevator bit), and regularly pick up new authors with the possibility of getting yet another one. I've been on a bit of a kick with recent ones, and want to throw out a couple favorites, too, just in case you're looking for some good ones.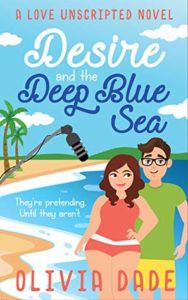 Desire and the Deep Blue Sea
Olivia Dade
While I have given her a good amount of my money, Teach Me was the first book I'd actually picked up by Olivia Dade. So when I saw another one of her delightful covers attached to a book coming out so soon after that release, I was already interested. I mean, look at that cover: a guy in glasses and a fat girl in a swimsuit? And something television related? We were already en route to something fun. And then I read the premise: Callie has signed up to go on a reality TV show for some free vacation time, but it's a couples show and she just broke up with her boyfriend. In a moment of desperation, instead of giving up the show altogether, she tells her producers that she has a new boyfriend! Too bad it's a man she can't stand, even though she liked him when they first started working together at the library. Surprisingly, Thomas agrees to pretend to be her boyfriend to spend a week with her. He does what he can to spend time with her already, but this would be uninterrupted. And pretending to be her boyfriend…well, that would be all kinds of nice.
So yeah. Check this out. It's got Olivia Dade's already familiar humorous tone, but also approaches things like anxiety and communication, and I was definitely satisfied with some of the conversations that were necessary to make this one an emotionally satisfying ending.
I fell behind this week, as usual, but there were a couple other fake relationship books I have started, but not gotten through yet (in part because I got distracted by Brazen and the Beast and didn't pick anything up after that happened):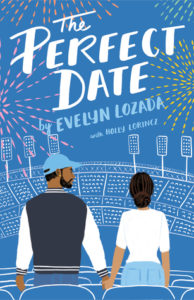 The Perfect Date by Evelyn Lozada
A nursing student and single mom has a few chance encounters with a baseball player who needs to clean up his image, and they start a fake romance that develops into something more.
Tomboy by Avery Flynn
A nurse (another nurse!) does her friend a favor by helping her sick client through the flu (which it turns out not to be) and tabloid buzz puts them in a relationship. When said client wins his first hockey game in ages, he can't let her go anywhere (not in a skeezy way), and convinces her to be present for every game, even if people might think they're together.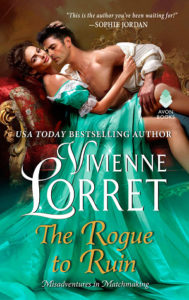 The Rogue to Ruin by Vivienne Lorret
It's been a while since I've read a historical fake relationship (that's a lie, I just read Some Like it Scandalous, whoops). I was definitely intrigued by this setup: a woman who runs a matchmaking agency believes she is losing business thanks to the gaming hell across the street. So she challenges the owner to a bit of a war. BUT, when she needs to get away from a former suitor who could do with being dropped down a well, she tells him that Reed, her rival, is her fiancé. What could possibly go wrong?
If you need more, how about checking out some of these:
Under His Protection by LaQuette
That Kind of Guy by Talia Hibbert
Never a Bride by Megan Frampton
A Prince on Paper by Alyssa Cole
Pretending He's Mine by Mia Sosa
Do You Want to Start a Scandal by Tessa Dare
One True Pairing by Cathy Yardley
Okay I'll stop now…but seriously fake relationships that *ohnoes* turn into real ones are the best.
***
What are you reading this week?
As usual, catch me on Twitter @jessisreading or Instagram @jess_is_reading, or send me an email at jessica@riotnewmedia.com if you've got feedback, bookrecs, or just want to say hi!